Olentangy Boulevard
This modern infill home was designed to fit within the "traditional" context of it's neighborhood, adding "modern" to the list of Tudor, Colonial, and Craftsman house styles in the area. The challenges of this contemporary home design project were many, but challenges always make for more interesting design.


At the center of the house is this open stair, and an elevator, linking all four levels.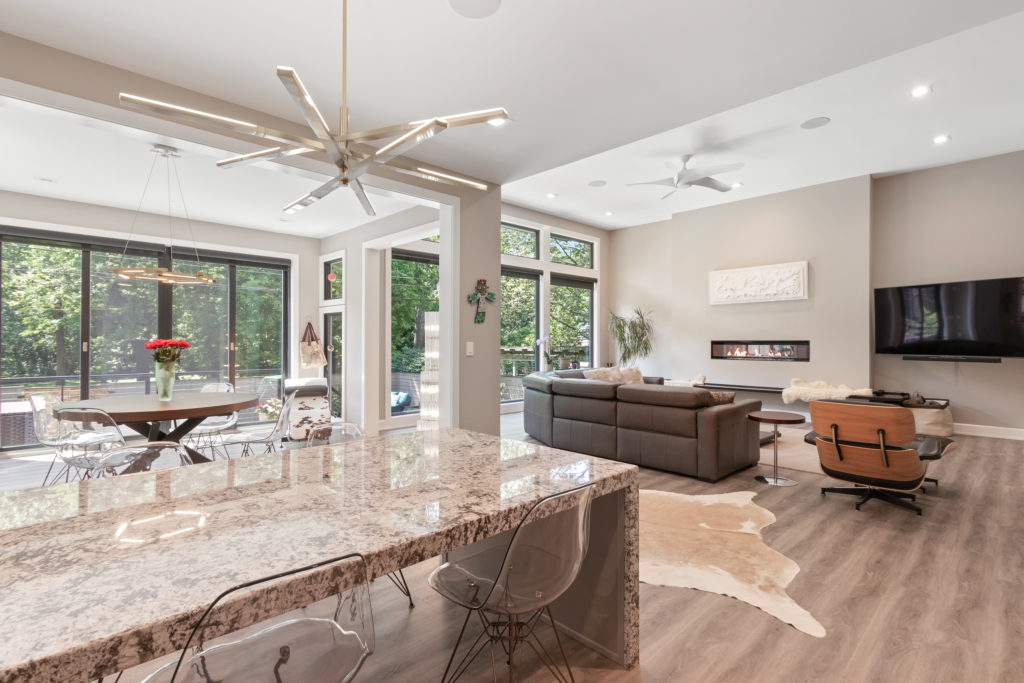 The main living area has 12-foot ceilings and is open to the kitchen and to views of parkland behind the property. Open spaces and lots of light are an important feature of this contemporary home design.

One of my favorite kitchen details are the "slit" windows inserted above and below the cabinets – allowing light in without too much of the view.


The backyard is a complete oasis, surrounded by a privacy fence. The spiral stair connects the pool and yard to the "sunset" deck above.



All of the levels on the inside are connected on the outside – there's at least one deck on every floor, from the big sunset deck to a private balcony off the third floor owner's suite.
The third-floor owner's suite sits way up in the treetops, completely private but with unreal views of the surrounding neighborhood.
Builder: Gorman Builders
Interior Design: Karen Gorman
Photography: C. A. Robinson Photographic
Richard Taylor Architects is a Custom Residential Architectural firm that specializes in the design of unique custom homes, remodeling, and room addition projects.
In addition to compelling design, I provide services all the way through construction, helping you maintain control and organization, and bringing greater value to your project.
Contact me to schedule an initial consultation on your contemporary home design project.