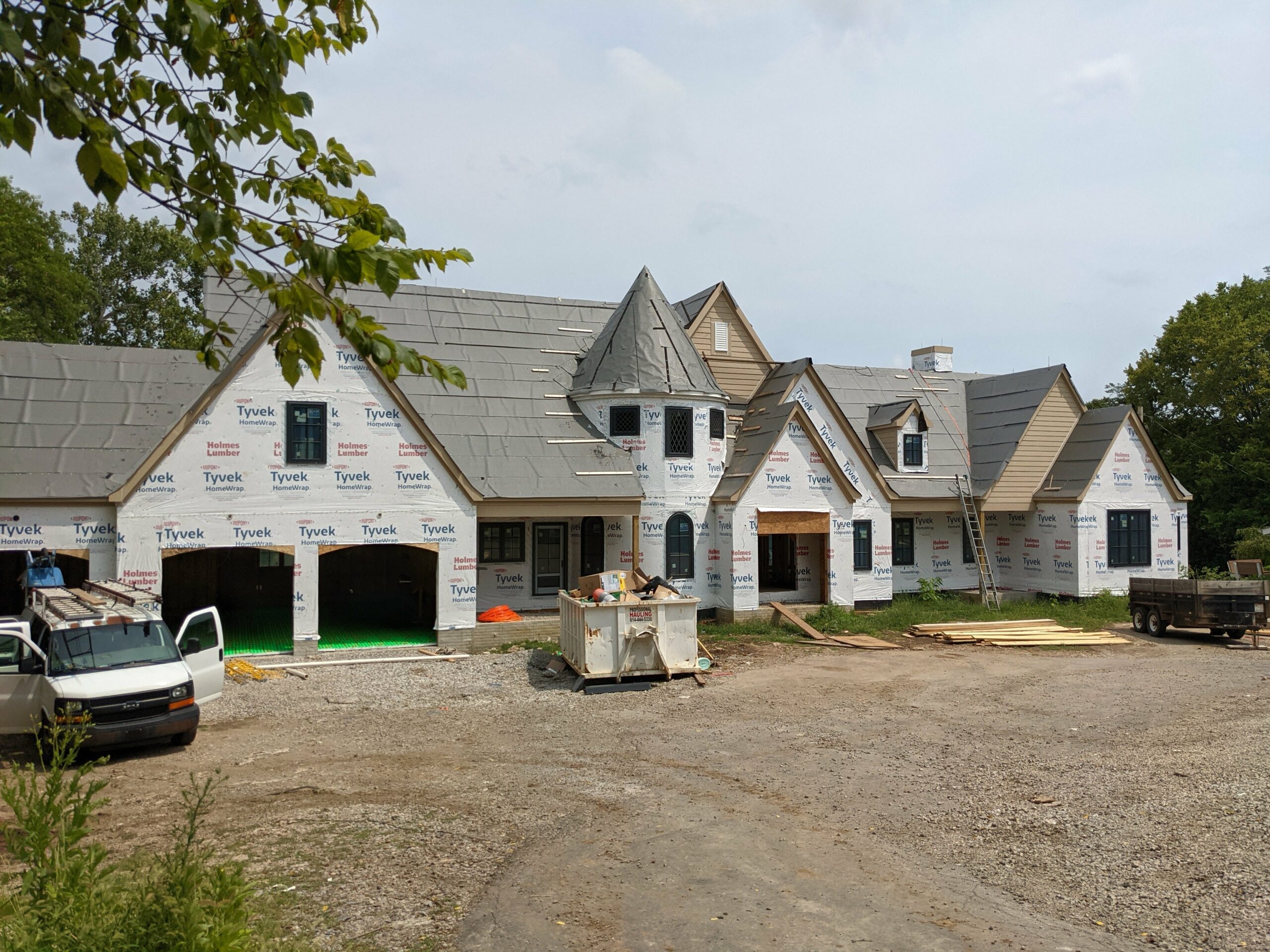 Tudor House Update #2
In my first update on this unique custom Tudor house, I shared a few photos of the exterior – wasn't much yet to see on the inside. But as the house has progressed, both the exterior and interior have changed a lot, and the real character of this home is starting to show.
At the top of this article is a shot of front of the house – windows are in, the siding in the upper gables is installed, and the slate shingles (see below) are ready to go up on the very steep roof.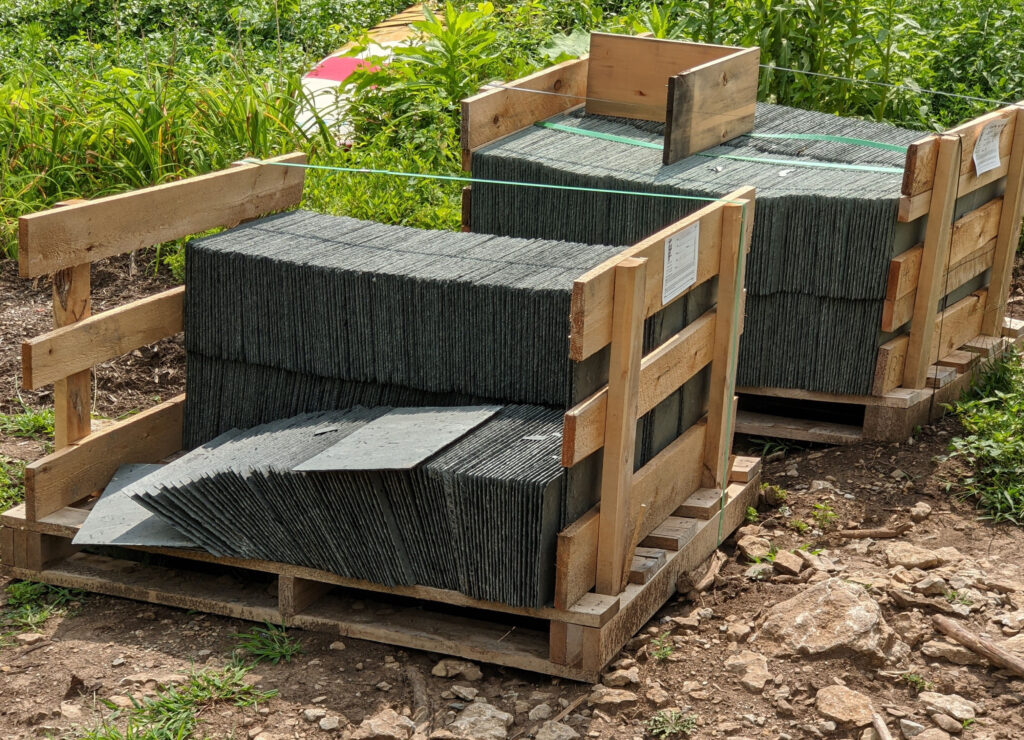 The back of the house is showing it's character, too. There's a great deal more glass here, because all of these rooms have a spectacular view of the river. You can also see one of the raised decks taking shape (most of the outdoor living space will be at ground level).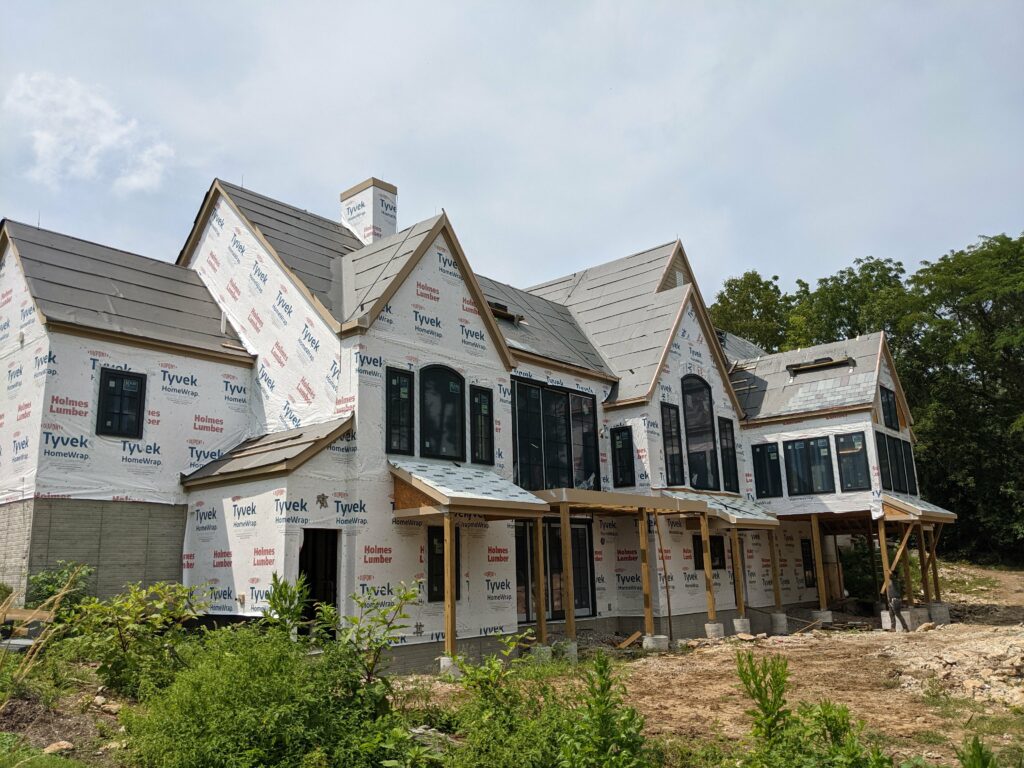 So much for the exterior – the interior is where things are really coming along. One of the most important features of this house – in addition to capturing the views of the river – is the variety and volume of the rooms and the ceilings.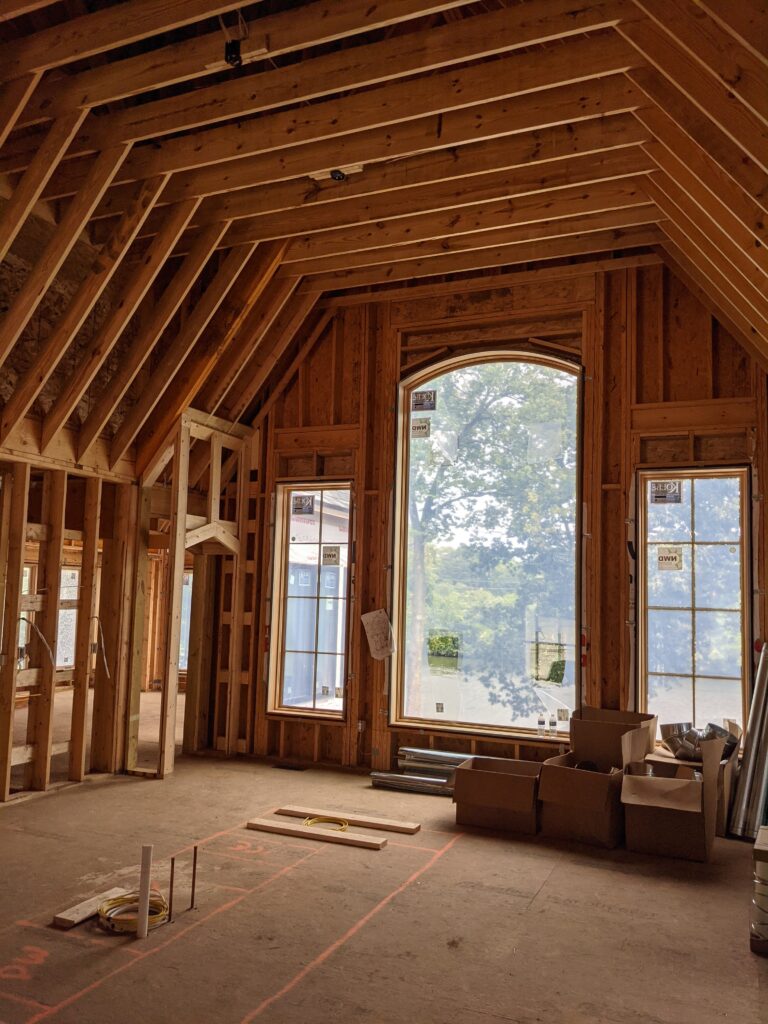 Above, for example, is the kitchen. You can't help but notice the high ceiling and that spectacular custom window in the center. Look carefully and you'll see river just beyond. On the floor in orange paint is the rough outline of the huge island that anchors the kitchen layout.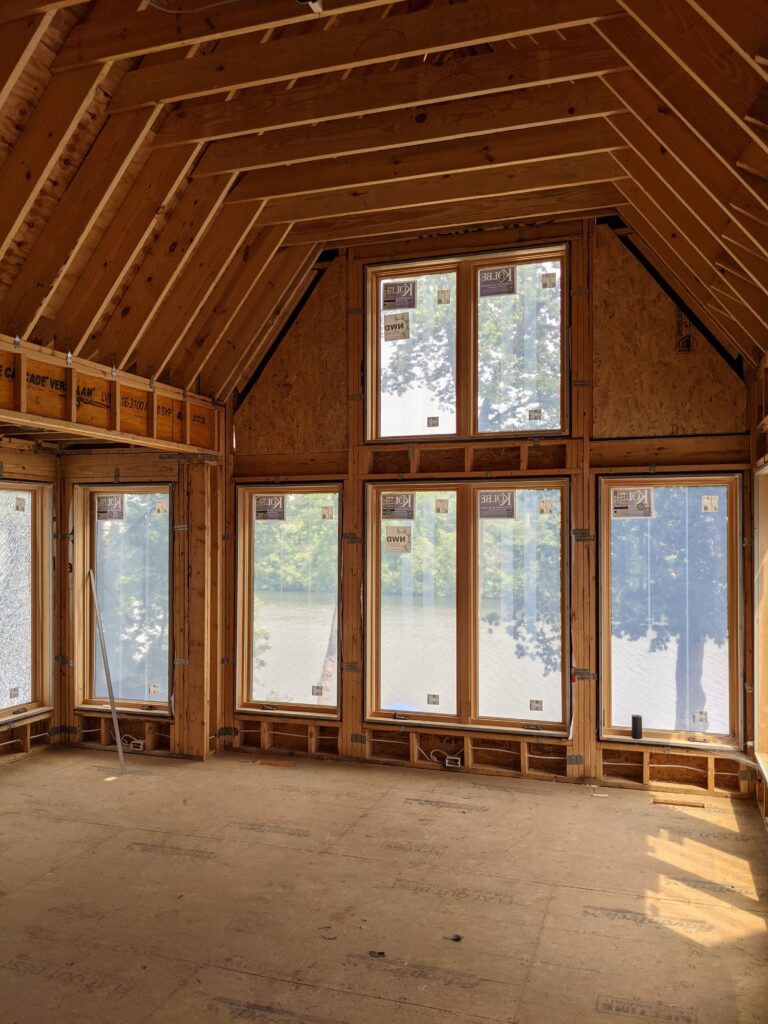 Just off the kitchen is this sunroom, with three sides of glass (the trapezoidal OSB in the corners will be replaced with custom windows shortly) and again, great views of the river just beyond.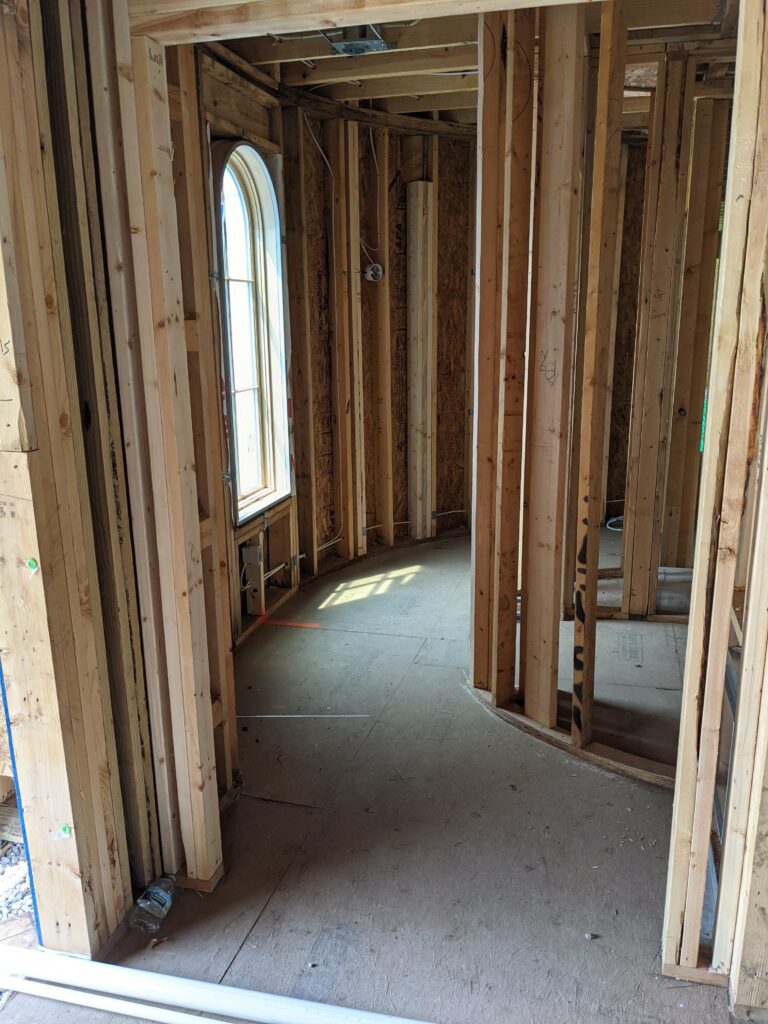 You may have noticed the turret on the front of the house and wondered what's inside it. One the first floor we're using it as a hallway, connecting the formal foyer to the informal family entry to the left. It's a pretty cool feature. The second floor of the turret is a fairy-tale bedroom.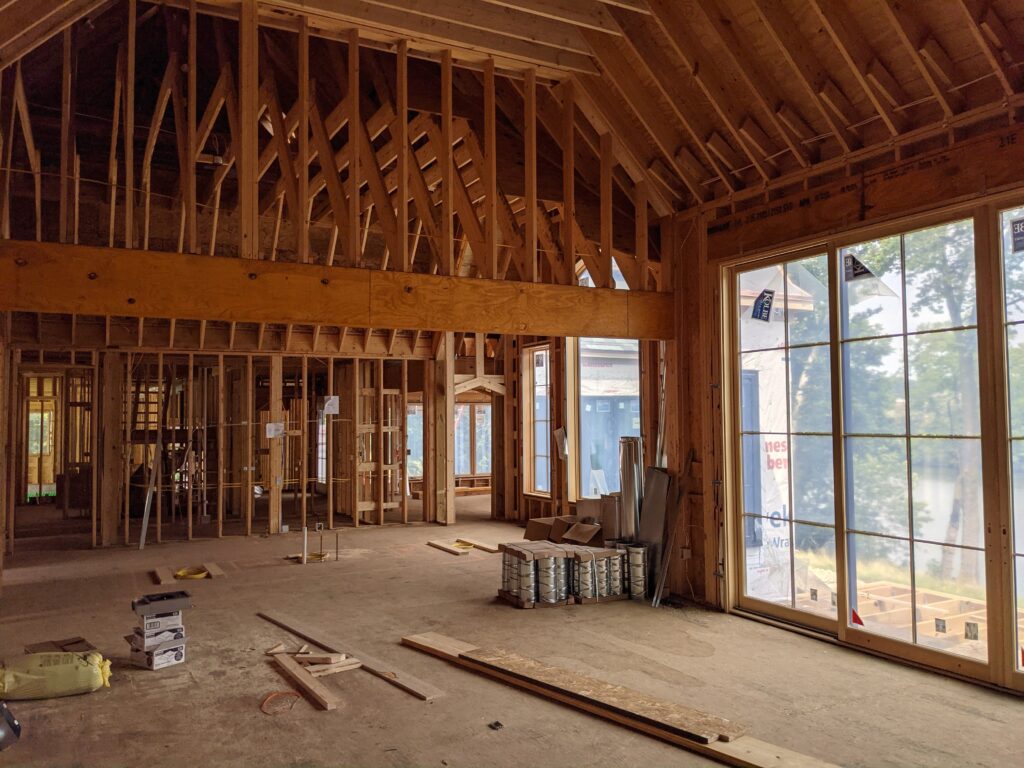 This is the main living space of the house, looking back towards the kitchen. The sliding doors on the right open to the raised deck you saw in the photo of the rear of the house.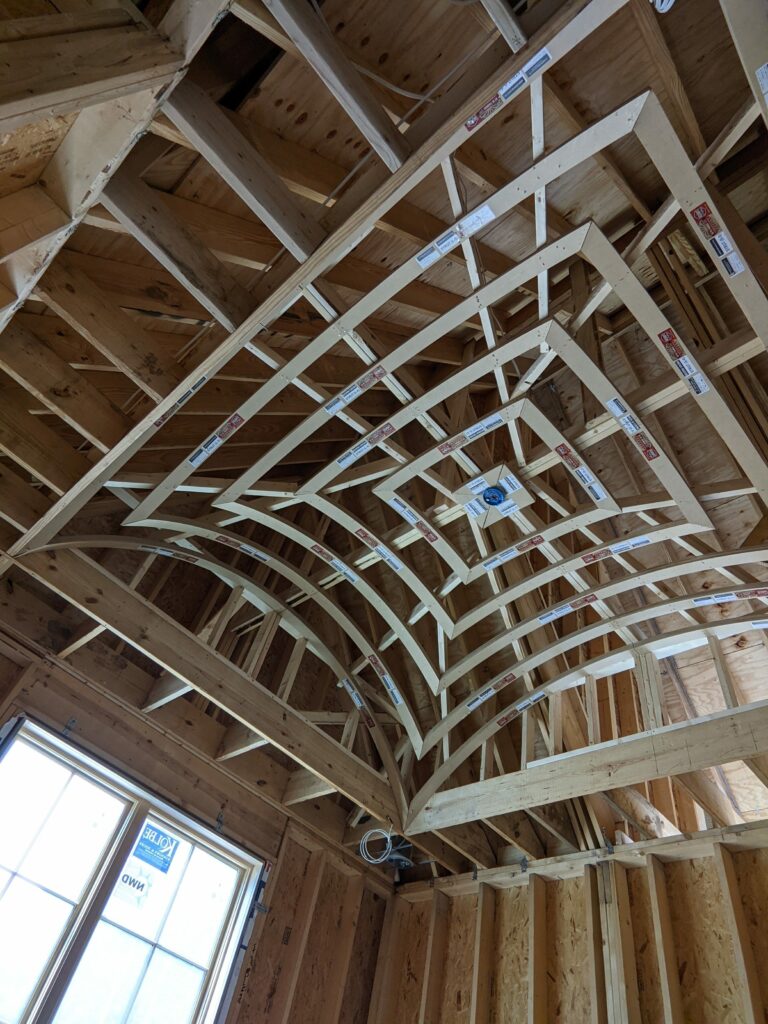 My client gets the credit for this wonderful last-minute change to the main bedroom ceiling. It's called a "groin vault" and it's entirely appropriate for this style house.
In the next few months I'll have more to share about this unique custom Tudor house, especially as the wall and ceiling finishes are installed.

Contact me to learn more about the services I offer and how I can help make your new home or remodeling project exciting, valuable and unique.