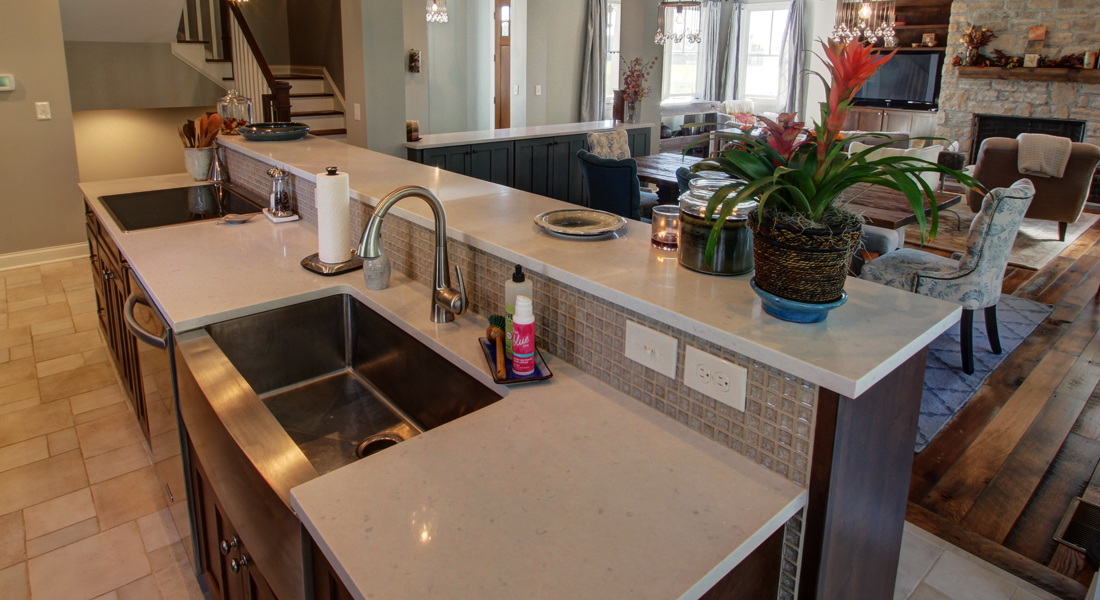 What is the Right Height for a Kitchen Island Countertop or Breakfast Bar?
Homeowners spend a lot of time picking out cabinets, countertops, backsplashes, appliances, and lighting for their kitchens, but sometimes, not enough time thinking through basic functions. A frequent example of that is the height of a raised countertop on a kitchen island, sometimes also called a breakfast bar. What is the right kitchen island height?
Open floor plans expose the whole kitchen to view – cooking mess and all. A raised countertop can help hide the mess behind a short wall, and makes a nice place to sit and eat, drink, and socialize.
That's the basic function of a breakfast bar, but there's more to getting the design right than just hiding the mess. Choosing the right finishes will make it look good, but we want it to work right, too. Here's what you need to know to get the height right.
Chairs or Stools?
Ideally, you should have about 12 inches between a seat and a bartop. Regular kitchen chairs are typically 18 inches from the floor, making the ideal bar height 30 inches. That's lower than the standard kitchen countertop height of 36 inches – you'll need to design a "dropped" bar top in this situation.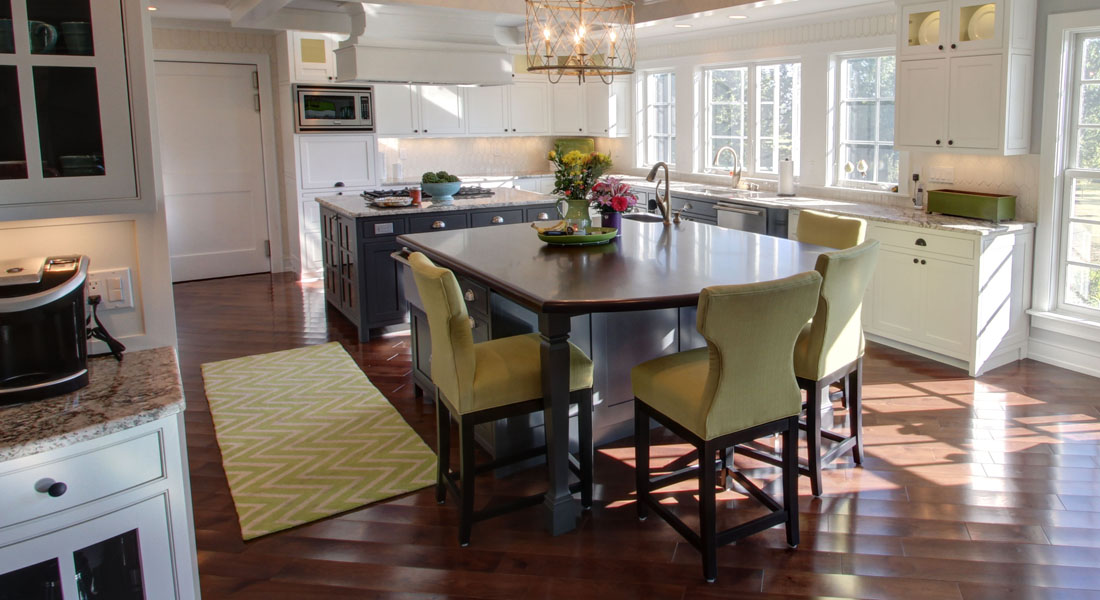 When my clients want to use their regular kitchen chairs at dropped bar, I often recommend we forgo the kitchen table entirely, and instead attached a table-sized slab of countertop material to the kitchen island – freeing up some space in the kitchen where a table would have been.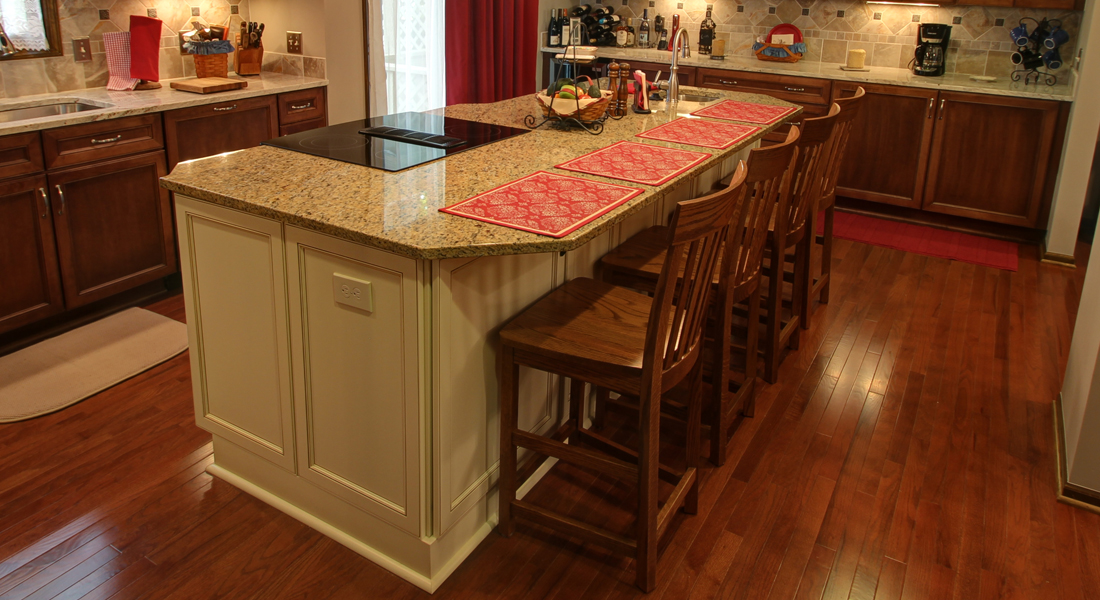 "Counter height" stools are about 24 inches high, and fit under the standard 36" countertop. You don't have to raise or lower that part of the countertop, so you get a much larger uninterrupted work area and cleaner design lines in the kitchen. Some people however, find the 24" seat height awkward.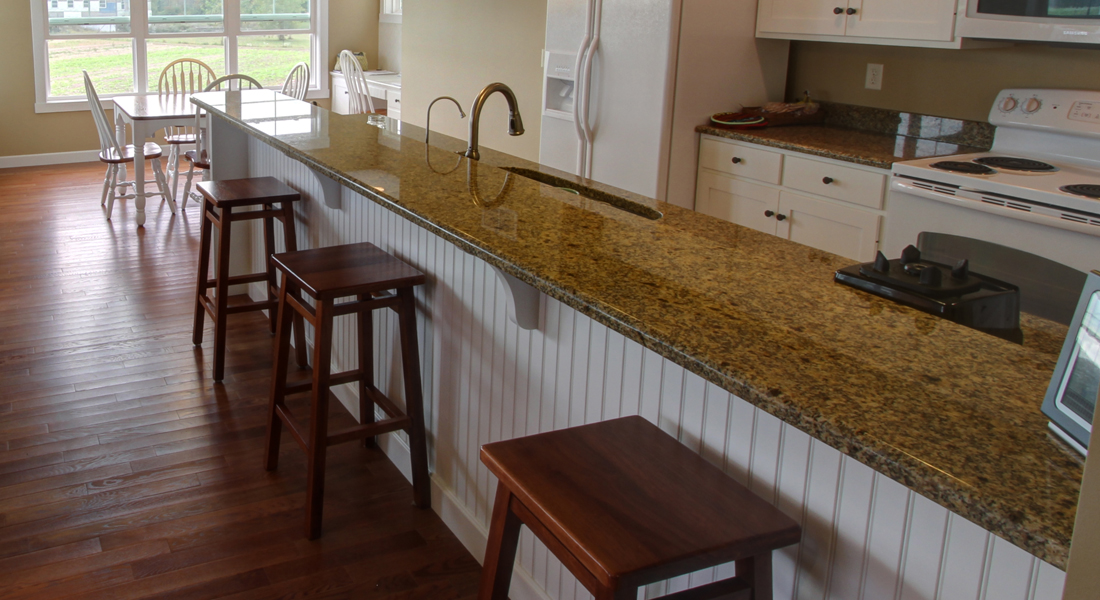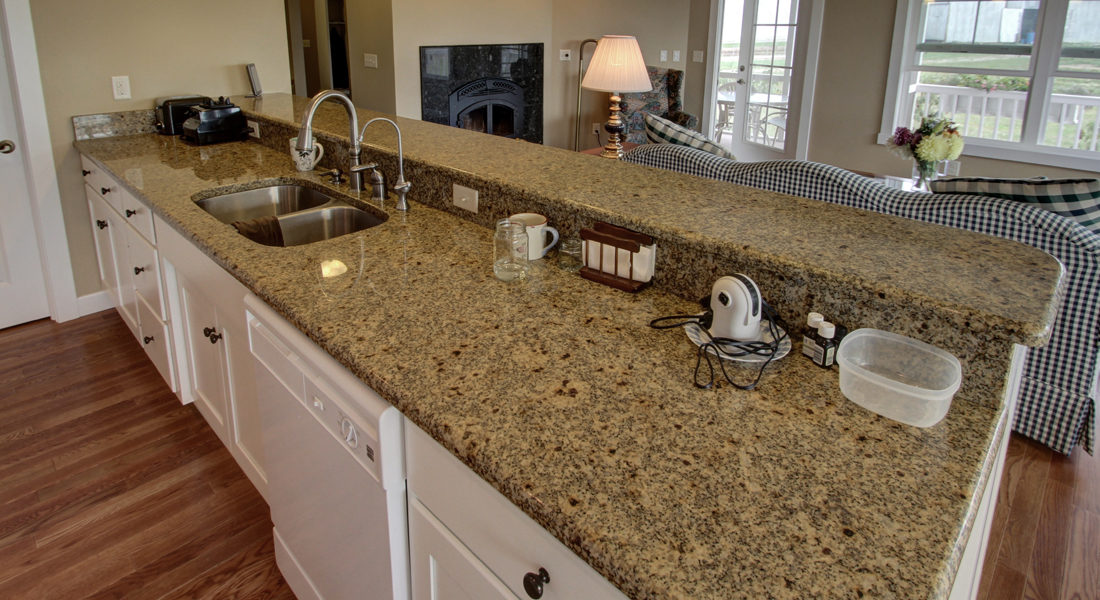 Bar stools take the seat up to around 30", just right for a 42" top height. 30" stools are the right height for easily sliding in or out without "stepping up" or "sitting down". That bar height is 6 inches above the countertop so it's very good for hiding cooking and cleaning. It also makes a place for a decorative backsplash and provides room for outlets and switches.
Check out the double islands in this dramatic kitchen and family room remodeling and addition project.
Finally, 40" high stools will give you the authentic belly-up-to-the-bar effect. Shorter folks will have to climb on to a 40" stool, and only the tallest of us will find our feet touching the floor when we're sitting on one. You won't often see these at kitchen bars; they're better off at a "drinking" bar only.
The one concern about taller bar stools is that they can be a fall hazard for small children. If you have kids and want raised bar top, you'll want a nearby kitchen table they can use until they're big enough to safely use the stools.

Cooking or Cleaning?
Setting up a cooking station at an island is great for socializing – you and your guests can be face-to-face while you're stirring the sauce on the cooktop, or chopping celery. And for two cooks, a flush island countertop is perfect for sharing the work.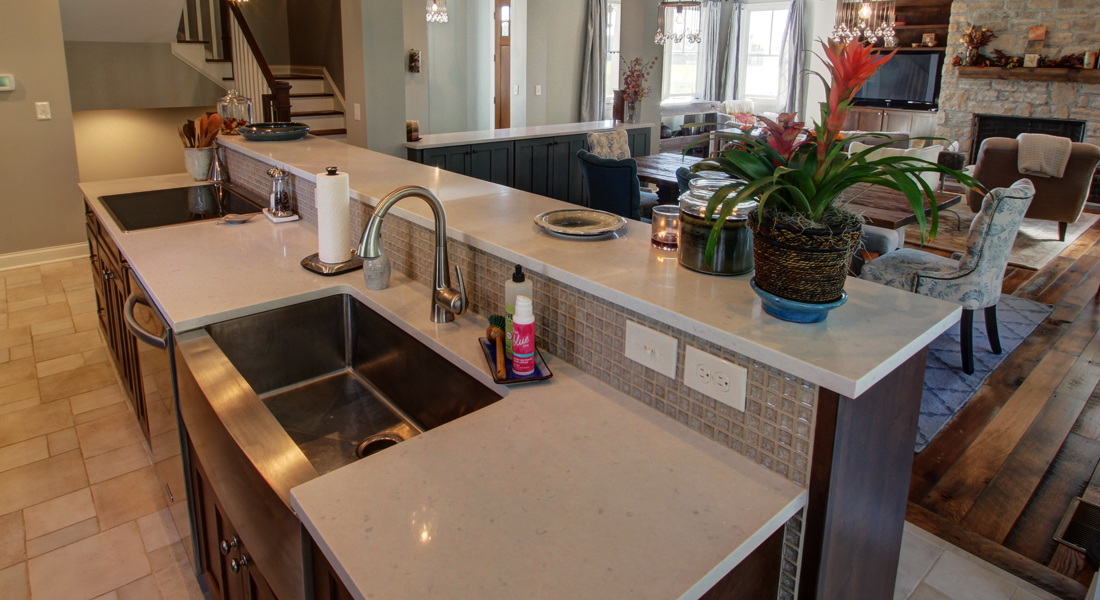 But putting a cooktop on a flush-top island creates a safety hazard when there are children around – little hands can too easily reach up and over the back of a 36" high countertop. That's a very good reason to raise the wall behind the island, or to extend the countertop out far enough from the back of the cooktop to prevent accidents.
Or you could move the sink and dishwasher to the island, but that means the dirty dishes are going to pile up right where everyone can see them.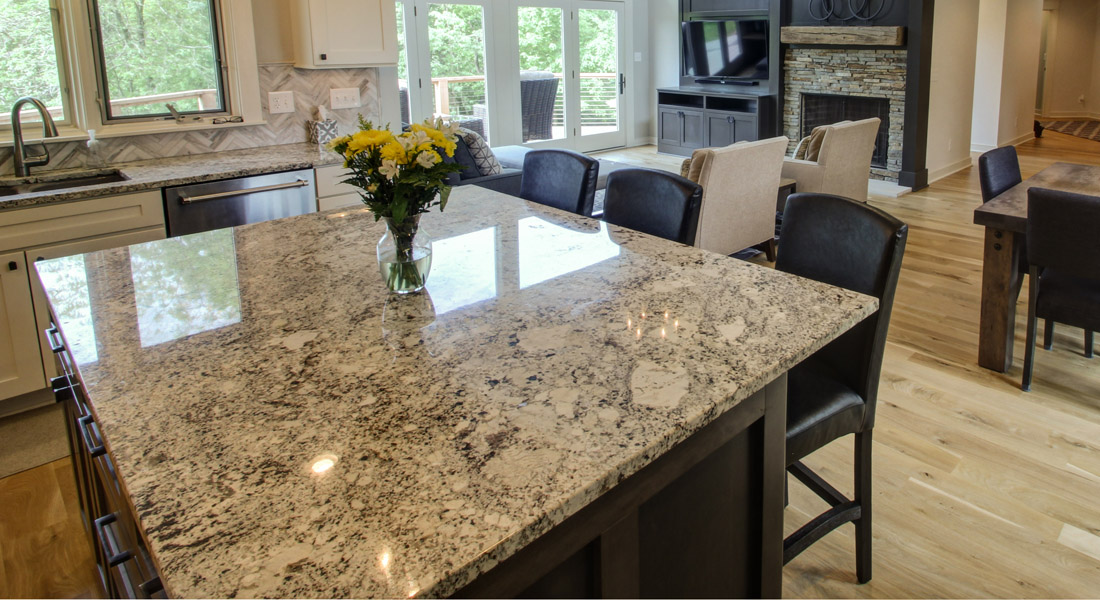 My recommendations? I like the clean look of a flush top, extended out far enough for safety – and counter-height stools for your guests. Second choice? A 42" high raised breakfast bar – high enough to stand at, low enough to sit at, and that hides the mess.
Choose the kitchen island height that works for you – keeping in mind how you want to use it, and what chairs/stools you prefer.

Contact me to learn more about the services I offer and how I can help make your new home or remodeling project exciting, valuable and unique.