Maxwell Way
This kitchen remodeling and family room addition is a dramatic transformation of a typical suburban home into a real showcase of design, function, and style. The existing layout of the first floor of this house was choppy, the kitchen was far too small, and there was no real connection between the kitchen, casual dining area, and family room.


Existing and new spaces were combined, expanding the kitchen with a huge new island and adding a second island for seating. The photo above was taken from the new casual dining area, looking back into what was the old kitchen and dinette. Below, in the heart of the kitchen, looking back towards the existing living room and new addition. The two columns and dropped beams in the ceiling separate the existing house from the addition.



Above is the old kitchen, looking out towards the back of the house. Below is almost the same view today (the cooktop and vent hood on the right side are in the place as before). These photos show the other major issue we solved with this design – adding light!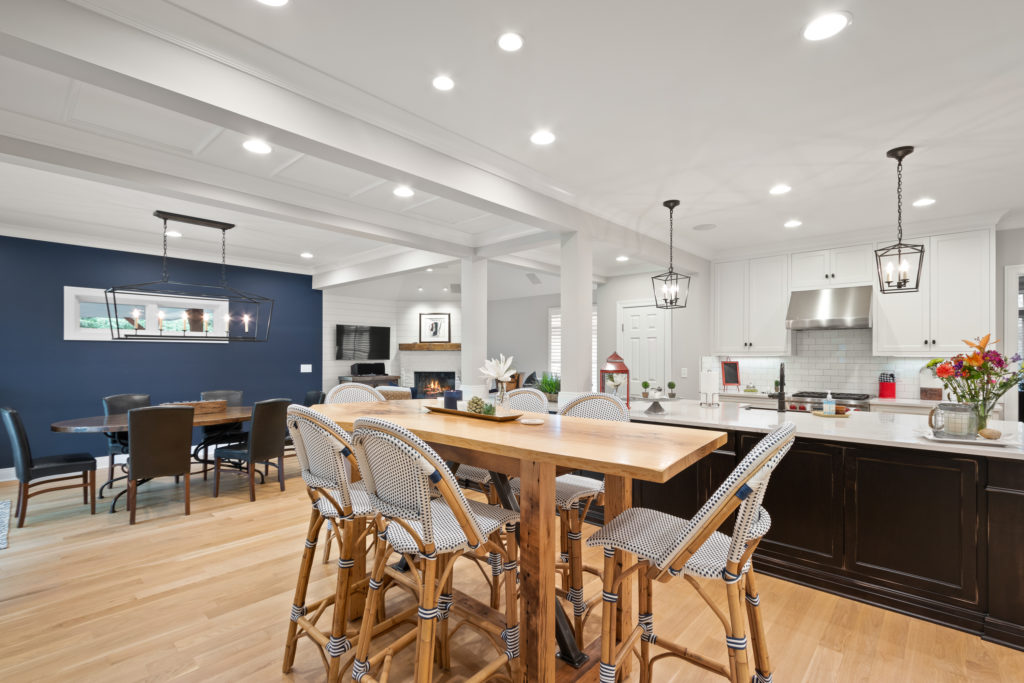 Below is the new kitchen, looking out towards the new casual dining area on the left, and the new family room on the right.



Here's another pair of "before and after" shots – the refrigerator and wall ovens are in more or less the same spot.



We wanted light, bright eating and entertaining spaces, but also wanted to avoid some views to the backyard. The transom windows you see on the blue wall allow light in but don't open up the views. Most of the windows are on the sides of the addition.

The new family room has a vaulted ceiling that gives the room the proper volume and feel without being too tall.






The outside's not quite done yet, but these two before and after shots show that there are big improvements here, too.

Builder: Corinthian Fine Homes
Photography: C. A. Robinson Photographic
Richard Taylor Architects is a Custom Residential Architectural firm that specializes in the design of unique custom homes, remodeling, and addition projects.
In addition to compelling design, I provide services all the way through construction, helping you maintain control and organization, and bringing greater value to your project.
Contact me to schedule an initial consultation on your kitchen remodeling and family room addition project.