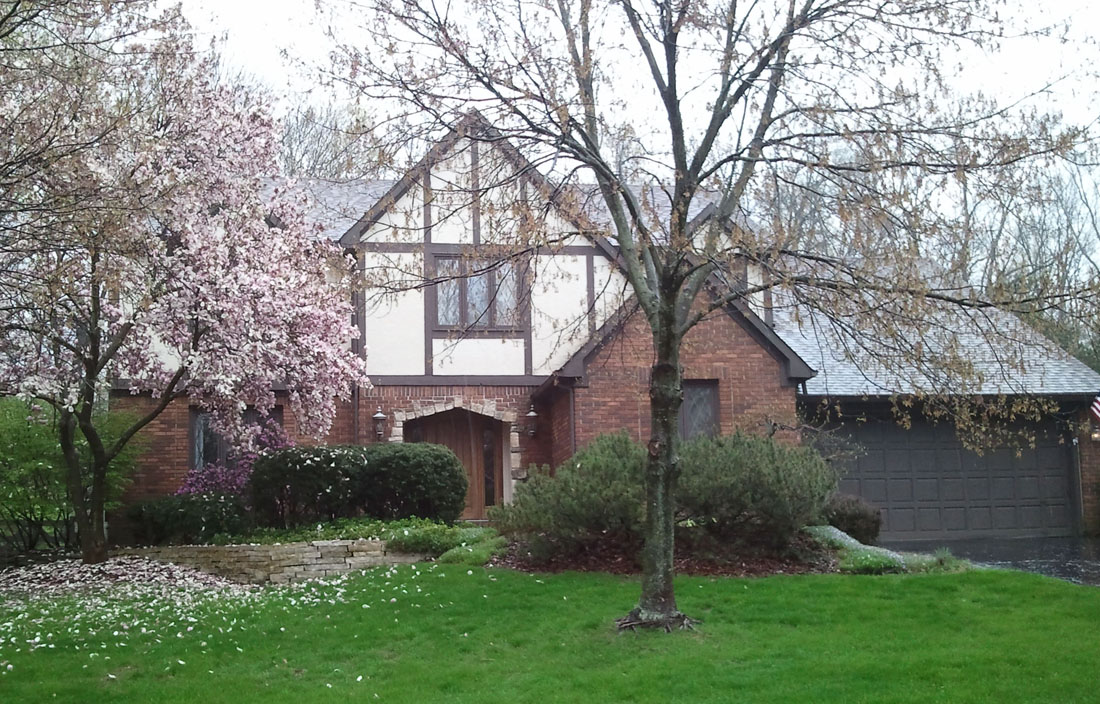 Updating A 1985 House Plan
The 1980s were a very busy time for speculative housing in the midwestern USA, including my region of central Ohio.  A lot of cornfields were being turned into subdivisions then and – like today – builders were in a hurry to get houses in the ground as fast as possible.
A popular way to speed up the building process was to build the same, or similar, house plans over and over again. A few minor tweaks to the layout, maybe brick on one house and siding on the one across the street.
And that made good sense, in a way – subdivisions are generally built with a particular type of homebuyer in mind; a young family perhaps, two or three school-aged kids, two cars, stay-at-home mom…you get the picture.
The floor plans of those homes were based on a tried-and-true "formal" layout – an entry foyer with stair; a den to one side; a formal living room; a formal dining room; and a family room, kitchen, and dinette in the back. Not much space allocated to the kitchen and laundry, and the "mudroom" as we know it today didn't exist.
But that was almost two generations ago. Today, midwestern American families live a much more hectic, busy, and informal lifestyle. There's no time for formal dining, no one entertains in the living room, and since the kitchen's the center of family life, it needs to be bigger and better. Mudrooms and laundry rooms are much higher priorities.
So when a family looks to move into a neighborhood built in the 1980s, they often find houses that aren't well suited to their current lifestyles. They see spaces they don't use, and don't see spaces they need, and they ask, "what can we do to bring this floor plan up to date?"
Sometimes, the answer involves adding a room, but more often than not the house already has plenty of space to work with – it's just a very dated layout, like the typical 1985 first floor plan below. I've added a few notes to it representing the comments I've heard many, many times about common deficiencies of this particular floor plan.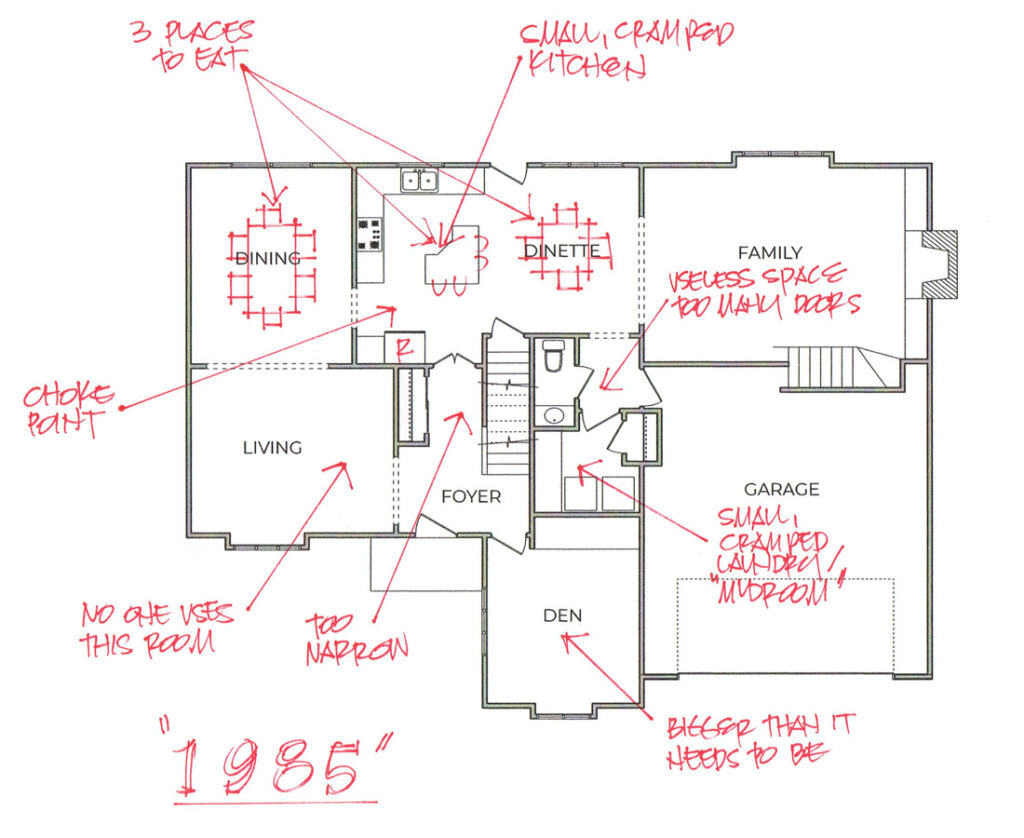 Starting on the left side, there's a formal dining room that opens to the formal living room. This is exactly like the house I grew up in, and even I don't quite know what this arrangement was for. Cocktails in the living room before dinner maybe?
The kitchen's next to the dining room – good – but with the refrigerator and stove right there too, it's a "choke point" when you're trying to cook and get food in and out of the dining room. (And does your family really need three places to eat?)
On the right side there's sort of a mudroom, but it's really just a tiny hallway with three doors all banging into each other. Think about it – the entry your family uses 95% of the time is the most awkward, crowded space in the house.
There's a nice-sized den at the front, but is that really the best use of that space? I think we can do better.
Most egregious, however, is the appallingly small laundry room – I doubt you could fit a front-loading washer and dryer in there, let alone any hanging or folding space! And hockey gear? Forget about it!
So how do we update this 1985 dinosaur to the needs of a modern family? As I said before, the problem isn't a lack of space, it's dated planning. Let's get it fixed – see the 2021 version below: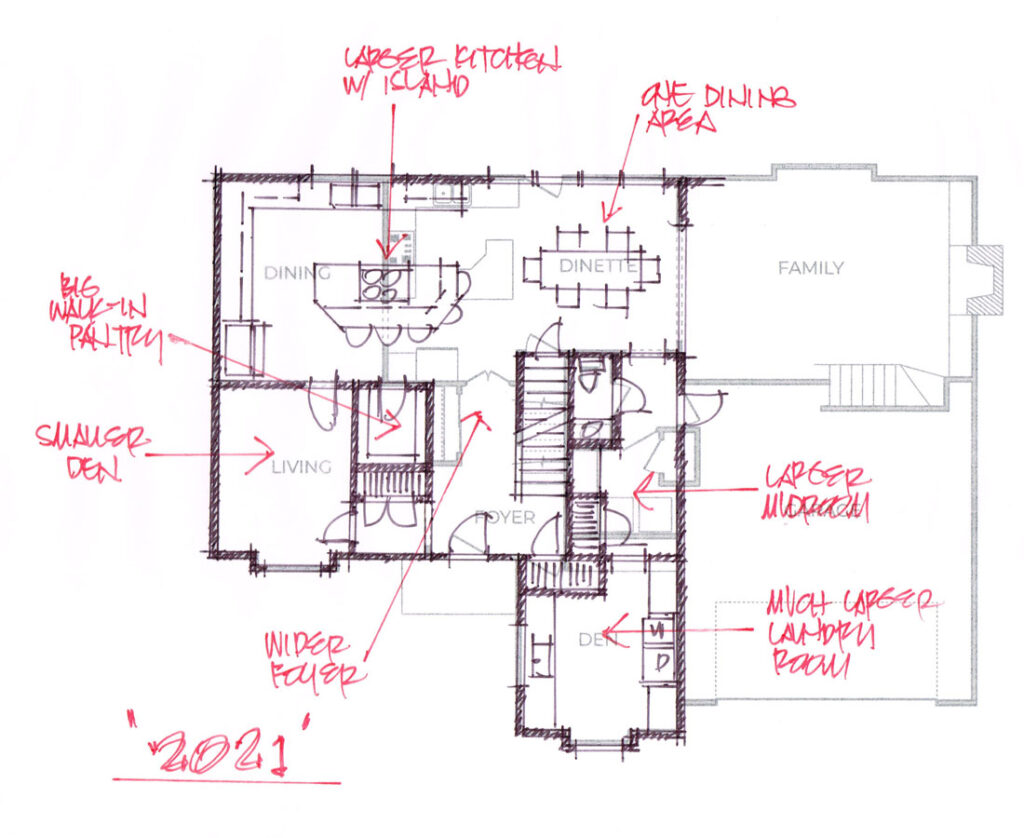 First off, we're going to dramatically expand the kitchen into the existing dining room. We'll slide it all the way over to the left side and move the dining table into what was the dinette. The new, much larger kitchen island has room for bar stools so we're down to two places eat instead of three.
Staying on the left side of the plan, we'll move the den into the living room, making it smaller in the process. The space left over from the living room becomes a large walk-in pantry – and presto, all the kitchen clutter is gone!
I've never liked the location of the guest coat closet because it chokes the foyer down to an uncomfortable width. In this redesign, the closet moves behind the panty, out of the way and opening up the foyer. And as a bonus, it creates a short hallway that adds privacy to the den (I probably should be calling it a "home office", right?).
But it's the repurposing of the old den that really makes this remodeled house work for a modern family. It's now the laundry room – a real room, with windows, plenty of countertops, folding space, hanging space, and storage.
The space from the old laundry room then gets absorbed into a much more useful mudroom. I've moved one of the doors out of the way, added a family coat closet, and a "drop zone" for car keys, cell phone chargers, the dog leash, etc.
Much better! This tired old first floor plan has new life now, open and modern, with truly useful spaces. Now, what about the second floor?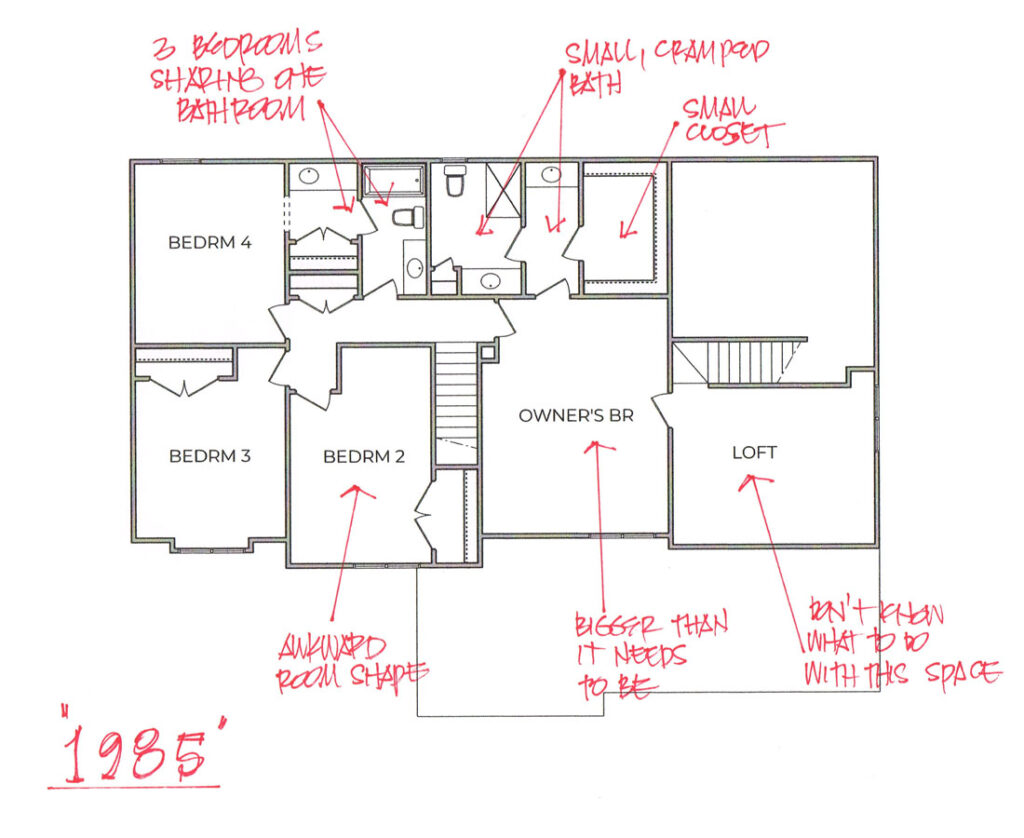 Maybe kids all got along better back in 1985, but it's hard to imagine just one bath for three bedrooms. I shared a bath with two sisters and every morning was like Danny Noonan's house in Caddyshack. In this plan, though, the one-bath problem is easily fixed.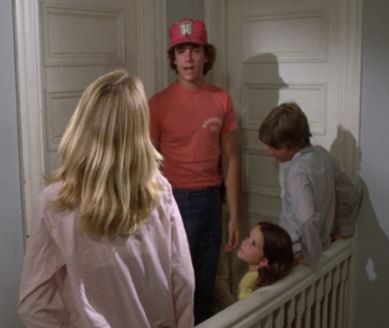 In the owner's suite the closet isn't too bad – at least it doesn't look that way on paper. But I've been in dozens of these houses and can testify that two adults will pack this closet full in no time. A little more space would be a big help.
Likewise in the owner's bath – it's a poor layout with too many doors, no privacy for the toilet, and small shower, and no room for a bathtub. We'll make that right, too.
In the owner's bedroom, all those doors chop up the room and make much of it wasted space. In our redesign we'll grab some of that space back.
What about the "loft" in the lower right corner (sometimes called a "bonus room" these days)? It's an interesting idea, but in my experience, no one's quite sure what to do with it. I've seen it used for exercise equipment, or as a playroom, or just for storage. None of those are particularly good uses for the space, especially since it's open to the family room below.
Which means parts of the second floor are too cramped and small and closed off, and parts are too big and open. Let's balance things out.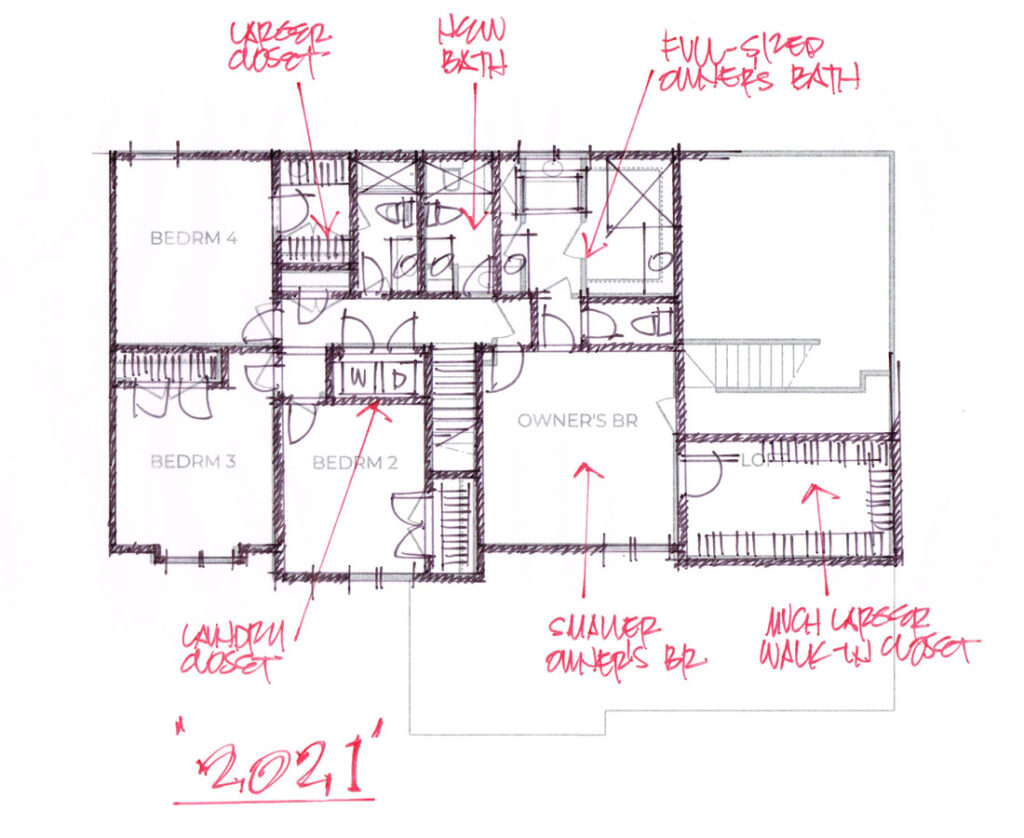 In any decently-planned owner's bath, the toilet must be behind a closed door, for all of the reasons you can imagine. That's one of the first changes we'll make – and we'll get the space we need for it from that wasted corner of the owner's bedroom.
We'll also capture all of the old owner's closet space and add that to a new owner's bath – one with two separate vanities, a large walk-in shower, and a soaking tub.
Here's where the old loft comes into play – we'll make it into a large walk-in closet with plenty of room for two adults to use. In this sketch I've kept the stair from the old loft to the family room – in case we want more direct route – but if not, the stair can come out, making that walk-in closet even larger. Which is never a bad thing.
Three more changes to make the transformation complete – adding a second hall bath where the old owner's bath was; using part of the existing hall bath to give bedroom 4 a walk-in closet; and using the awkward corner of bedroom 2 to add a small upstairs laundry room. I'm a fan of putting a laundry near the dirty clothes – it's up to you to teach the kids to use it.
All of this adds up to an extensive interior overhaul project – nearly gutting the entire house – but I'm showing you all of the possibilities…you don't have to do everything to make a major improvement to this plan.
What's more important is recycling an old house for a new lifestyle. Take another look at the photo of the outside of this house at the top of this article – there's a lot to be said for fixing up a property in a built-out neighborhood with mature landscaping, vs. putting a new home in another cornfield.

Contact me to learn more about the services I offer and how I can help make your new home or remodeling project exciting, valuable and unique.