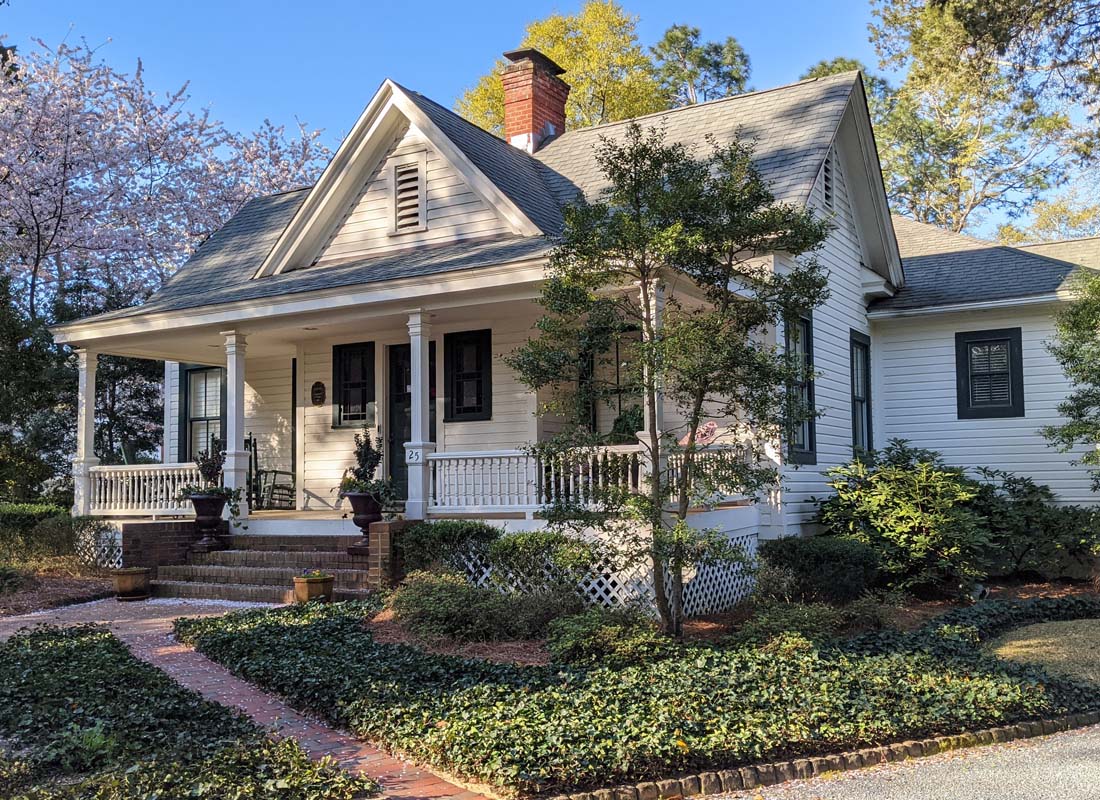 Homes and Cottages in Historic Pinehurst NC
Pinehurst is a small historic village in the sandhills of eastern North Carolina, widely known as The Home of Golf in America. The centerpiece of the village is the Pinehurst Resort, boasting nine (!) golf courses, including the world-famous Pinehurst Number Two, the site of Payne Stewart's 1999 U.S. Open victory.
But there's a bit more to Pinehurst than golf (just a bit, this is a golf-crazy place!).  On a recent trip there – about an eight hour drive from our home in Dublin, Ohio – Karen and I took some time to walk the streets of Pinehurst village and gaze at some of the wonderful homes there.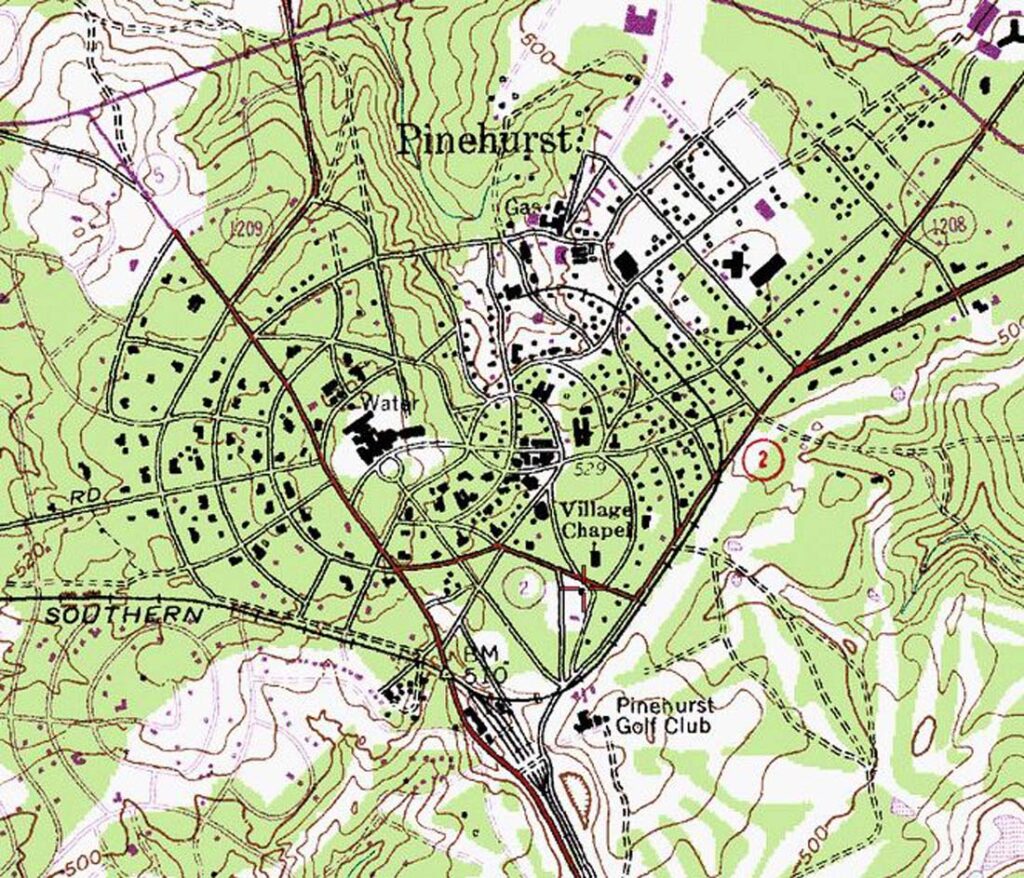 The original layout of Pinehurst Village included a tangle of roads in a tiny village center, but soon grew into a series of concentric, tree-lined streets with the magnificent Carolina Inn at the center. It's on those concentric streets where we found brick sidewalks, sand sidewalks, white picket fences, crushed bluestone driveways, and a wide variety of exquisite historic homes.
There's so much architectural inspiration in Pinehurst for house lovers, and so many examples of the scale and details that make old southern homes so endearing – take a look!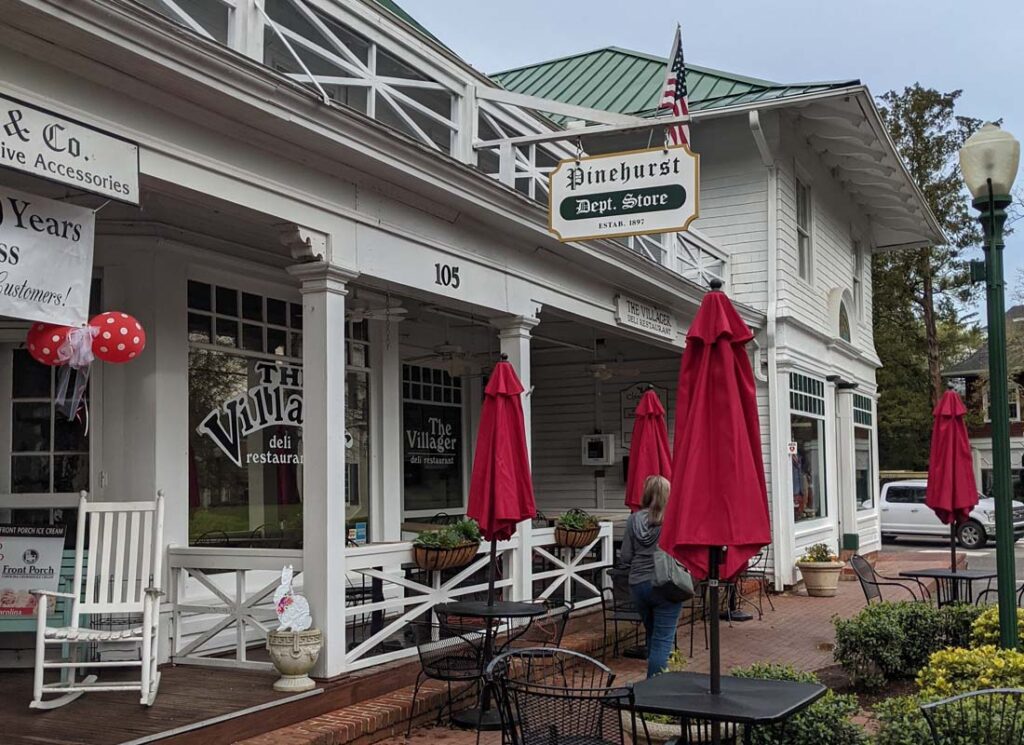 A scene in Pinehurst's village business district. In the evening, patios are full of diners – and the many excellent restaurants are worth the trip.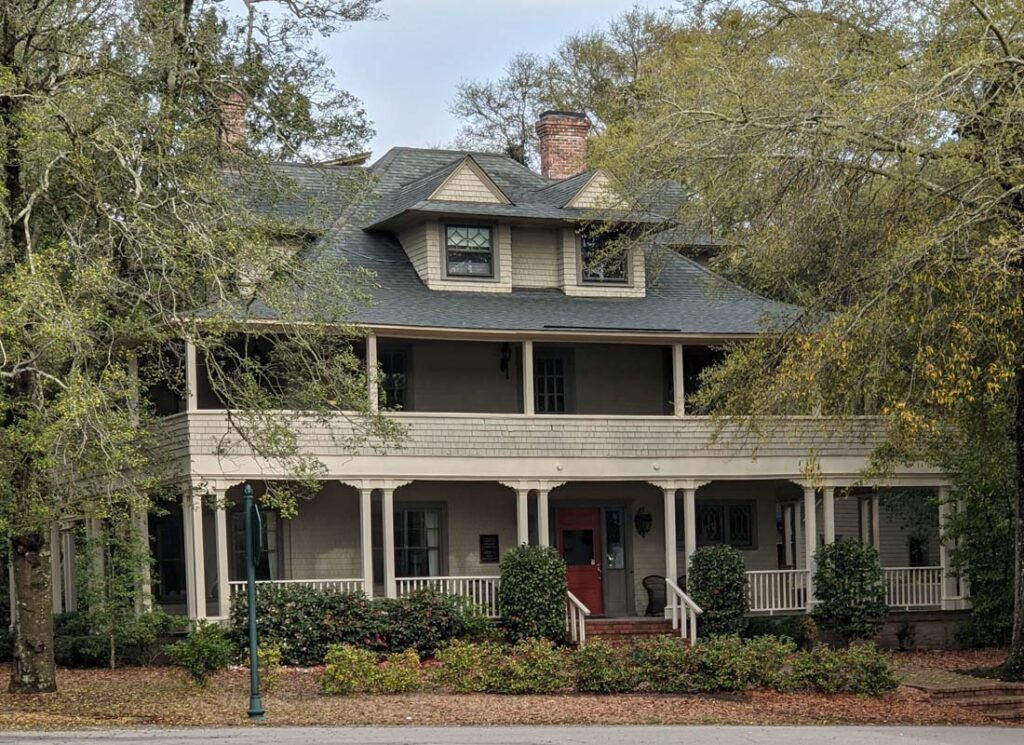 This enormous Shingle-style home sits adjacent to the business district. The two level porches wrap around three sides of the house!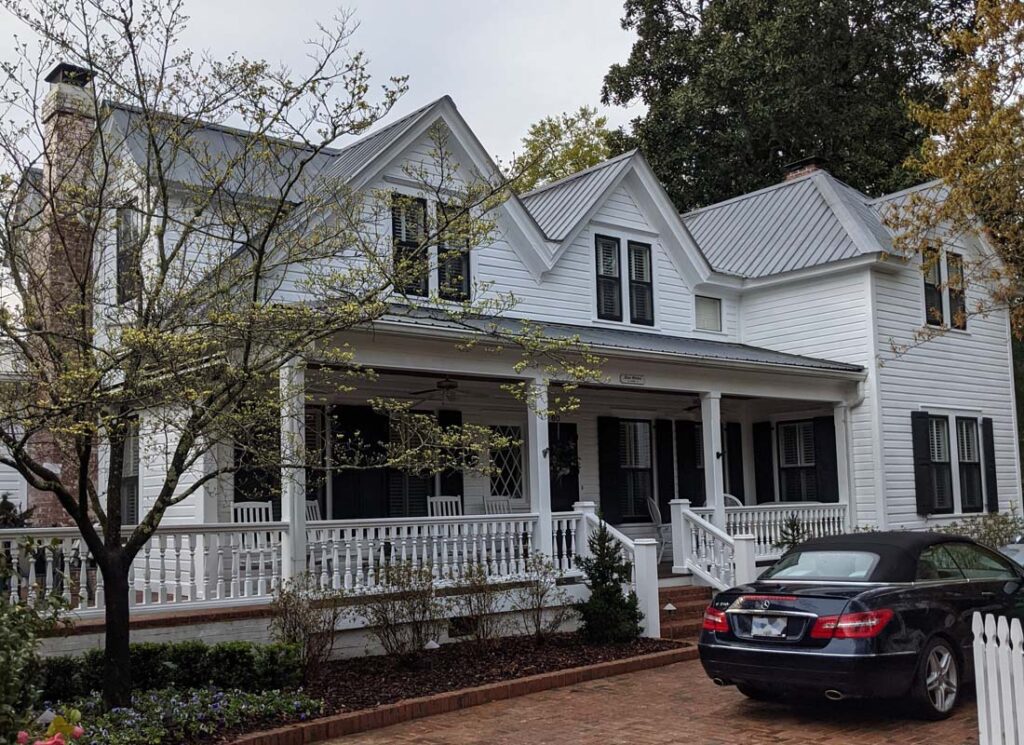 A classic Pinehurst cottage – front porches, metal roofs, and gables are themes we saw throughout the area.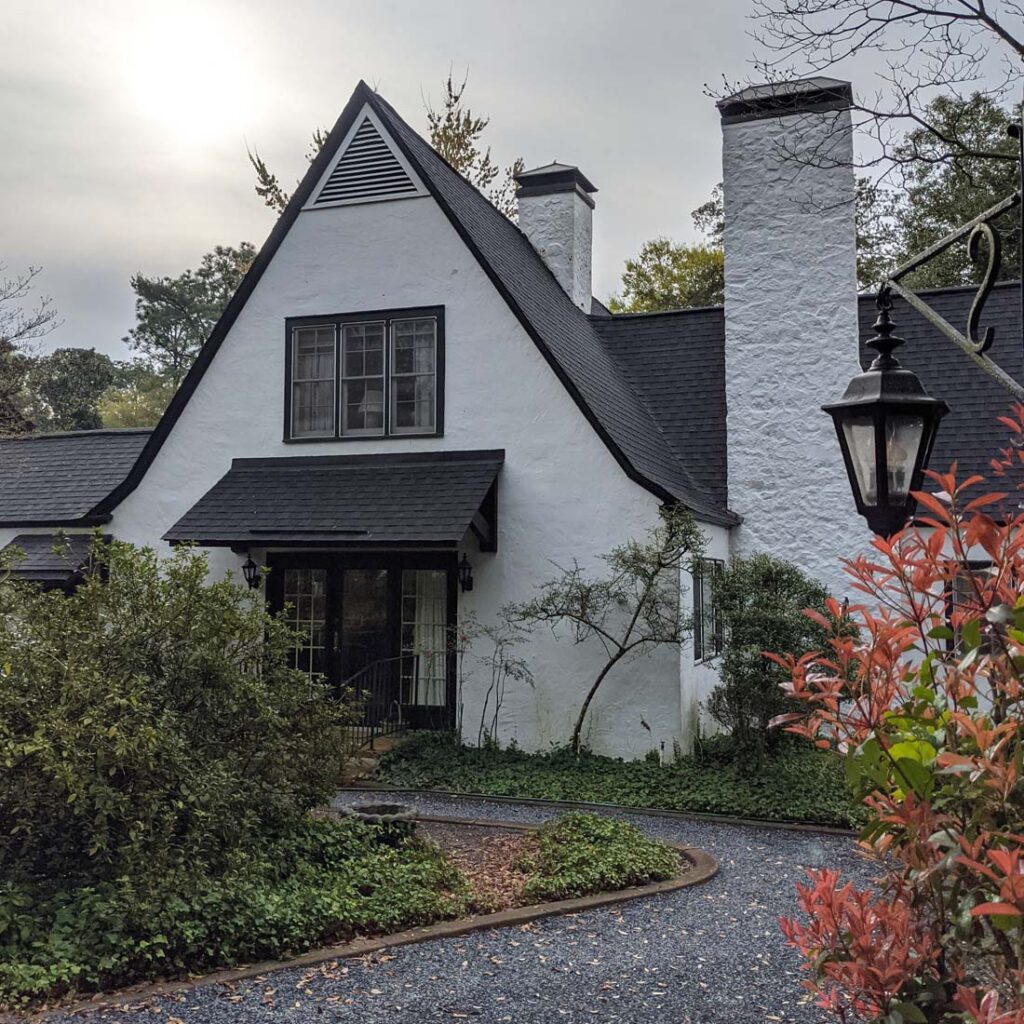 This Tudor/Cotswald cottage really drew our interest – partly because it's a little bit hidden behind the landscaping, but mostly because of the great proportions and well-executed details.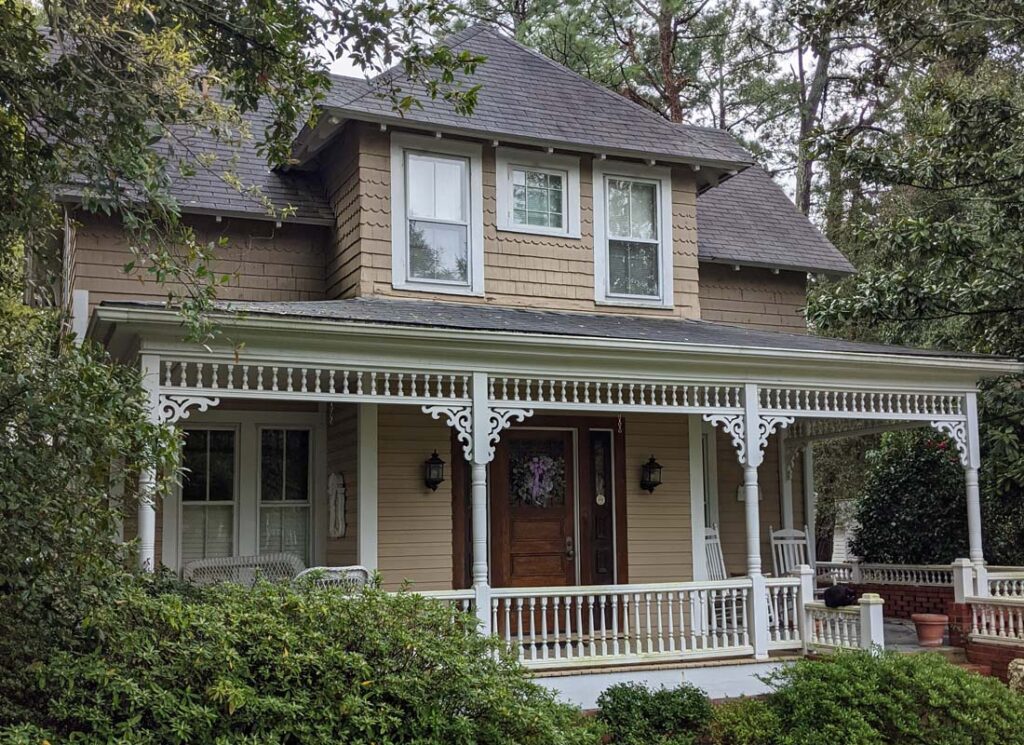 Pinehurst came to life in the late 1890's, at the height of Shingle Style in America. These two homes (above, below) show strong Shingle influence, adapted for the hot southern climate.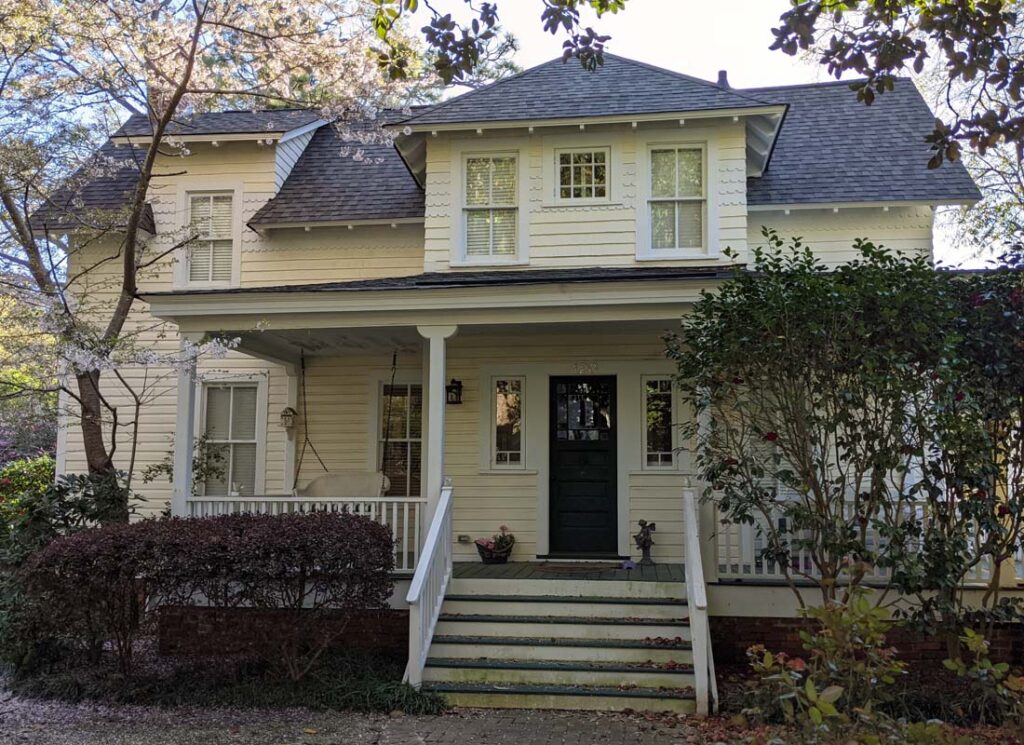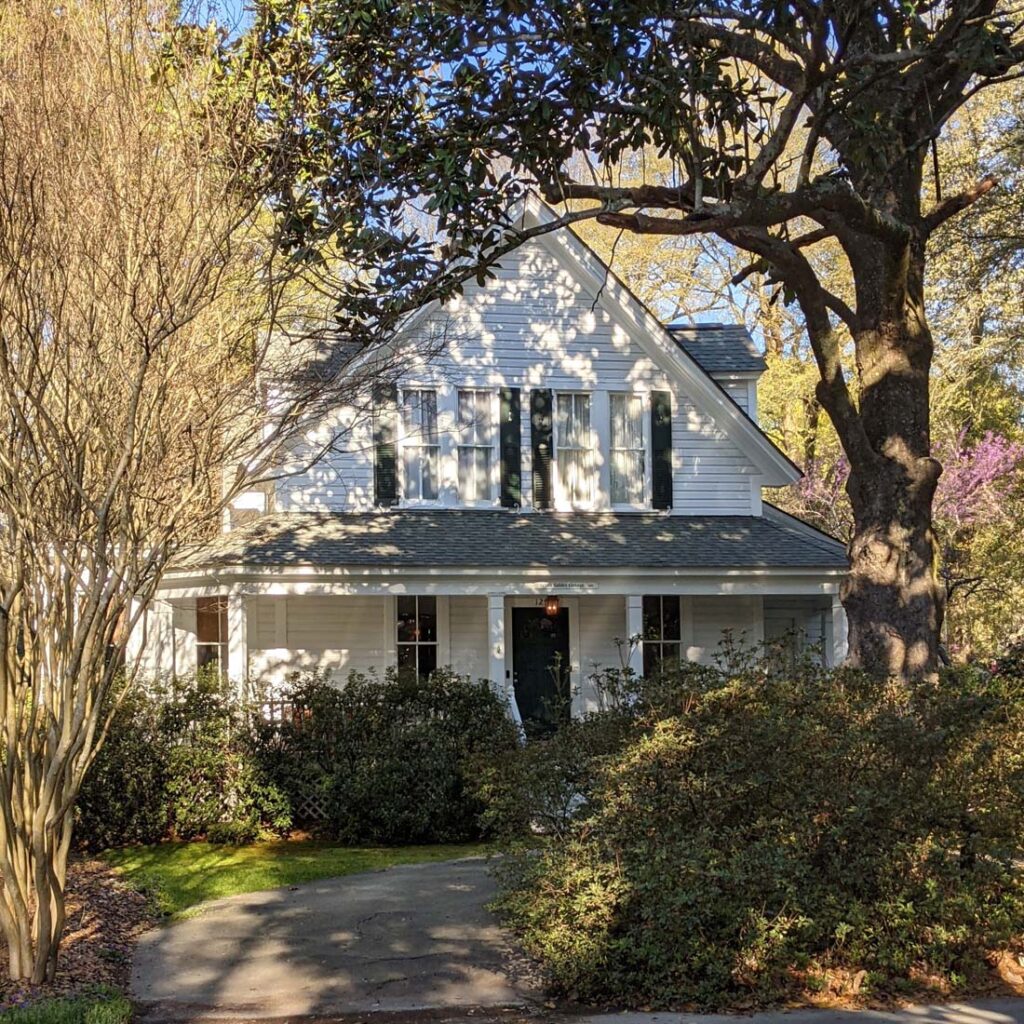 "House of Seven Gables" – at least that's what it says on the front porch! We counted three from this perspective, the rest are hard to see behind the lush vegetation!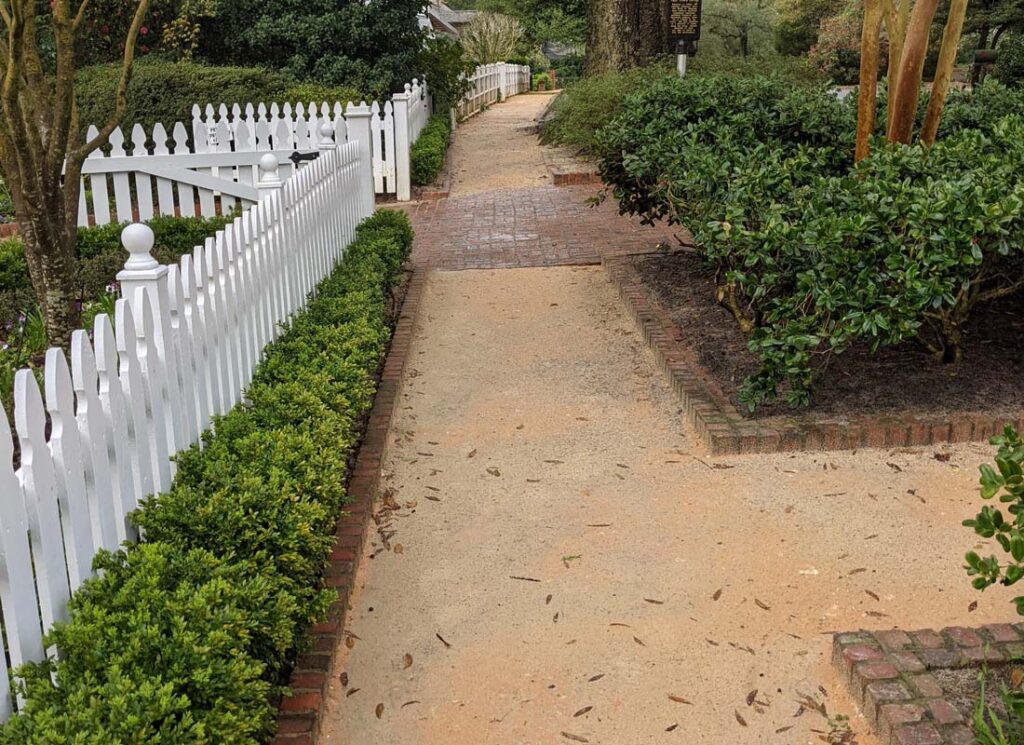 There's a reason the area's called the "Sandhills". Sand sidewalks are almost everywhere, and they're much more walkable than you might think. After a heavy rain (just before we took these photos), a quick once-over with a leaf rake puts them back in shape.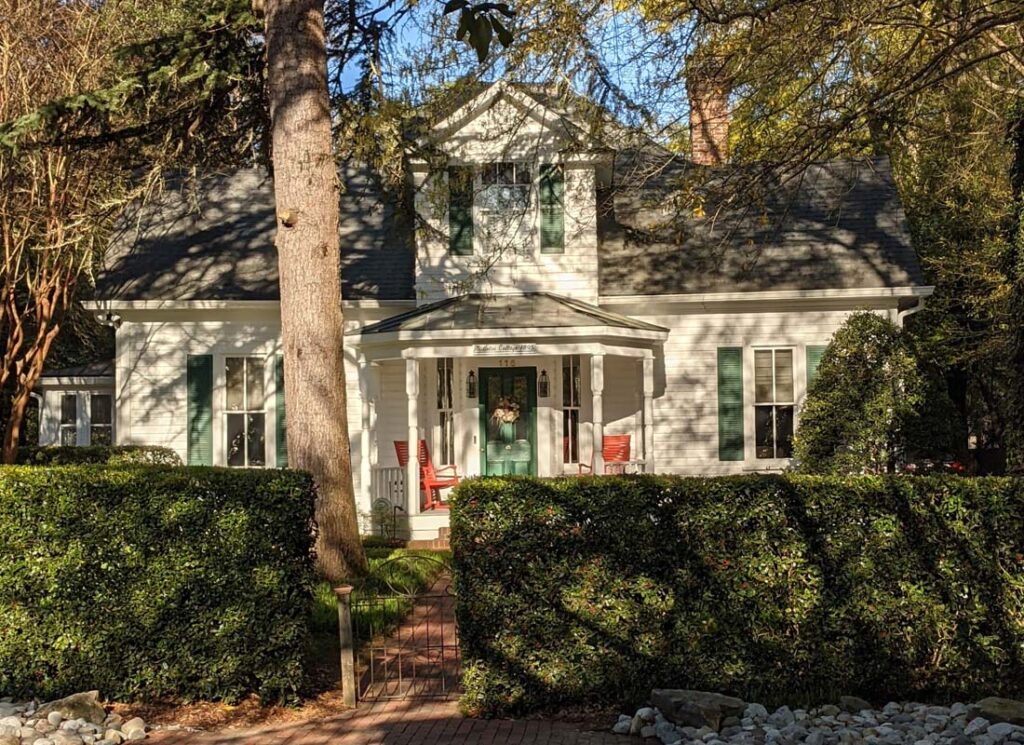 The half-octagon front porch above is unusual, and dates this house well before the 20th century. Super cute!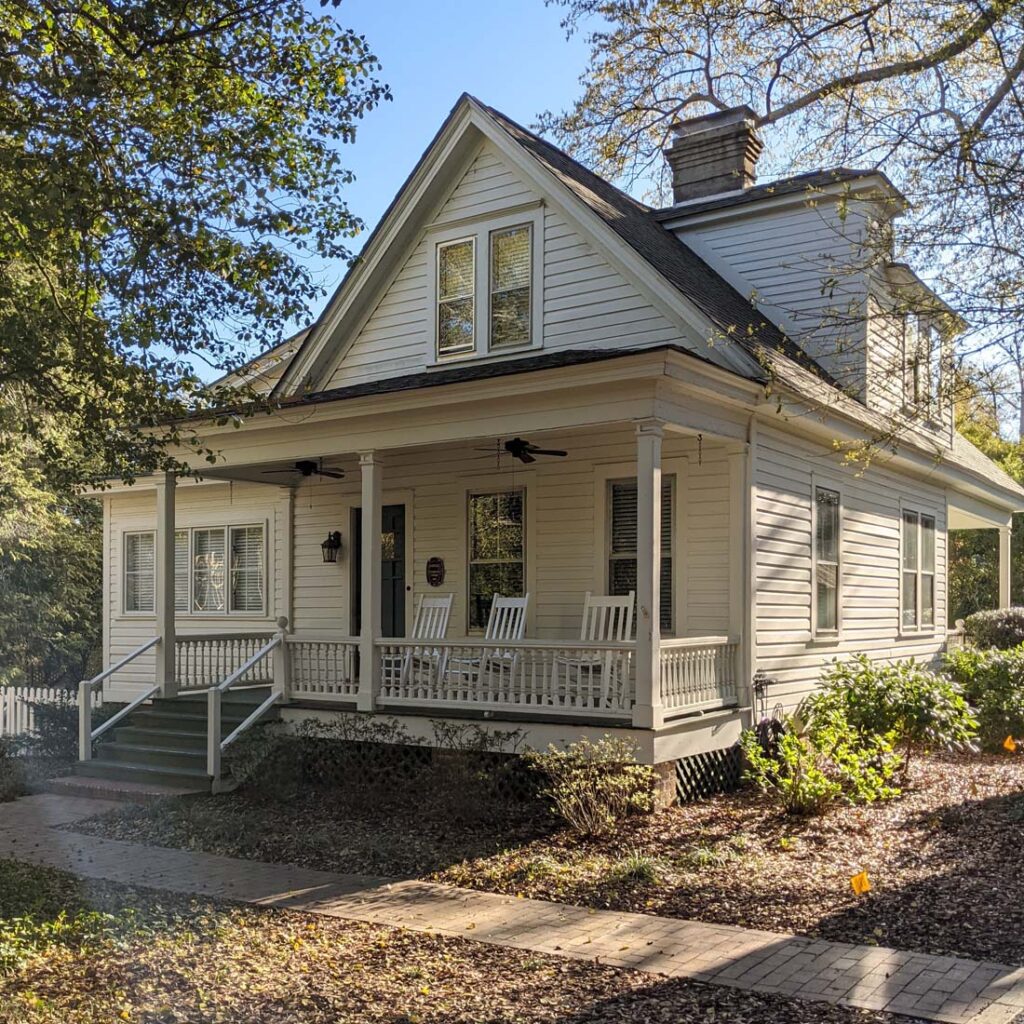 Two more gabled cottages (above, below), at first glance you might think these are of the same house. The colors and details are similar, and they both sport a steep gable over a deep front porch. We'd take either one.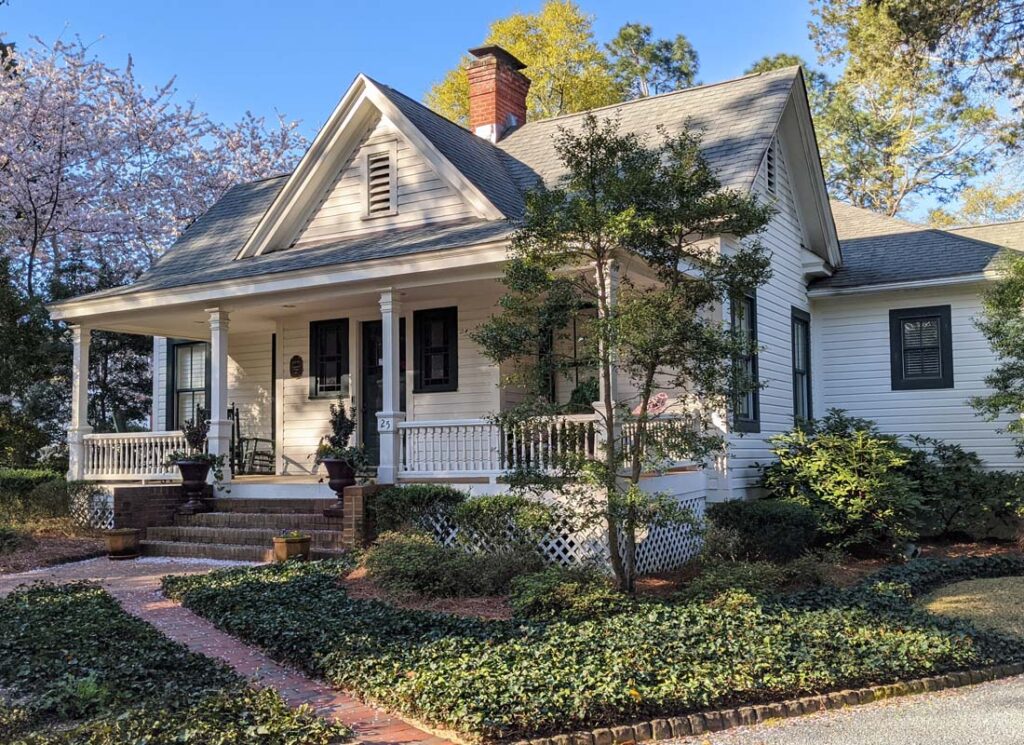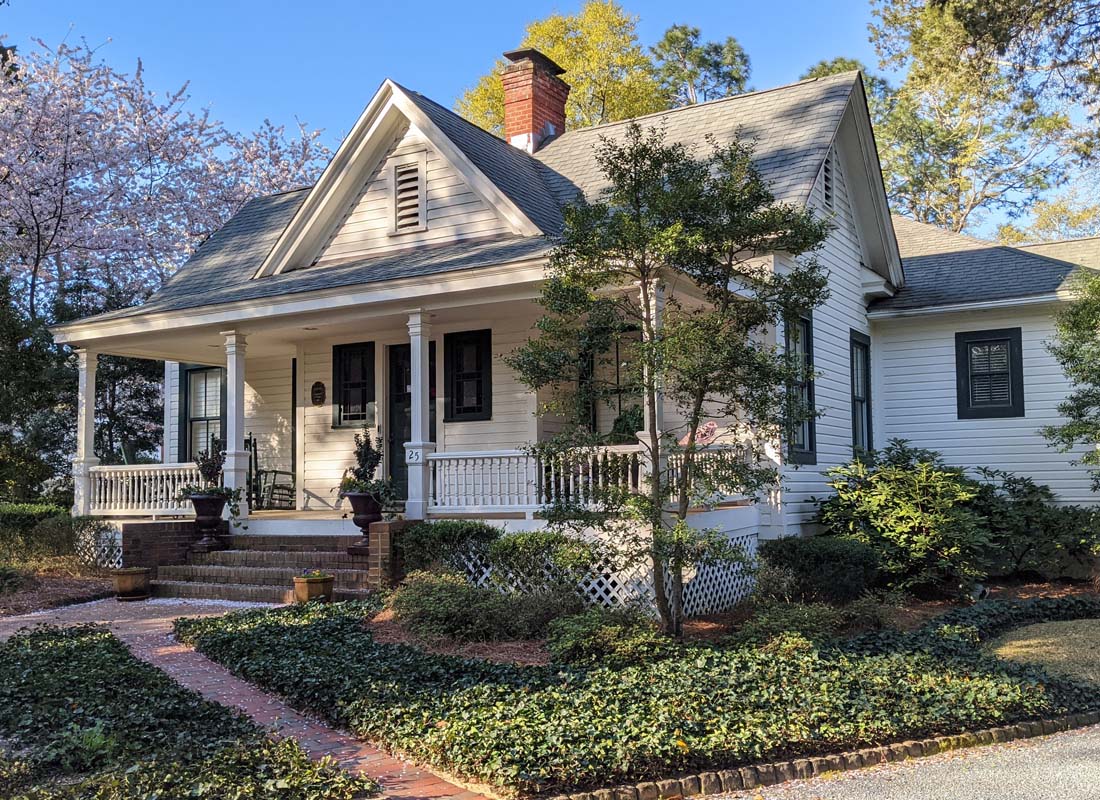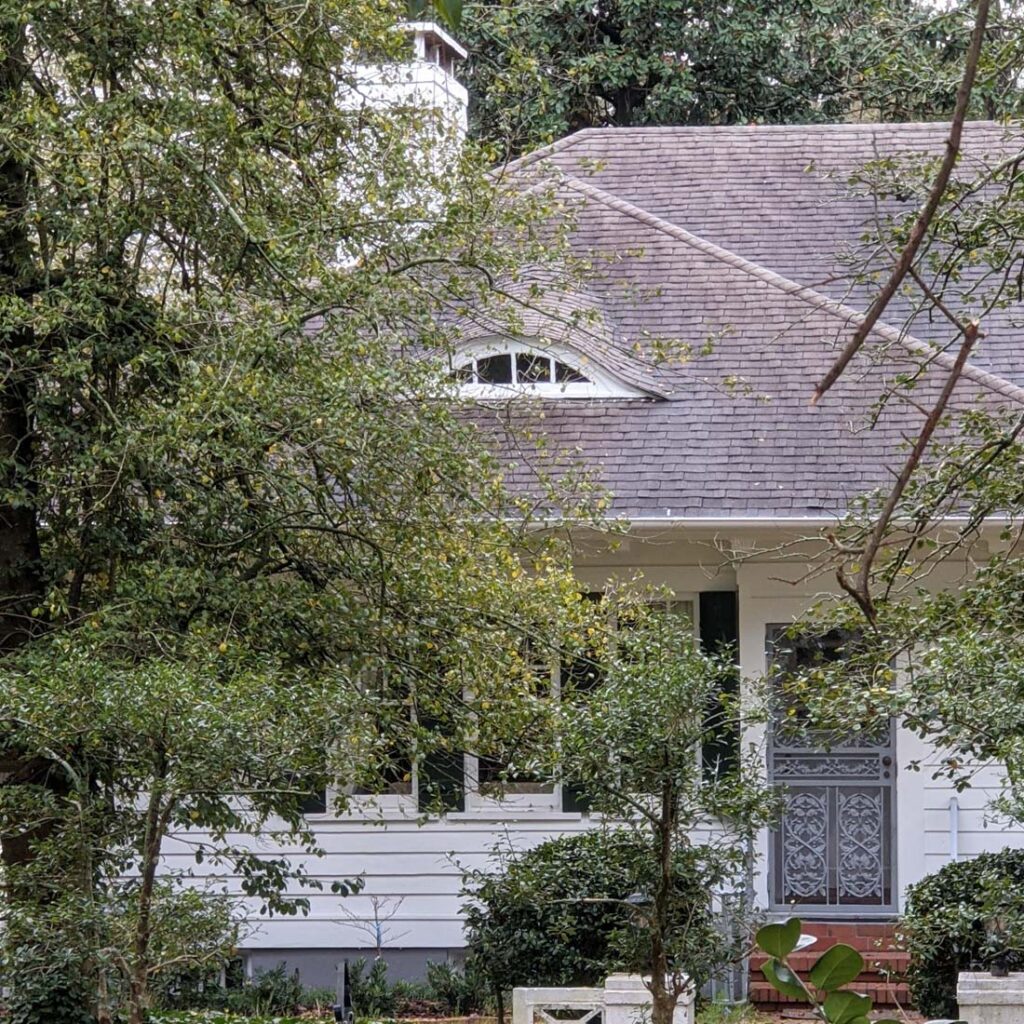 This "eyebrow" dormer caught our eye. It's a lovely feature of this Colonial Revival home, located just across the street from the Carolina Inn. The original roofing was probably wood shingles, steam-bent to fit over the eyebrow.
Pinehurst's one of our favorite places (we seem to be partial to the Carolinas). What's your favorite spot for historic homes?

Contact me to learn more about the services I offer and how I can help make your new home or remodeling project exciting, valuable and unique.