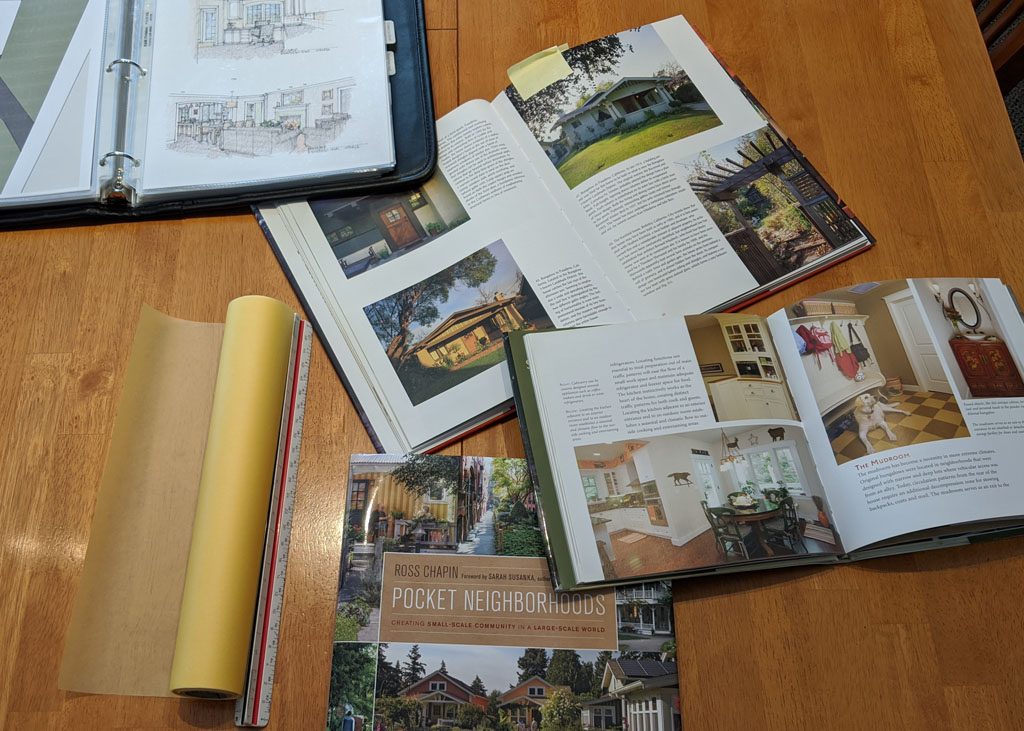 Your First Meeting with an Architect
Chances are, you've never met with an Architect before. For most people, hiring an Architect to design a custom home or a remodeling of an existing home is a once-in-a-lifetime experience.
Which means you're probably wondering what that first meeting with an Architect is like – you might even be a little anxious about it.
That's the case with almost every one of my clients, and actually, I'm a little anxious about our first meeting, too. But because I want to make this whole process fun and interesting for you, it's important that we get off to a good start.
So let's talk about that very first meeting – what should you expect from me, what do I expect from you, and what should you bring with you?
Our first meeting's going to be casual and conversational – we won't be designing your house quite yet (I might do a few sketches as part of our conversation, but no real design work). I am going to ask you a lot of questions – some you'll have the answers to and some you won't. I want to learn as much as possible about what you have in mind for your home, but I don't expect you to have everything thought through on day one.
So breathe easy – you don't need to show up with all the answers…just a pretty good idea of what you're after will do for now.
But even those answers aren't the "facts and figures" kind – we don't need to talk about the dimensions of your kitchen or the brand of appliances you prefer. We'll get to the details eventually, but not quite yet.
The reason we'll keep the conversation open-ended is because our first task is defining the goals you're trying to achieve, without getting into any detail on the possible solutions (that comes a little later). That way, when I do start designing, I can show you creative ways to address your goals, not just repeat back what you've told me you want.
For example, we'll talk about how you plan on using your kitchen – are you a gourmet cook? A family-meals cook? A toaster-oven cook? Do you entertain in the kitchen? Is the kitchen the main family space? How important are views to the outside, connections to other spaces? Do you take your meals in the kitchen or somewhere else?
Those questions can eventually lead to many different design approaches.
We'll also talk about the site you're planning to build on, even for a remodeling or room addition project. We need to start thinking about how outside forces – solar access, wind, good and bad views, trees and vegetation – may impact the location of spaces, the placement of windows, and the relationships between spaces.
But as I said before, I don't expect you to have all these issues thought through on day one – which is a good thing, because this first meeting is supposed to be a conversation between us.
I do, however, want you to be prepared, so here's what I'll ask you to do before we meet.
Make Notes about Your Goals
This can be as little or as much as you like, but the more you can tell me about what your goals are, the sooner I'll begin to understand what's important to you. A few examples from previous clients:
"Create a compact, efficient home design in as few square feet as possible"
"Remodel the kitchen so it's better for baking, with better views and light"
"The family room should be completely open to the kitchen"
"The house should look like it's been there forever"
Gather Images That Appeal to You
Years ago, this meant cutting pictures out of magazines. I'd advise my clients to head to the bookstore and buy as many "home design" magazines as they could find. Then the internet came along – these days I'll direct you to Houzz.com, Pinterest.com, or even a plain old image search on Google.
What should you be looking for? Pictures that help communicate what you find attractive, interesting, and functional. Pictures of entire homes, and of details. Not necessarily "here's what I want you to do", but mostly "here's what I like". A client once told me they liked "French Country" design style. When they showed me the photos they'd collected, I learned that their definition of French Country was very different than mine.
That saved us both a lot of time!
Rough Out a Project Timeline
You might have a good idea of how long a home design and construction project takes, and you might not. But you do know when your busy life allows you time to start working on the project, and you know when you'd like to see it finished. Maybe you have a particular end date in mind.
Bring some ideas about your availability and your deadlines, and we'll talk about what's feasible, including how different design and construction strategies can shorten or lengthen the time it takes to design and build your project.
Rough Out a Project Budget
A good way to start out talking about your budget is to "reverse engineer" it – rather than trying to figure out what the ideas in you head might cost to build, let's start with the money you have to spend, and figure out what we can build with it.
That may sound a little awkward to you, but most people significantly underestimate what it costs to build or remodel, and that sets up disappointment. The good news is that Architects are good at getting the most out of your budget in creative ways that you might not have considered.
Together, we'll look at the total cost to build or remodel, which may involve acquiring land, bringing utilities to the site, hiring a surveyor, accessing the site, getting approvals, hiring specialty engineering services, and so forth.
If you can pull together even just a little bit of what I've listed above, we'll be off to a great start. The key to every successful design project is plenty of communication between us, and that's really what this first meeting with an architect is all about.

Contact me to learn more about the services I offer and how I can help make your new home or remodeling project exciting, valuable and unique.