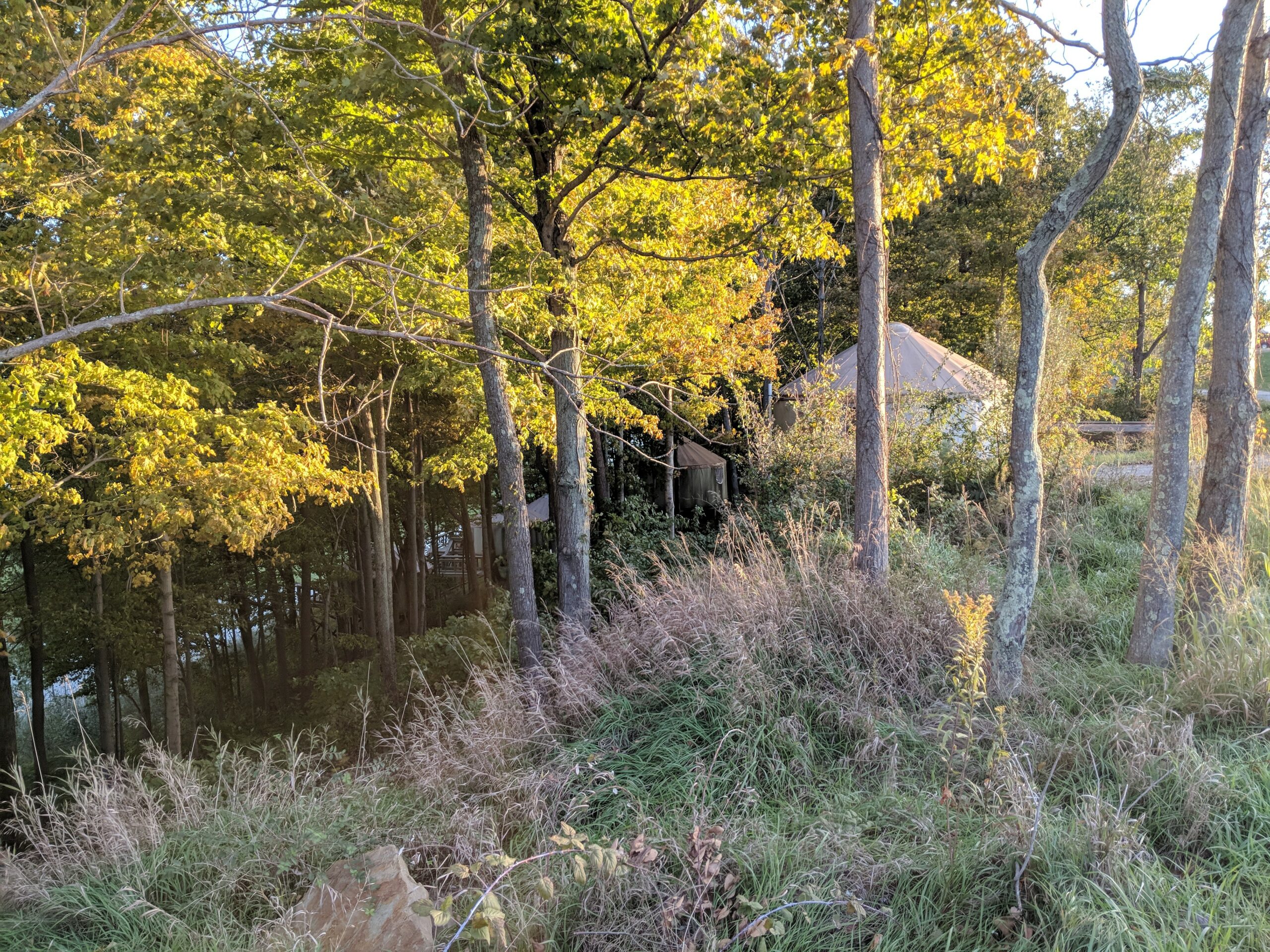 A Night In A Yurt
I didn't want to go.
A few family members had chipped in on a birthday gift of a night in a yurt. A thoughtful, generous, and original gift, which – spoiler alert, turned out a lot better than I thought it would – but I really didn't want to go.
Karen and I love travelling, and love staying in unique hotels and homes, but a yurt wasn't something I'd been dreaming of. To her credit, Karen was looking forward to it, but me – I didn't want to spend one more night of my life sleeping in a tent.
If you're not familiar with yurts (and why would you be?), a "yurt" is a traditional temporary structure used by nomadic people of the Eurasian steppes, a wide belt of grassland extending from the Black Sea east to Manchuria. It's essentially a circular tent, with a rigid frame, and a hole in the top to let smoke out.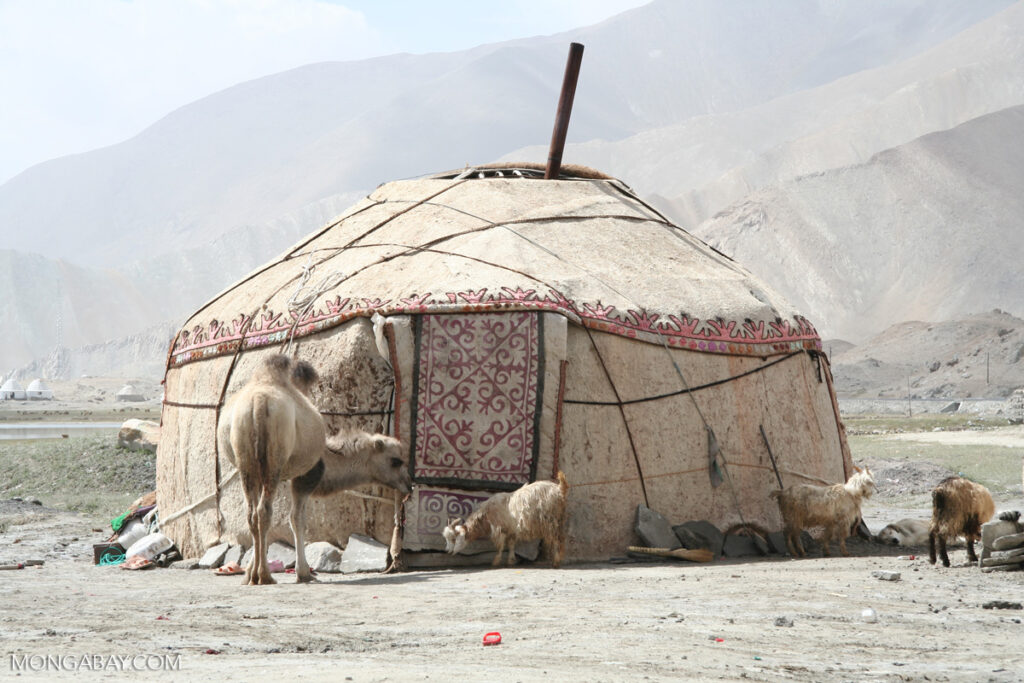 Yurts are meant to be mobile – they're covered with canvas or rugs or animal skins, and can be dismantled, packed up, and moved to another location in short order.
It's the Eurasian version of the North American tipi. Not the comfy king-size bed, walk-in shower, big-screen TV accommodations that spoiled me prefers.
Fortunately, the yurt we'd been invited to wasn't on the Eurasian steppes, it was in Southeastern Ohio, at a place called The Wilds. The Wilds is 10,000-acre wildlife conservation center, built on land reclaimed from strip-mining.
The first of many species of endangered African and Asian animals were released into the Wild's pastures in 1991, and the population has since grown to more than 30 species including Cheetahs, White Rhinos, Giraffes, Antelopes, and some others I've never heard of and can't pronounce.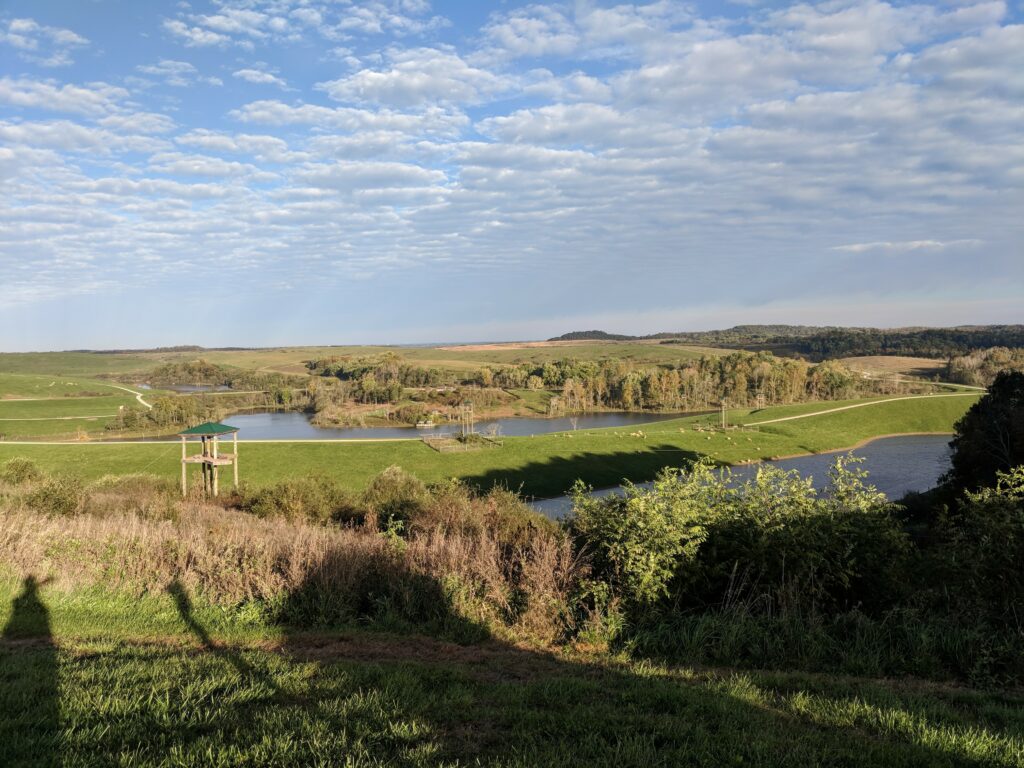 A very cool and very important place for conserving threatened wildlife, and one we hadn't been to before. I was looking forward to visiting The Wilds. Apparently, it was a package deal – suffer through a night in a yurt, get a tour of The Wilds.
But things started looking a little better when I visited The Wilds website and learned that these yurts were nicely Americanized for people like me, people who'd already done enough camping for one lifetime. These yurts had wood floors, a real bed, heating and cooling, a skylight instead of a hole in the roof, a bathroom, and – Wi-Fi. Now we're getting somewhere.
So off we headed on a 2 ½ drive into an extremely remote part of Ohio, where it's completely dark at night and the stars are spectacular. I later learned that not far from The Wilds is a special area set aside for pubic stargazing.
We checked in at the office on "Nomad Ridge", and learned our reservation included a 24-hour concierge, then drove over to yurt # 11 at the end of the road.
Our yurt was surprisingly spacious and comfortable, and actually, kind of interesting. The walls are just a big latticework – imagine an old wood baby gate stretched into a circle – and don't look sturdy enough to hold the building up. But as I said, these are Americanized yurts, so all the wood pieces are connected with steel pins and plates and brackets. They're not going anywhere without a forklift and a flatbed truck.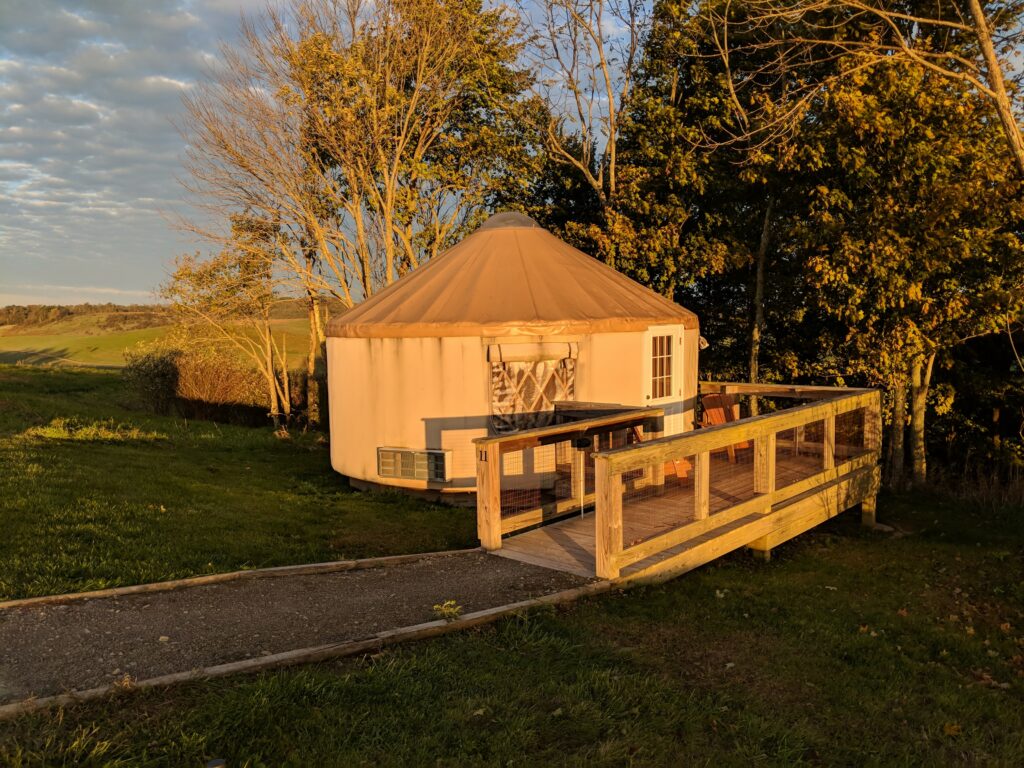 The yurt had just two windows and a door, but the fabric walls allowed some soft light to filter in. The smoke-hole at the top was covered with a Plexiglas skylight that later, created a Zen-like view of the night sky.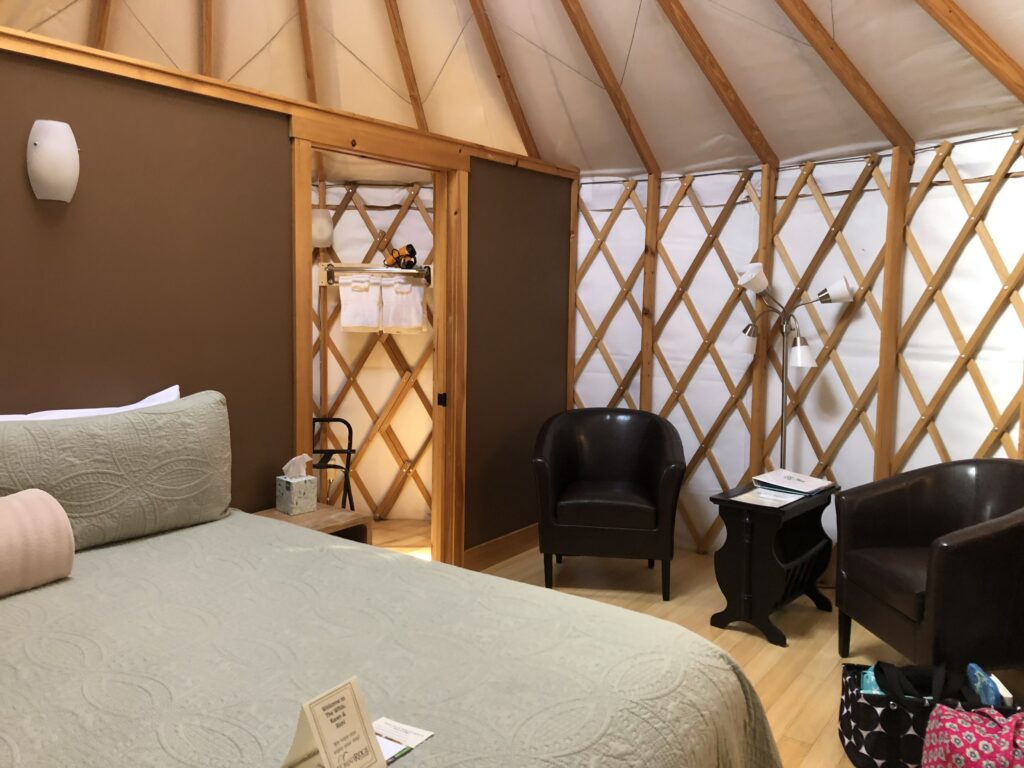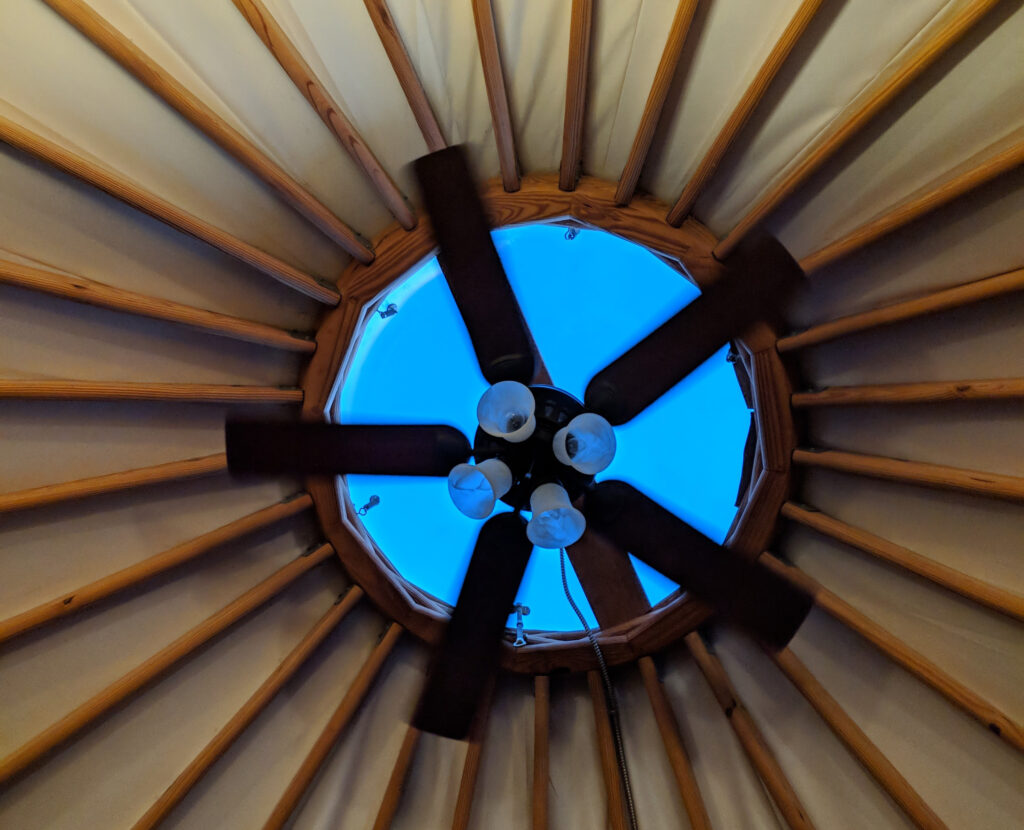 After we settled in, we headed off for a tour of The Wilds in an open-air bus and got very close to some of the wildlife. Very informative and interesting, and our tour guide was entertaining. I wasn't fully prepared for how cold the open bus would be though, and shivered while I learned about the Sichuan Takin, the Scimitar-Horned Oryx, and the Banteng, a species of southeast-Asian wild cattle.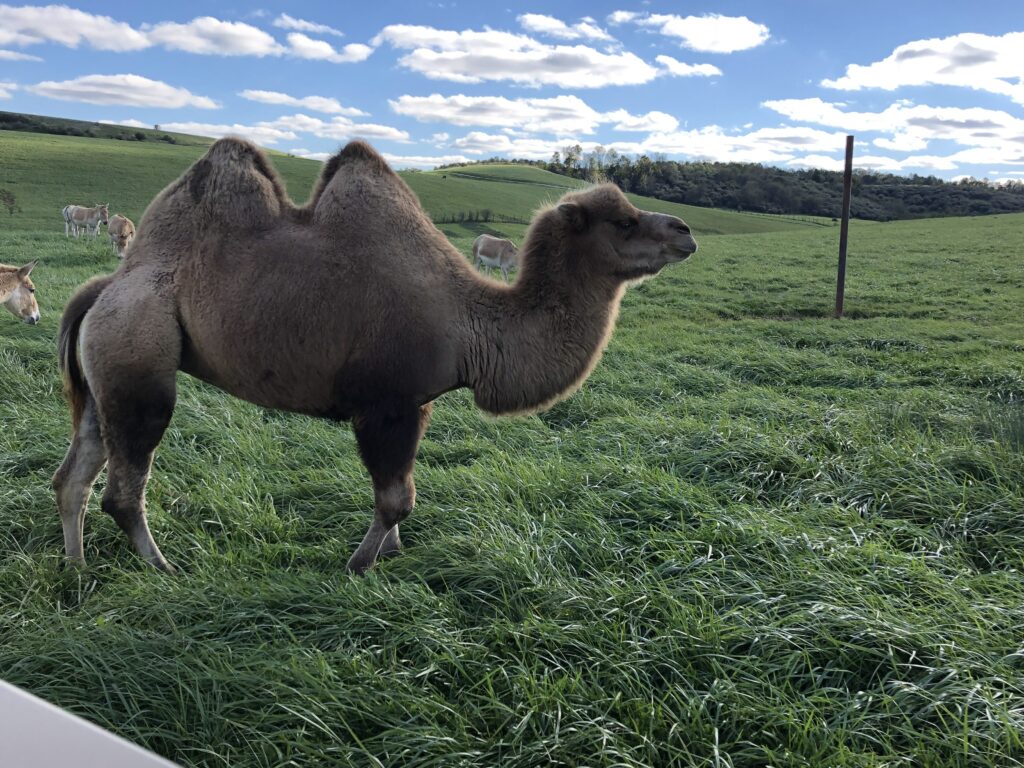 After the bus tour we were treated to a "guests-only" dinner at the Wilds Lodge, then headed back to our yurt. On the way we stopped by the concierge tent and learned about the firepit overlooking the beautiful grounds. It was quite cold that night, even with the fire, so the concierge offered us warm, fuzzy blankets and a glass of red wine. We didn't stay long, but our timing was perfect to see a rather spectacular southeastern Ohio sunset.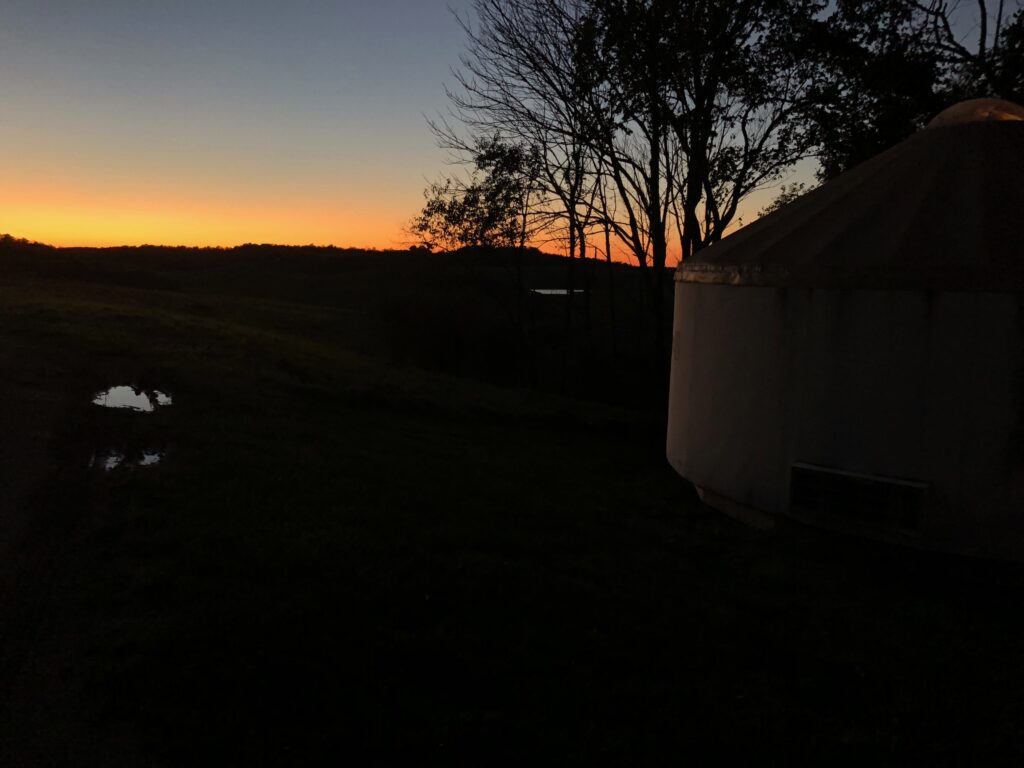 We slept comfortably in the yurt in spite of my worries that we'd hear noise from all the animals, or that a pack of hyenas would break in and drag us off into the night. The only real issue we had was the heating – the thermostat was stuck at full heat, so all we could do was turn it on or off.
The next morning we were up early, enjoyed a lovely sunrise, had breakfast and coffee at the lodge, took a lot of photos, and headed home. Not a bad way to spend the weekend, in spite of my initial misgivings.
It could have been a lot worse, and I owed my family an apology for being less than excited about the gift. Will we go back? To tour The Wilds again, sure…for another night in a yurt, well, if the weather's not too cold, the Wi-Fi's working, the cheetahs stay away, and they have plenty of wine, yeah, I might give it another try.

Contact me to learn more about the services I offer and how I can help make your new home or remodeling project exciting, valuable and unique.