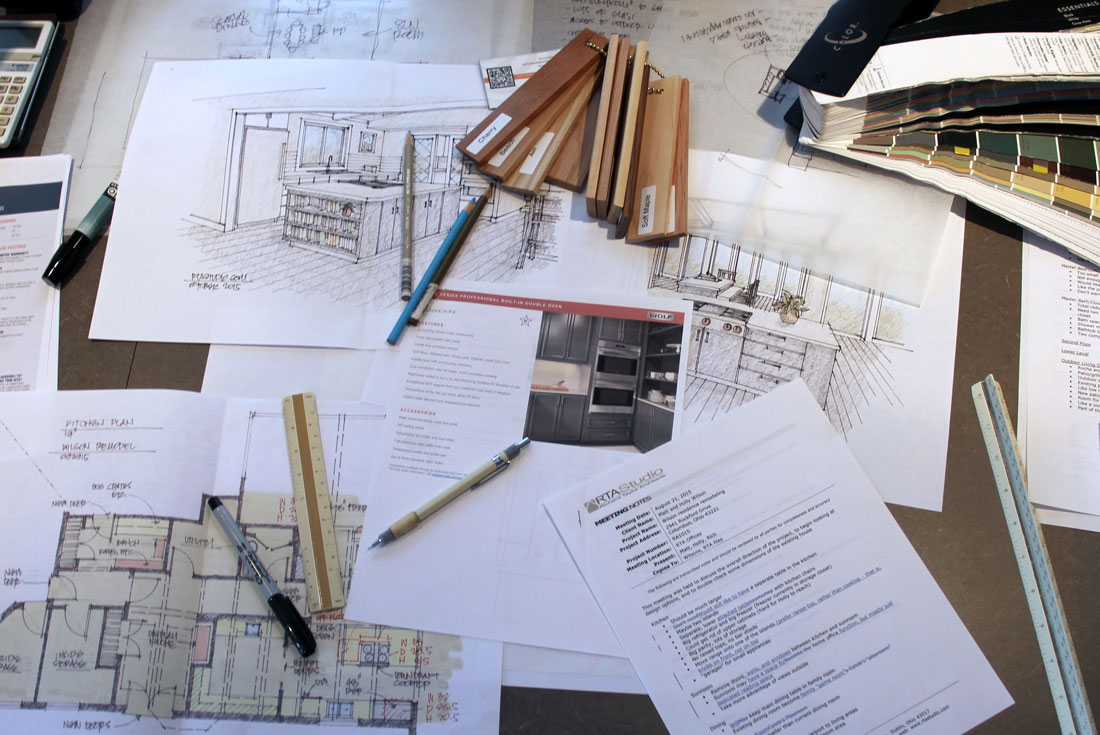 Interior Design for Your New Home or Remodeling Project – 4 Ways to Get It Done Right
Maybe you remember that TV commercial from a few years ago, where a couple walked into an Architect's office carrying a bathroom faucet. "Design a home around this", they said to the Architect.
Does that ever really happen? Probably not – at least, it's never happened to me.
Actually, starting with finishes isn't as far-fetched as it might sound. A lot of my clients walk in my door for the first time with a better idea of some of the finishes they want than an overall idea of their design.
And that's fine – design inspiration comes from a lot of different places. Finish and fixture selections are the things most people easily relate to, so it's not unusual to make them a starting point for thinking about design.
It's just not usually a bathroom faucet.
At some point though, whether it's early in the design process or much later, someone's got to make decisions about flooring, paint, countertops, cabinets, kitchen appliances, lighting fixtures, trim, toilets, and…bathroom faucets.
So who's that "someone"? You? Yes, of course, you're going to make the final decisions, but you may have help and you may not. That's what I want to talk about with you today.
Most people assume that getting "interior design" done requires hiring an Interior Designer. Truth is, there are a lot of different ways you can go about choosing finishes and fixtures, sometimes with the help of an Interior Designer, sometimes not.
Here's how to figure out the best way to choose finishes and fixtures for your project (FIY – I'm just talking about the things installed during construction, not furniture, window coverings, or artwork).
1) Using an Interior Designer
There are advantages to using a good Interior Designer for many new home and remodeling projects, especially large and complex ones. Most important is having experienced help in organizing the hundreds of decisions you'll need to make; second is making sure all of those things fit your taste and the architectural character of the project; third is assuring that all the finishes and fixtures work together; and fourth – making all those choices within your budget.
Time is a factor here, too. Your builder/remodeler needs decisions made on schedule – if the cabinets aren't delivered on time, the countertops can't go in. If the countertops aren't in the plumber can't finish…and on and on. An Interior Designer will help you stay on track.
I've had several clients that took on finish and fixture selection when they should have used an ID, and they were quickly overwhelmed by the sheer volume of products and sources out there. A good Interior Designer will quickly narrow down your choices.
Hiring an Interior Designer can be a significant investment, but their assistance on many projects is well worth the expense. If the details of your project are important to you, if you don't have time to run all over town chasing down tile to go with the countertops, if your budget can handle another professional fee, and if you don't have the confidence to choose finishes, you'll benefit from working with an Interior Designer.
2) Using Your Architect
Architects that also offer Interior Design usually have a staff member handling that service, which means you're essentially hiring an ID anyway. Doing the interior design in-house is usually less expensive than using a separate interior design firm and makes coordination between Architect and designer easier. If the Architect's Interior Designer is talented and tuned in to home design (not just commercial work), this is a great way to go.
Architects without an interior design staff sometimes also offer finish and fixture selection services. The same efficiency of services applies here as well, although there's a downside – when the Architect's out visiting showrooms with you, they're not working on the Architectural part of your project (or anyone else's). Which means the overall schedule can stretch considerably.
But there's a good middle ground service that some Architects offer, making it much easier and faster for the homeowner or their Interior Designer to choose the right finishes and fixtures and keep the project on schedule.
In this situation, the Architect works with the client to create 2D and 3D drawings that show the overall character and style of the spaces, including the "look" of the finishes and fixtures. With those images, and a preliminary "finish schedule" in hand, a homeowner can quickly communicate their taste and intent to an Interior Designer, or to product suppliers if they're making the selections themselves.
That can save time and money on interior design services while still getting most of the benefits of working with an ID. It also allows the Architect to focus on getting your project ready to bid and build. You probably won't be surprised to hear that's the way I prefer doing things at my office.
3) Working with a Builder/Remodeler's Designer
For smaller, less complicated projects this can be a big bonus. Many larger remodeling and homebuilding firms have designers on staff to help you. Besides the obvious "everything in one place" advantage, builders with designers on staff are able to give you immediate feedback on how your selections affect your budget.
In many cases, staff designers can show you pre-designed packages of finishes that make the selection and budgeting process really easy, sometimes already installed in a showroom.
This arrangement is perfect for kitchen and bath remodeling and simple room addition projects with one caveat – with some companies you might have to choose from a limited number of suppliers. For these kinds of projects, however, you should still have plenty of products to choose from.
Of course, this is one of the things you'll want to check into before you hire a remodeler or builder.
4) Making the Finish and Fixture Selections Yourself
By now you might think this is too much to take on by yourself, but if your project's not too big or too complex, and if you're the kind of person who's organized and decisive, you can get it done.
Start by gathering as much about what you like as possible. Using resources like Houzz.com and Pinterest, find images that show your tastes as closely as possible. You'll match those up with the imagery your Architect produces for you (see "Using Your Architect" above) to narrow down you choices and simplify the whole process.
With all that info, and a fixture and finish budget from your contractor, your next stop is at the showrooms for all of the items you need to pick out. Most of the time, you'll find experienced salespeople there that can help you match up your selections with each other.
But don't leave your contractor out of the loop when you're making finish and fixture selections. You still need to get your selections made on time, or you'll put the construction progress in jeopardy. Pay attention to the construction schedule they've set up for you, make decisions and stick to them, and if you get overwhelmed, your Architect should be able to help you – one faucet at a time.

Contact me to learn more about the services I offer and how I can help make your new home or remodeling project exciting, valuable and unique.