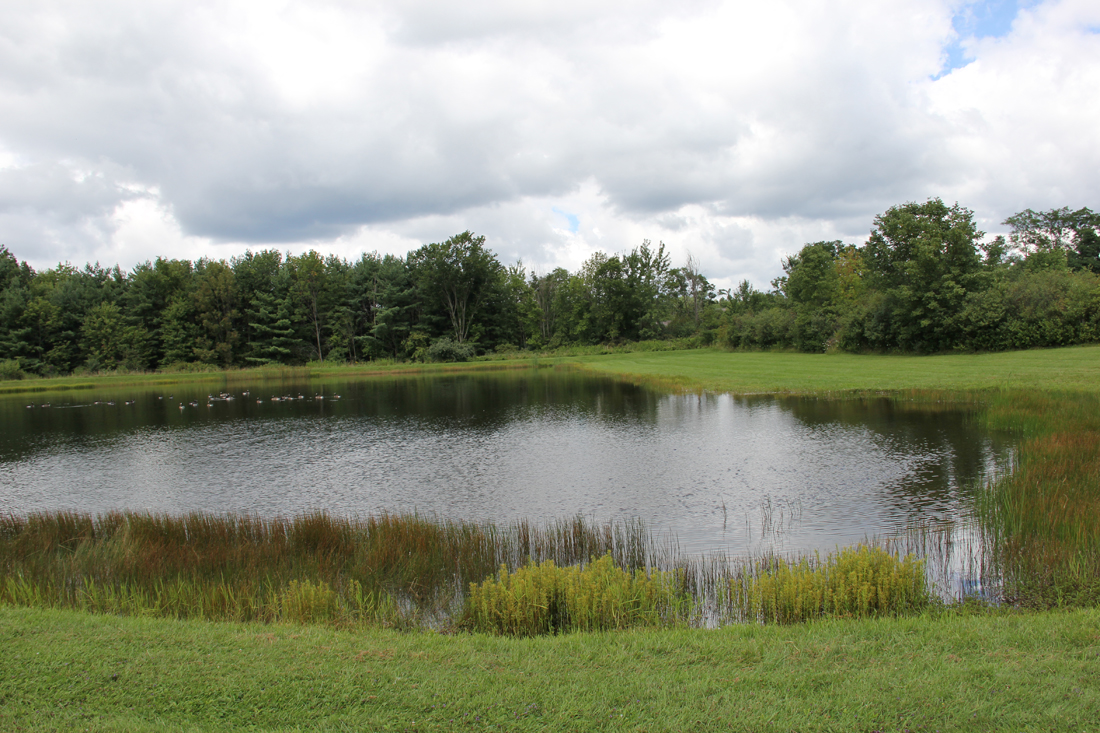 3 Big Differences Between Building in a Subdivision and Building on Undeveloped Vacant Land
It's tempting to look at the rural property, the remote wooded land, or the 5-acre lakeside lot when you're planning a new home. Building on undeveloped vacant land can be far more appealing than a rectangular lot in a subdivision with houses on either side.
The majority of my custom home clients build on undeveloped land, because they want the trees, the views, the freedom to build what they want, and mostly, the space.
Raw land has many advantages – but before you commit to building your home in a cornfield, be sure to consider the additional work and expenses.
In the simplest sense, developed land has been fully prepared for building while undeveloped land hasn't. With raw land, you'll be clearing and grading the land, and bringing all of the utilities onto the site; in a subdivision, that work's already been done.
1. Access to the Site
One of the biggest advantages of a housing subdivision is the roads – they're already connected to your lot, and already connected to the public streets.
If the subdivision remains private, the homeowners will maintain the roads but often they're deeded to the city and maintained by the municipal service department.
Getting your car from the public road back into undeveloped land can be more difficult, although isolation might be one of your primary goals in choosing a rural location.
You'll almost certainly spend much more to build your own access road back into the site (I've designed many "driveways" that are more than 1/3 of a mile long) and you won't have city snowplows to clear it for you.
2. Codes and Design Review
Then again, building in a subdivision has disadvantages, especially for my clients who want unique homes. You'll have far less up-front work to do, but far less control over what you build.

Buying a lot in a subdivision means buying into additional layers of government regulation including building and zoning departments and homeowner associations. Both groups will have a say about the size, location, design, types of exterior finishes, and maintenance of your house.
Municipal building departments usually hold builders to a higher standard of construction quality than rural departments – a definite benefit to the homeowner – but that can mean higher construction costs, too. I've worked on several rural projects where no zoning or building codes were enforced at all.
Subdivisions often have minimum house size requirements so your home could end up being larger than you want. Many have very restrictive design review boards – one here in central Ohio requires all homes to have the same architectural style.
On a rural property you'll have complete freedom to decide what your home looks like, what it's made of, and how it's arranged on the land. And with that design freedom comes more control over the costs of construction.
Because the design options are far less regulated, undeveloped land is where most truly unique custom home designs are built.
3. Utilities and Soils
The development of a lot in a new subdivision typically includes bringing all utilities onto the site, where the new house is easily connected to them. Electricity, gas, water, internet/TV, and sanitary sewer services are available at the edge of the property, ready to be connected to the new house.
Undeveloped property won't have water and sewer taps on site. In fact, there may be no utilities anywhere nearby. Building on undeveloped vacant land usually means providing your own private septic system and water well; installing a propane storage tank for gas appliances; and bringing electric service lines in from a distance – maybe a very long distance.
By the time a subdivision is ready for construction, the developer's engineers have tested the soil and graded the land for proper drainage. You'll have access to information about the possibility of sub-surface conditions that might affect your construction plans and in many cases the developer will take some responsibility for the site's suitability for building.
If you want the same information about your rural property, you'll have to order and pay for it yourself. Your County Extension Service can provide some of this information but you'll still need to hire a septic engineer to evaluate the suitability of the soils.
If you discover bad soil or underground rock in your building area you'll have no avenue for redress except your own pocketbook.
A house in a subdivision may have a temporary price advantage over a "stand-alone" home, since its value will be related to the selling prices of other homes in the area.

If you value predictable price appreciation, closer neighbors, and are ok with less "hands-on" involvement in the creation of your house, you'll probably find your dream home in a development.
The majority of American homebuyers do just that.
Building on undeveloped vacant land will require more from you, your Architect, and your builder.
But if you're willing to assume the risks of undeveloped land; if you're interested in a truly custom home design; and if you want to be more involved in the creation of your home, you might find your piece of paradise a little further outside of town.

Contact me to learn more about the services I offer and how I can help make your new home or remodeling project exciting, valuable and unique.