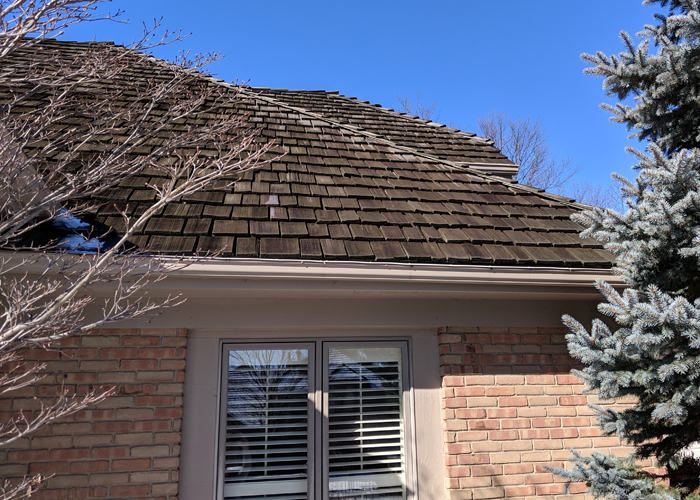 Product Comparison – Composite Cedar Shake Roofing
Part of an Architect's job is evaluating products and materials for projects we're working on. It's surprising how much time I spend talking with suppliers about materials – even those I use frequently, that I'm completely familiar with, and that I'm comfortable recommending to my clients.
Sometimes those suppliers are refreshing my knowledge about an old favorite that I haven't used in a while. But now and then, a particular job requires a new product, or a new product comes along that I'm interested in checking into.
If you've been following my blog for a while, you know that I prefer authentic materials whenever possible – real brick, real stone, real wood floors. And when it's called for, real cedar shake/shingle roofing.
So I hadn't paid much attention to the many "faux" composite cedar shake roofing products on the market until recently, when a local homeowner's association asked me to evaluate several as possible alternatives to cedar shake and cedar shingle roofing in their neighborhood.
I'd heard of one or two of these products, but quickly found out that there are more than a few composite cedar shake roofing products out there made from several different materials. I ended up looking into nine of them (note – I'm reviewing just eight below, one appears to be out of business).
Before I get into my reviews, let me point out a few things.
First, cedar shakes and cedar shingles are not the same thing. Shakes are hand-split (or look like hand-split) and shingles are sawn (or look like they're sawn). Got it?
Second, none of the products I reviewed are less-expensive to install than real cedar; some are significantly more expensive. The advantage most have over cedar is a lower cost of maintenance and a longer lifespan – although I'll add, as something of a purist, that cedar will last a very long time if you care for it properly. (Disclaimer – I own a home with a cedar shake roof – the photo at the top of this article is a cedar shake roof).
Third, some of these products are significantly heavier than cedar roofing, which means you might have to account for the additional load in a new home design or beef up the structure on an existing house.
Finally, most of these products are similarly durable, so my reviews are more about their aesthetic properties than anything else.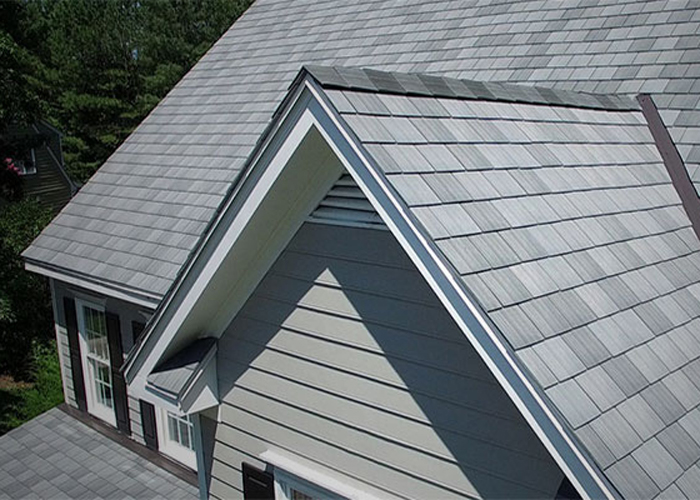 PlyGem Engineered Cedar Shake
https://www.plygem.com/wps/portal/home/brands/plygem-roofing/engineered-cedar)
The Facts
Although PlyGem calls their product a "shake" it's really more of a shingle, since it doesn't have the thickness and random character of real wood. PlyGem's product is a composite and includes recycled plastic. It's offered in a variety of widths, which helps give it a more authentic look, and is available in three shades of grey and brown. PlyGem warrants the Engineered Cedar Shake for 50 years, with a 10 year no-fade warranty.
My Take
This is a reasonably attractive, durable roof with a decent warranty. It looks pretty good on a house, but it's not what I'd call a replica of a cedar roof. If anything, it vaguely mimics cedar shingles, but not cedar shakes. From a distance, the grey color looks a bit more like slate than cedar. The 10-year fade warranty has me wondering what color this product ages to. I would consider this more of a higher-end production-house product than a custom home product.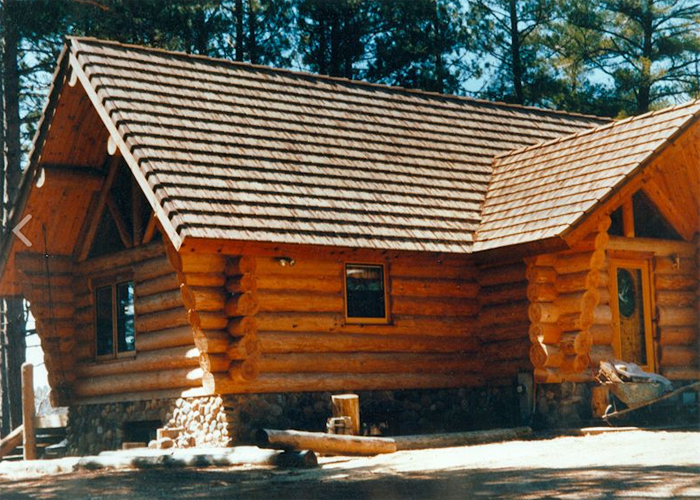 Vande Hey Shake Tile
(https://www.vrmtile.com/shake.php)
The Facts
Vande Hey's "Shake Tile" is made from concrete, a very durable material commonly used in hot and coastal climates (although it can be used almost anywhere). Vande Hey offers a wide choice of standard colors and can also create custom colors and color blends. It requires a fairly complex installation process (as is the case with all tile roofing products) but has a limited lifetime warranty when installed properly.
My Take
The natural variations in thickness and shape of all tile products helps to create a more authentic look, but no one's going to mistake this for a real cedar shake roof. That doesn't mean the product isn't attractive, however – it makes a very good-looking roof. Part of the reason it doesn't meet the "fake shake" test is the nature of the gable-end pieces – they wrap the roof edge, unlike cedar shakes. I could easily see using this product on high-end custom home projects.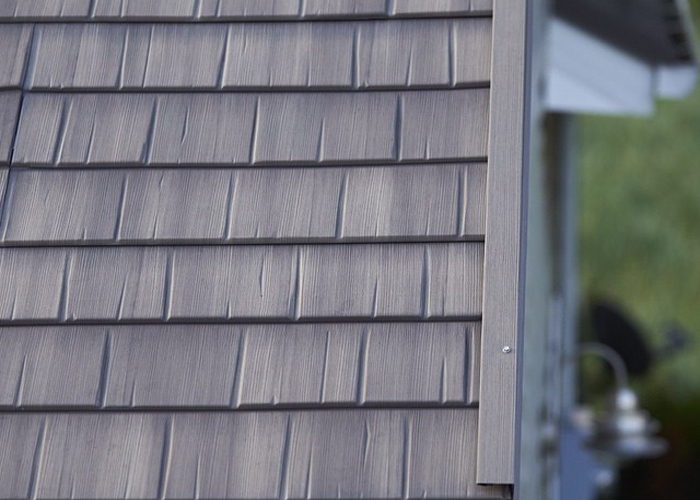 Certainteed Matterhorn Shake
(https://www.certainteed.com/residential-roofing/products/matterhorn-metal-roofing-tile/)
The Facts
Matterhorn Shake is a steel product with a painted surface, the only metal product in this review. It's installed in panels that are 48" long and 20" deep and is offered in four colors. Certainteed has a limited lifetime warranty on Matterhorn Shake.
My Take
This product is misnamed – it's nothing like a "shake". The 48" panels don't have the deep clefts and wood grain texture that distinguishes cedar shake roofing, and the edges of the metal panels make them look like, well, metal panels. The other big drawback is how the product is installed at rakes and how it's flashed to walls – both conditions require a proprietary counterflashing that cheapens the overall appearance. On the plus side, the colors appear to mimic weathered cedar roofing well.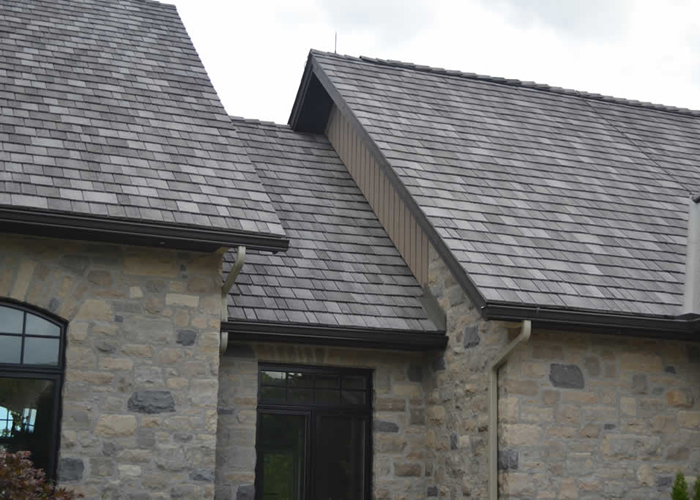 Enviroshake
(https://www.enviroshake.com/)
The Facts
Enviroshake is a composite product containing recycled plastics, wood fibers, and elastomers (rubber). It's manufactured in individual pieces that are about the same size of cedar shingles, which gives it a more authentic look. Enviroshake comes with a 50 year limited warranty and comes in two colors, and a blend of the two colors.
My Take
This company makes two "cedar" products – Enviroshake and Enviroshingle. I'm not reviewing the "shingle" product at all here, as it's nothing like cedar. Enviroshake, however, looks pretty good (although it looks much more like a cedar shingle than a cedar shake). I like that they have ridge and hip caps that look correct, and that the gable ends and wall connections don't require special pieces. Rumors are out there that this product smells like rubber tires for a few weeks after installation – not surprising, considering it contains recycled rubber.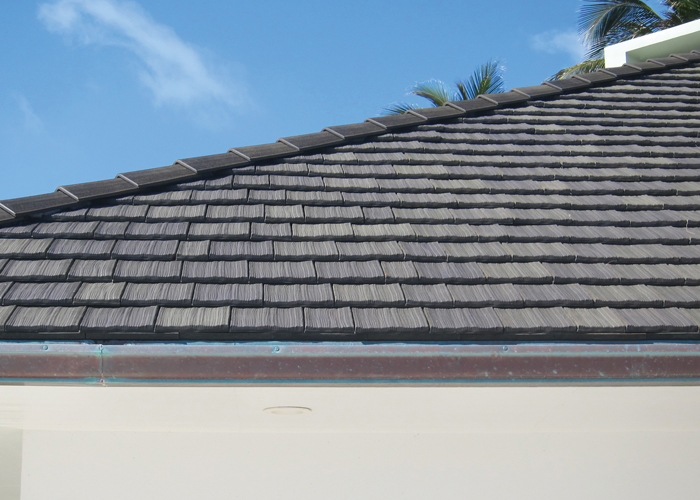 Ludowici Shake Tile
(https://www.ludowici.com/products/roof-tile/shake-tile/)
The Facts
Ludowici offers two faux shake products, "Century Shake", a thick-profile heavy-weight tile for new construction, and "Ludoshake", a lighter-weight product intended for remodeling. Both are made from Terra Cotta, one of oldest and most durable building products in the world. Century Shake is available in 5 colors and blend, Ludoshake in 6 colors and blends. Both have a 75-year material warranty.
My Take
These products are the top of the line in the "fake shake" comparison. The Century Shake product is as close a replica to real cedar shake roof as you'll find today. As with all tile products, installation is more complex. While special gable-end pieces are required for this product, they are smaller and less visually obtrusive than some other manufacturer's materials. This is as close to a "forever" roof product as you can get, and I wouldn't hesitate to use it for a high-end custom home project.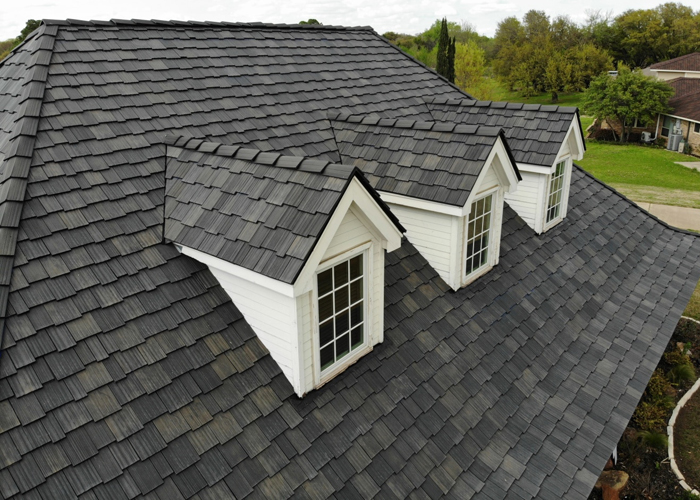 DaVinci Roofscapes DaVinci Shake
(https://www.davinciroofscapes.com/products/shake/)
The Facts
DaVinci Shake is another plastic roof product, although it doesn't contain any recycled material. It's crushed limestone, mixed with a plastic binder. DaVinci offers three faux-cedar products – "Bellaforte", a thick shake that is molded from actual cedar shakes; a "multi-width" shake, and a "single-width" shake. The single and multi-width products are more like shingles than shake and are not as thick as the Bellaforte. All are available in nine colors.
My Take
As plastic roofing products go, this is probably the most realistic available. Installation is very similar to asphalt shingles and doesn't require special flashing details. End caps are required for the Bellaforte product, but they are smaller and more realistic-appearing than some other plastic roofing. From a distance, it's possible to mistake this for a real cedar shake roof.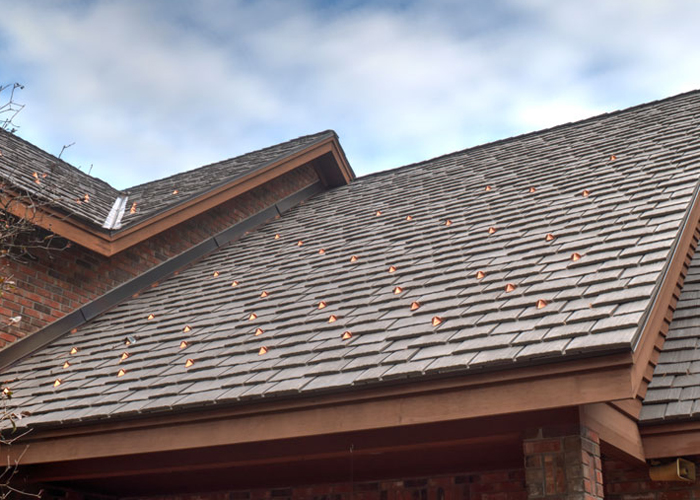 EcoStar Empire Shake
(http://ecostarllc.com/product/empire-shake/)
The Facts
EcoStar sells two "shake" products – "Empire Shake Plus" is extra thick, similar to real cedar shakes. "Empire Shake" is a thinner product, more like a cedar shingle. The texture of both is similar to real cedar, and both are offered in 14 colors. Custom colors and blends are also available. Both are plastic and include some recycled content. Installation is similar to asphalt shingles, and special flashing details and end caps are not required. Both products carry a 50-year material warranty.
My Take
A reasonably attractive product, although the pattern and texture is not as convincing as DaVinci. My biggest concern is the color choices – none appear to mimic aged cedar very well, and some are a bit odd, like bright orange and bright red.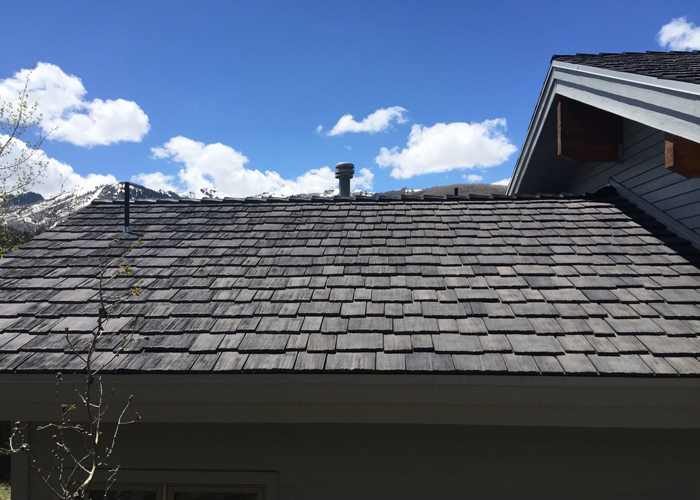 CeDUR Simulated Wood Shakes
The Facts
CeDUR's product is a plastic, thick-butt shake alternative made from closed-cell polyurethane. Unlike other plastic shakes, CeDUR is a solid product; others have a cavity-back to save material and weight. CeDUR's pattern, texture, and thickness is a good representation of real cedar shakes. CeDUR comes with a 50-year warranty, and is available in four colors. Installation is similar to asphalt shingles, and no special flashing or gable end pieces are required.
My Take
This is the only solid plastic fake shake I reviewed. At first glance, this seems like a significant visual advantage over cavity-back shake products, but I'm concerned that solid shingles are more likely to warp in high heat conditions. In fact, CeDUR's warranty excludes warping from heat reflected from glass and other sources – something not under a homeowner's control. I'm also concerned with the available colors, none of which mimic weathered cedar very well. In spite of those two concerns, however, this appears to be a very attractive product with a realistic rustic cedar shake appearance.

Contact me to learn more about the services I offer and how I can help make your new home or remodeling project exciting, valuable and unique.