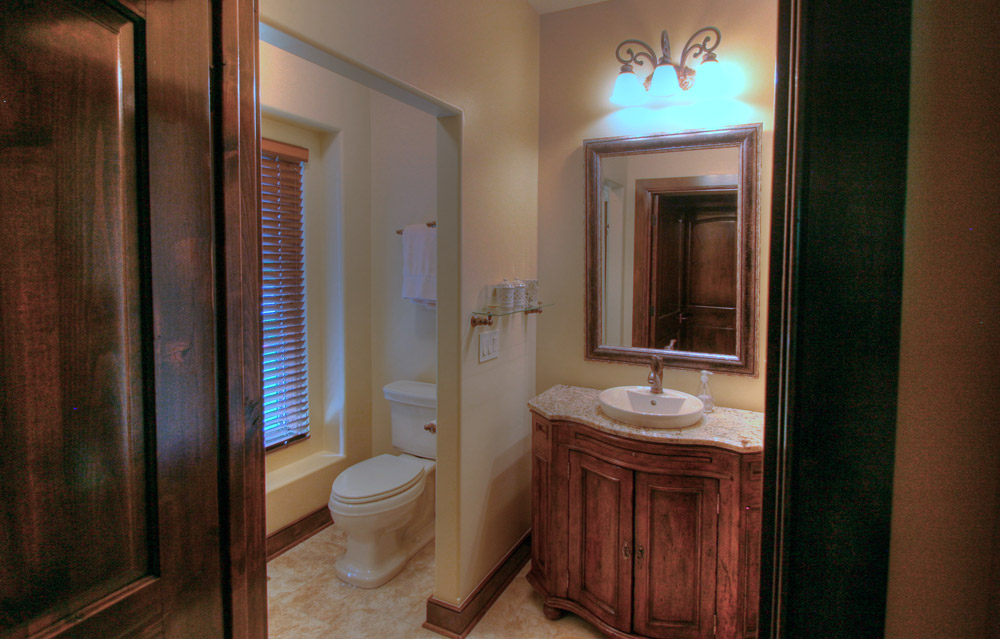 Six Tips for Better Half Bath Design
It's usually the smallest room in the house – maybe that's why half bath design never seems to enough attention to make the room it truly functional, and not just a pretty place to powder your nose.
And while a typical half bath design might be no more than 25 square feet in area, it has more parts and pieces than most of the other rooms in your house. There are at least twelve different finishes you need to choose for a half bath including a faucet, countertop, cabinet, sink, toilet, mirror, towel bars, light fixture, trim, flooring, paint…you get the idea.
Which is why, on a per-square-foot basis, it's one of the most expensive rooms in your home.
So before you spend all that money in that tiny space, here are a few tips to help you get the planning and design right.


1. If It Doesn't Offer Some Privacy, It Won't Get Used
Mistake number one is putting the half bath where it looks pretty, instead of where it gives your guests some degree of privacy. Locating a bathroom door directly off a formal space – a foyer, for example – might make your guest hesitate to go in.
No one wants other guests in the foyer to know where they're headed, and no one wants to walk directly into a foyer full of guests with the sound of the flushing toilet in the background.
But when you can't "hide" the bath, a good solution is add another space outside the toilet room. That way you won't see or hear the toilet from the foyer. Take a look at the floor plan below, where the half bath is off the foyer, tucked behind a true "powder" room for privacy. It's just the thing in this house designed for entertaining.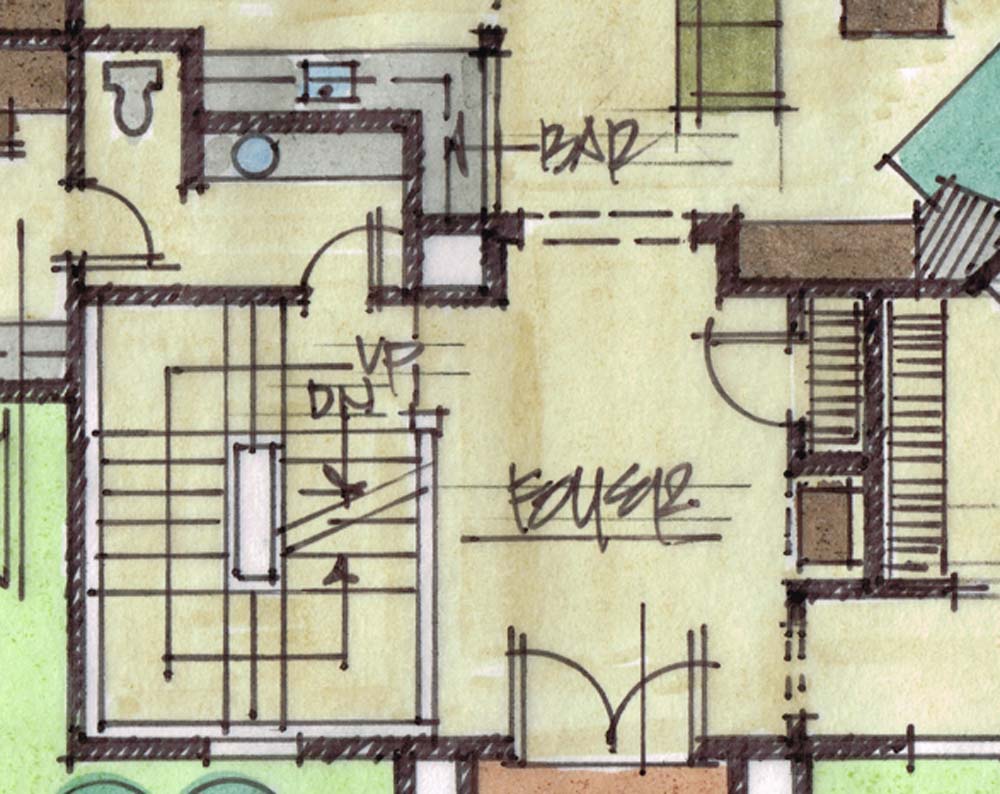 2. Don't Use Two Half Baths When One Whole Bath Will Do
Some homes really do need a separate half bath just for guests, but that's the exception, not the rule. In most homes what's really needed is a utility bath where family members can wash up after coming in from working in the yard, working on the car, any activity that a bit too messy for one of the other family bathrooms.
But that doesn't mean your guests can't use that room too. If you furnish the utility bath with moderate-quality fixtures, locate it where guests can find it, and keep it clean, it's good enough for guests to use.
The sketch below shows a half bath design that's off a back hallway, where family members can use it every day. But it's not too far away for guests to use, so there's no need for another "powder room".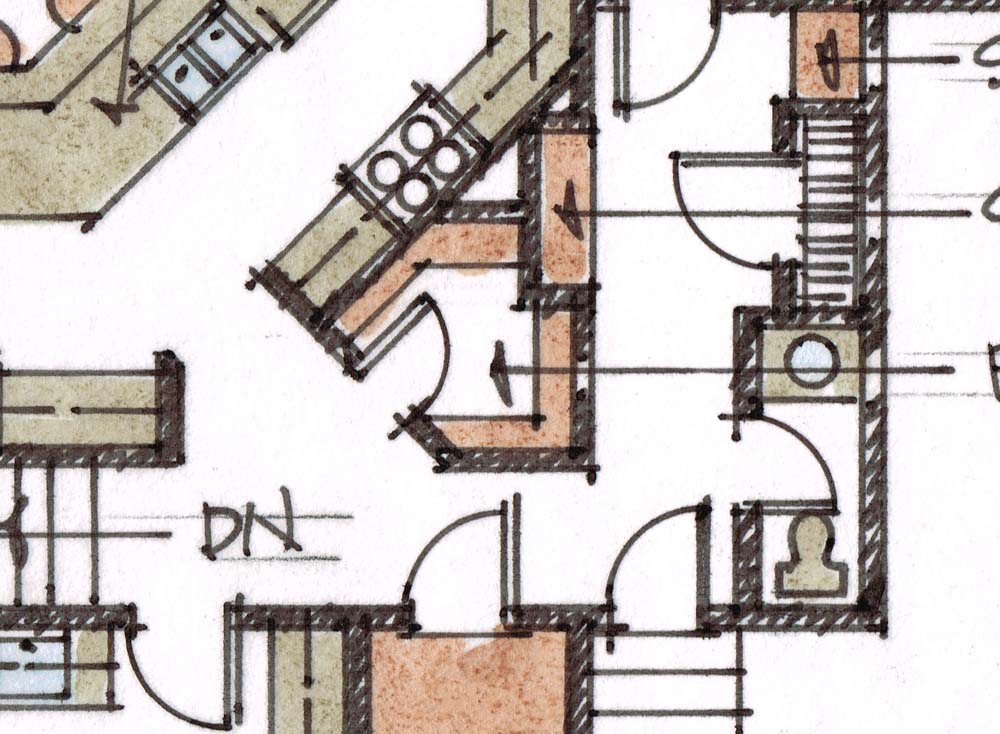 3. Be Careful With Sightlines
This will seem a little fussy to some, but I don't think the toilet should be seen when the bathroom door is open. Sometimes that means spending a little more time designing the bath, but it's often just a matter of switching the door swing, or the locations of the fixtures.
In this sketch, there's a sightline into the bath from the middle of the house, but the fixtures are arranged so that only the sink is visible when the door is open.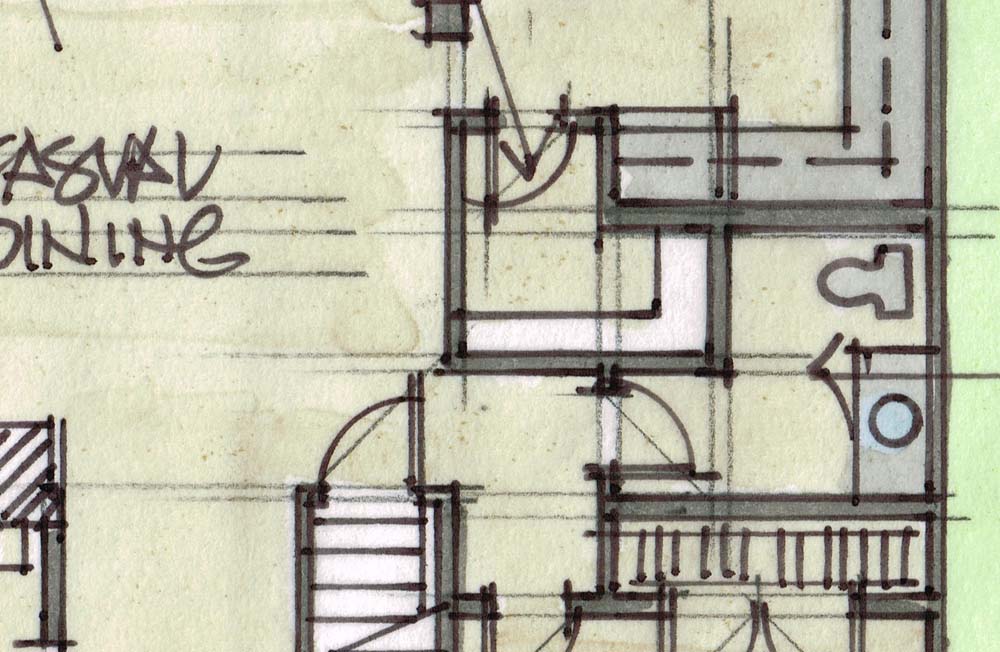 4. Sometimes A Guest Bath Doesn't Have To Be A Guest Bath
A lot of homes I design these days have a bedroom on the first floor that can double as an office or playroom. A bedroom needs a full bath nearby, so to save space and money, I'll put the bath where it can also be used by guests. Since the first floor bedroom in a house like this is only used occasionally, doubling up as the guest bath isn't a big problem.
That's exactly what's going on in this plan, where a full bath is just off the bedroom/playroom, but still easily accessible to guests.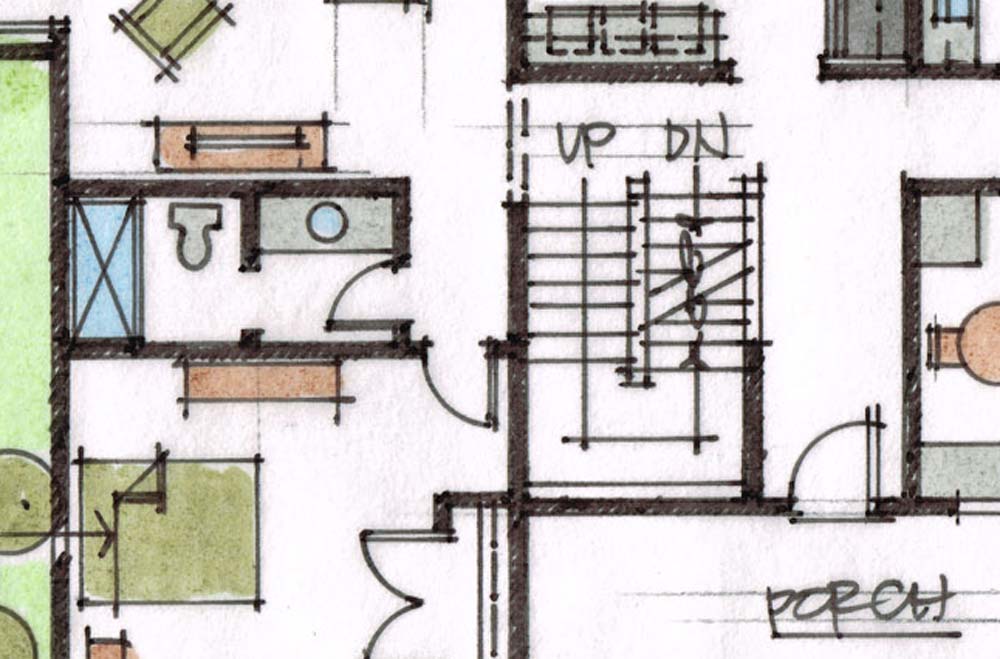 5. How Big Does A Powder Room Need to Be?
There's an historic neighborhood in my city where the houses are tiny, and fitting in a half bath design is often a challenge. One of the solutions I've used there is tucking the bath under a stairway, which requires smaller than normal fixtures and very tight clearances.
But it's proven to me that when needed, you can make a half bath really, really small. In most designs I don't have to squeeze space quite that much, but I don't want to waste it, either.
A typical "side-by-side" half bath needs about five feet of width – that allows for a 30" wide vanity and another 30" for the toilet. You can do the vanity in a little less space (especially if you're using a pedestal sink), but the 30" width for the toilet is a practical minimum – much less than that and your guests will find it awkward to use. The depth of a side-by-side can legally be as little as 48", but I've found five feet is just about right.
The size of the half bath below is about 5 x 6 – the extra foot makes it a little nicer.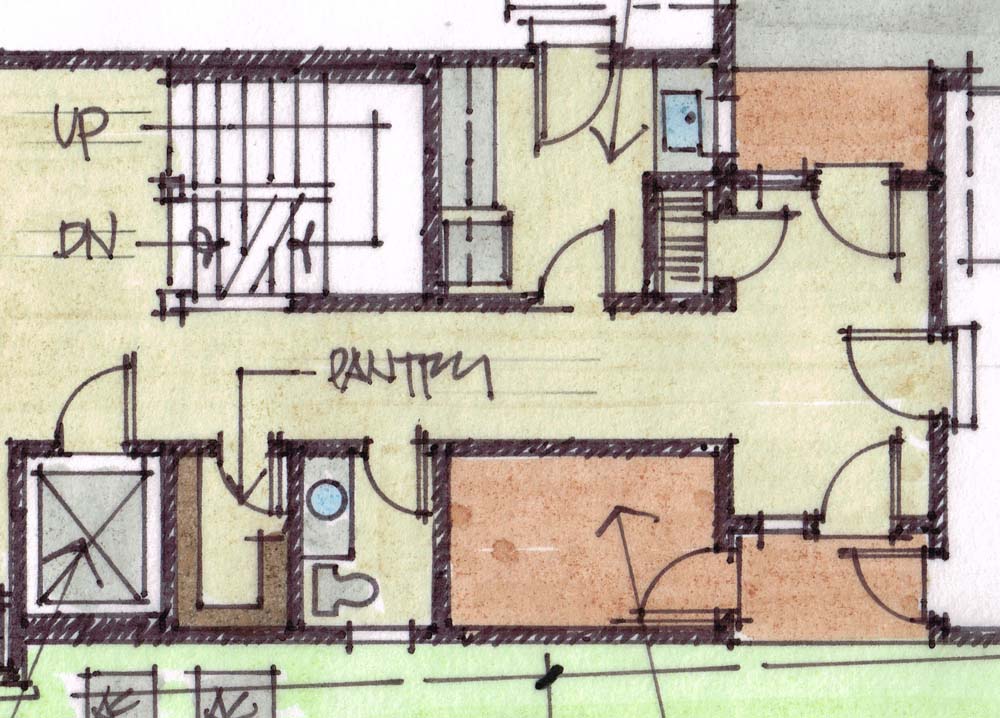 For a linear bath – where the sink faces the toilet – you still need the 30" minimum width; the depth should be at least six feet. That leaves just enough space for the door to clear both the vanity and the toilet (assuming the door swings into the bath), and when you're sitting on the toilet, doesn't put your chin right up on the countertop.

6. A Few Design Details
Should you have a vanity or pedestal sink? It's partly a matter of taste and partly a matter of available floor space (a pedestal is shallower and narrower than a vanity).
It's also important to remember that a vanity gives you some storage space, and that a vanity hides the plumbing where it comes out of the wall. For a pedestal you need to plan the plumbing location carefully, so you don't ruin the pedestal's clean look.
Whenever possible, I prefer putting sconce lighting on either side of the mirror over the sink, because it's better lighting on your face. But since you're probably not shaving in a half bath, and since you might not have enough room on both sides of the mirror, it's ok to use a light above the mirror.
There are a lot more details to consider (remember I noted earlier that you have to pick out about 12 finishes in a half bath) but these tips should help you get the location and planning of the bath started out right.

Contact me to learn more about the services I offer and how I can help make your new home or remodeling project exciting, valuable and unique.