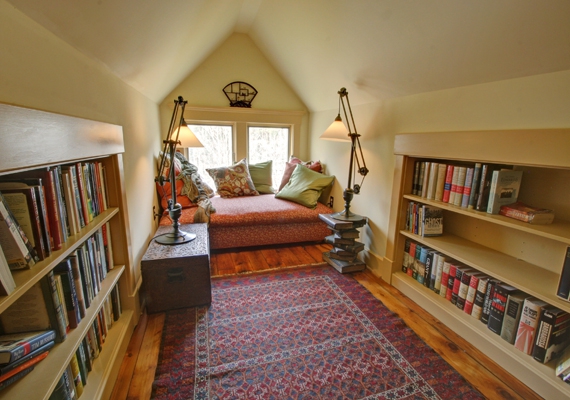 Great Ideas for Custom Built-in Bookshelves
I clearly remember everyone talking about a "paperless society" a few decades ago. It was the dawn of the "digital era", and all the buzz was about how email and digital documents would soon almost completely replace printing anything on paper.
Digital documents have certainly become a preferred method of data transfer for many of us (how many emails do you send and receive every day?) but there's still plenty of paper around – so we still need built in bookshelf ideas. Some things, it seems, just don't work quite right in a digital format.
Like books. You probably still have books. Maybe a lot of books, and you need shelves to store and display them.
If you're thinking about building or remodeling a home, and you're past the boards-on-concrete-blocks kind of bookshelves, you might consider built-in bookshelves for your project.
Here are a few ideas to get you started:

These traditional "library" bookshelves cover two entire walls in this remodeled home.

The half-wall separating two rooms is a common design element in the architectural vocabulary of my firm. This half-wall in this contemporary remodeling separates dining from living, and holds both bookshelves and cabinets.

An otherwise neglected space at the bottom of stairway is the perfect spot for these 5 bookshelves.

Tucked away behind a sliding barn door, these shelves hold lots of books in a tiny home office, just off the family room in this new Craftsman-styled custom home.

Here's another way to use a half-wall/built-in bookshelf to separate two rooms.

The intentionally thick walls of this French Country custom home were the perfect place to carve out this "book nook" adjacent to the master bedroom, family room, and study.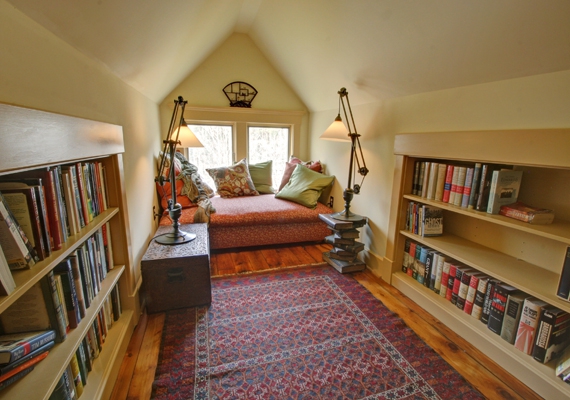 The master suite is on the attic floor of this remodeled 19th-century farmhouse. Just off the master bedroom is this cozy reading nook, with it's own window and built-in bookshelves.

Contact me to learn more about the services I offer and how I can help make your new home or remodeling project exciting, valuable and unique.