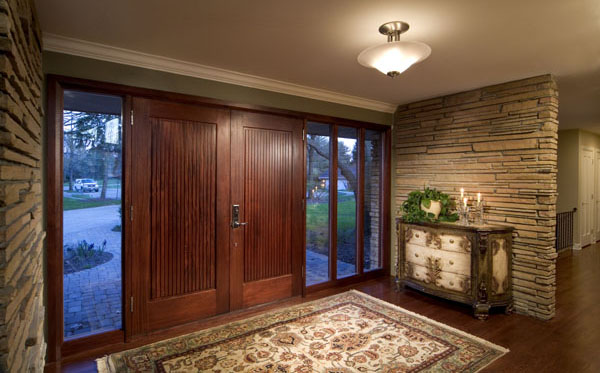 7 Different Foyer Design Ideas from 7 Different Homes
Your home probably has several entries – front door, back door, garage door – but you only use one to welcome guests into your home. The front door in most homes opens into a foyer, a word derived from French and originally referring to a small room that separated the heated rooms of the house from the outside, keeping the cold out.
Fortunately, central heating made that function obsolete. Today, a home's foyer serves several other important functions, not the least of which is giving your guests a glimpse into the style and character of the rest of your house.
That's important, because a well-designed home should lead your guests naturally through a sequence of spaces from the street to the living areas. If any of those spaces seem out of character with the others, then the whole house looks awkward and out of sync.
For some homeowners, the image of a foyer is a grand space – twin staircases, twenty-foot ceilings, an eight-foot diameter chandelier. That's fine for a grand house, but not for a more informal home design.
A crazy-big and elaborate foyer gives your guests the impression that there's a crazy-big and elaborate house beyond – if there isn't, the foyer will be seen as pretentious and showy.
So what kind of foyer fits your house? Check out these unique foyer design ideas that work well, set the stage for the rest of the house, and do it all with character and style:

This contemporary foyer is the center of contemporary house – literally. It separates and connects the two halves, and with all-glass front and back walls, lets light pour in from everywhere. The "drama" here comes from the shapes and the light, not the size and volume of the space.

At the other end of the design scale, the foyer design idea of this dark stone entry is perfectly in place in a very French-inspired home. Guests are ushered into a larger hall to be greeted, rather than lingering by the front door.

A broom collection is the centerpiece of this couple's entry hall. That's the front door, just across from the brooms. Is anything more required to let visitors know this home is about enjoying the simple things in life?

Speaking of simple things, sometimes the best foyer design idea is no foyer at all. This small home's entry is a raised platform, a little tile, and a warm place for kitty to nap.

All of the elements of a crazy-big elaborate foyer are present in this 1932 Colonial Revival home – but in about a quarter of the space. A dramatic chandelier, a broad, arched stairway, crown moulding, and an antique grandfather clock are perfectly at home here.

"The Squeeze" is the perfect design tool for this Prairie Style home's entry; the entry is intentionally tight, making the open living area beyond seem even larger and more inviting. There's no doubt where your guests are encouraged to go in this house!

Finally, a foyer doesn't have to be just a foyer. In this home, the entry was remodeled to include a study/reading area, and place to display historic memorabilia. Making a room do "double duty" is a good foyer design idea, saving space and saving money!
Hope you enjoyed these unique foyer design ideas – what's yours like?

Contact me to learn more about the services I offer and how I can help make your new home or remodeling project exciting, valuable and unique.