Adding On Part Two – Adding a Second Floor
(Read "Adding On Part One" here).
In "Adding On Part One" I wrote a bit about proportion, and about how the massing of the house should be "hierarchical"; the main mass should dominate, the others should be subordinate.
The examples I used assumed you're adding on to the side of your house – but what if you're going up?
Adding a second floor to your house is a different challenge than "extending" your house out to the side.
An addition to the side is more or less a separate building, with its own foundation, walls, and roof, attached to the original.
Adding space above your house means you're going to have to make some changes -maybe big changes to the existing house, just to prepare for the new space.
Going up requires that the existing house quite literally carry the load of the new addition. And that's question number one – can it carry the loads?
But new space and reworked structure are only part of the story. When you're "going up" you're fiddling with massing and proportion and changing the character – and maybe the style – of your house.
Like on this little Cape Cod styled home, for example. Because early twentieth-century homes like this were often built on narrow lots, there's rarely room to build out -you have to go up.

If it's lots and lots of new space you need, you can go as far as adding an entire second floor, doubling the size of the house. That's a dramatic change to the character of the house of course, but as long as you keep an eye on proper proportions it can still be a handsome home.

Another way to build up is to add a dormer or two.
Dormers don't add as much space as a second floor, and only work well where there's already adequate headroom in the attic – but with a little imagination, dormers can add much-needed room above and architectural character to the outside.
The sketch below shows gabled dormers, sometimes called a "doghouse" dormer. It's the most common type, and fits on many home styles.

But gabled dormers aren't so great for adding space – the room you're creating is only as wide as the dormer.
For adding space, a shed dormer is a better option – it can big enough to be a room all on its own. But shed dormers don't work on every home style and when they're improperly sized, they can do more visual harm than good.

An engaged dormer is one without sidewalls – the dormer roof is engaged with the roof of the house. Like a shed dormer, a big engaged dormer adds lots of upper-floor space.

We've designed a lot of these lately – there's a lot of interest in Craftsman and Bungalow style homes, where they're a common feature.
Houses with very low pitched roofs or hipped roofs are a bit more difficult to add to, but with care, it can be done successfully.
The home below had a bit of Prairie Style in its DNA and the owner wanted to enhance that with the new addition. Our solution was to add a partial second floor and a new front entryway, along with a few other details to complete the Prairie upgrade.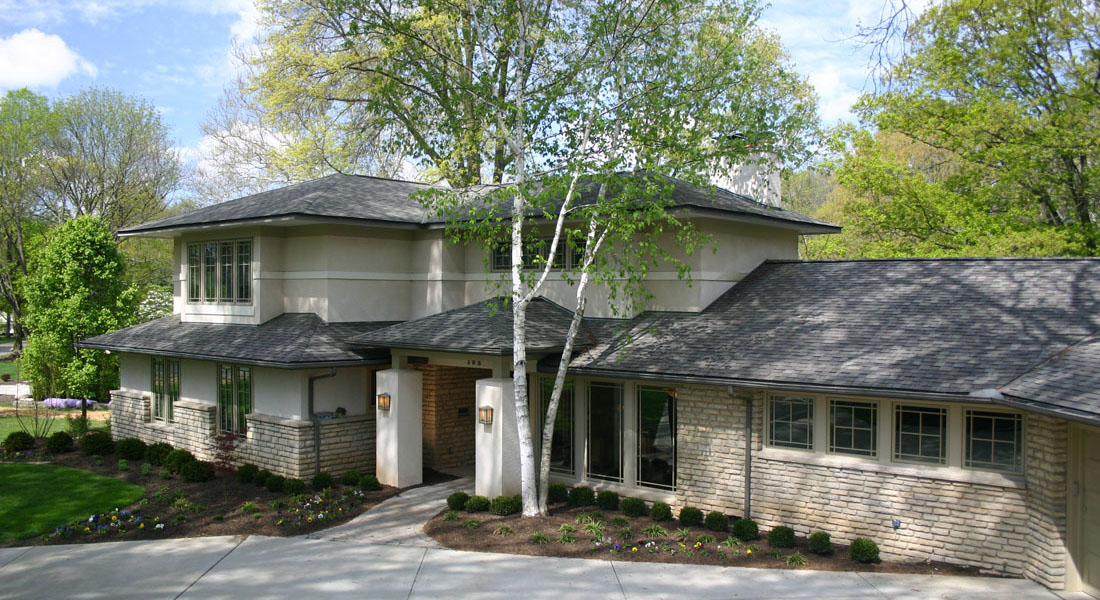 It's one of my favorite projects (see more photos here).
If you're thinking about "going up" to create more space in your home, remember that's it not enough to simply make the space and the structure work; you also need to work towards proper proportion, massing, and style.

Contact me to learn more about the services I offer and how I can help make your new home or remodeling project exciting, valuable and unique.