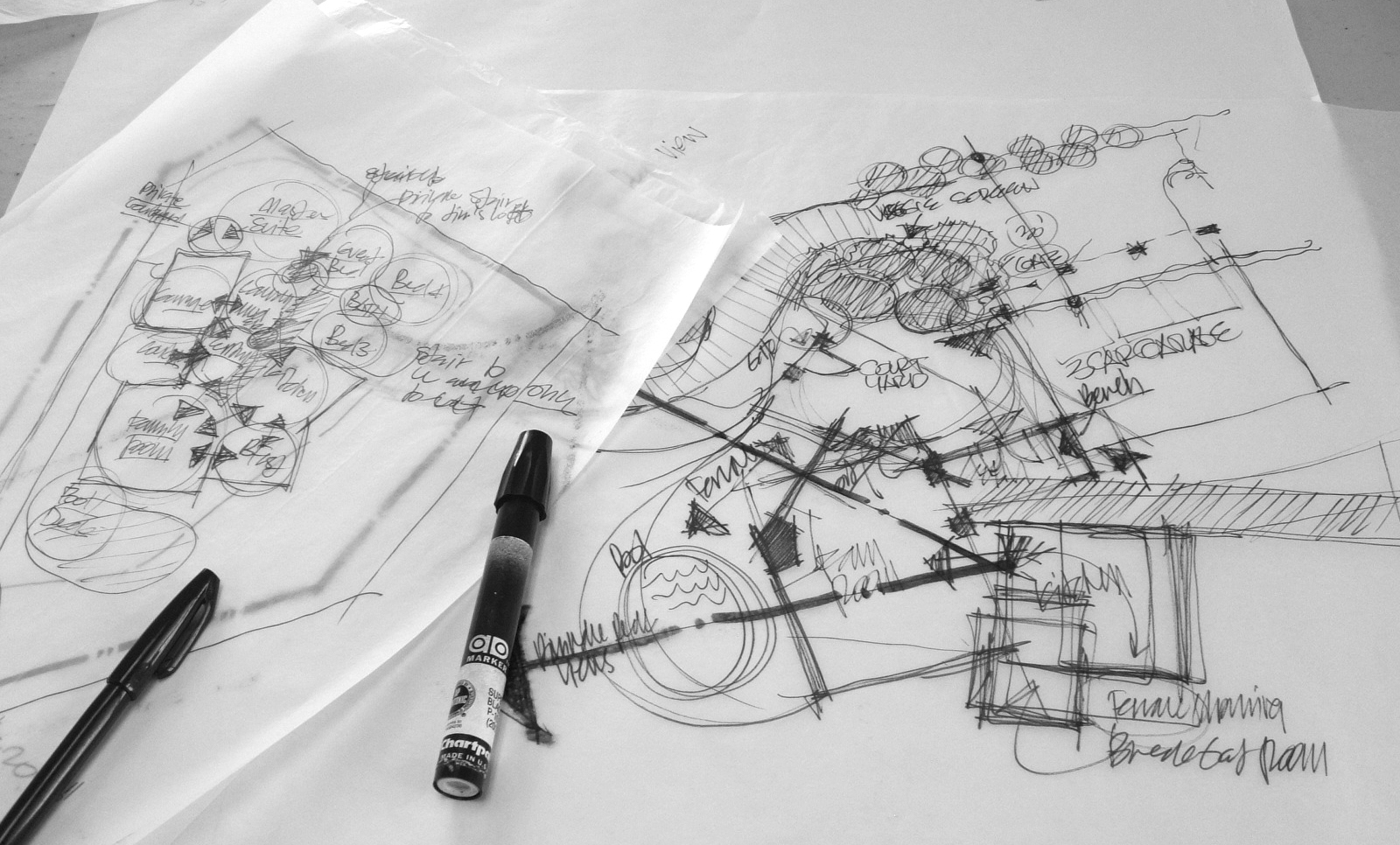 The Home Design Process – It's a Little Like Writing a Term Paper
Very few people ever have more than one custom home or major remodeling project designed for them, which means that almost every time an Architect starts the home design process with a homeowner, it's the first time for at least half of the people in the room.
It's that "design process" that you probably wonder about the most – how does it work?
I was invited once to talk with eighth-graders during "career day". With just twenty minutes to introduce Architecture as a career to the group, I needed to connect with them quickly.
And so after briefly explaining what Architects do and how you become one, I described to the kids how designing is similar to something they already do every day in school – writing.
Good writing starts with an outline of the story and then continues with filling in facts; fleshing out details; and editing.
Lots and lots of editing. Because no one starts with "It was a dark and stormy night" and continues straight through to the end without a lot of back and forth; a lot of changing, rewriting, deleting – until the story's just right.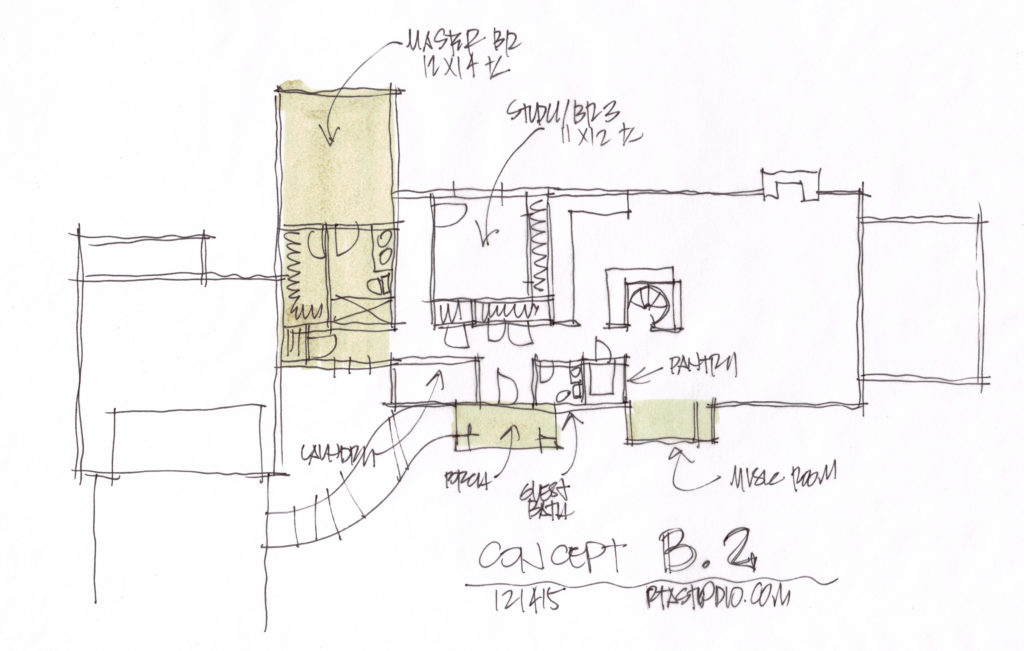 The same is true with designing your home, but you don't need a degree in Architecture or English to participate fully in the process.
Architects start the design process by collecting information, just like writers. Tom Clancy, for example, employs teams of researchers, because he knows you can't communicate your story well until you know your subject well.

In home design, the subject is you and the way you live. The more thought you've given to what you like, what you want, and how your new home might fulfill your dreams, the better the chances you'll communicate that clearly to your Architect.
Start by collecting pictures or other images of anything that helps you express what you have in mind. (One of my clients calls this a "swipe" file, but I prefer to think of the images as "borrowed"). I also recommend building a library of ideas using houzz.com. (Read my take on Houzz here.)
For a work of fiction, an outline might include a brief overview of the plot and short bios of the main characters.
In the home design process, the outline is called a program or creative brief, and should include a few paragraphs about every use you want your house to address (notice I said use, not room – uses aren't always contained within rooms).
Some Architects will ask you to prepare the creative brief yourself; at my firm we lead you through the process, making it an open-ended conversation between Architect and Client.

Your "outline" should also include selections from your swipe file, organized by use or space. All the bath images in one folder, all the kitchen images in another.
We'll help you take that a step further with "bubble diagrams" or other forms of graphic outlines – then you're ready to start having some real fun.
A big mistake that homeowners – and home designers – often make is trying to move too quickly from the initial concept to the final design; they make a "wish list", then try to draw a house to match.
Good doesn't work that way; take your time at this stage or the design you'll end up with won't get past the editors without a lot of markups.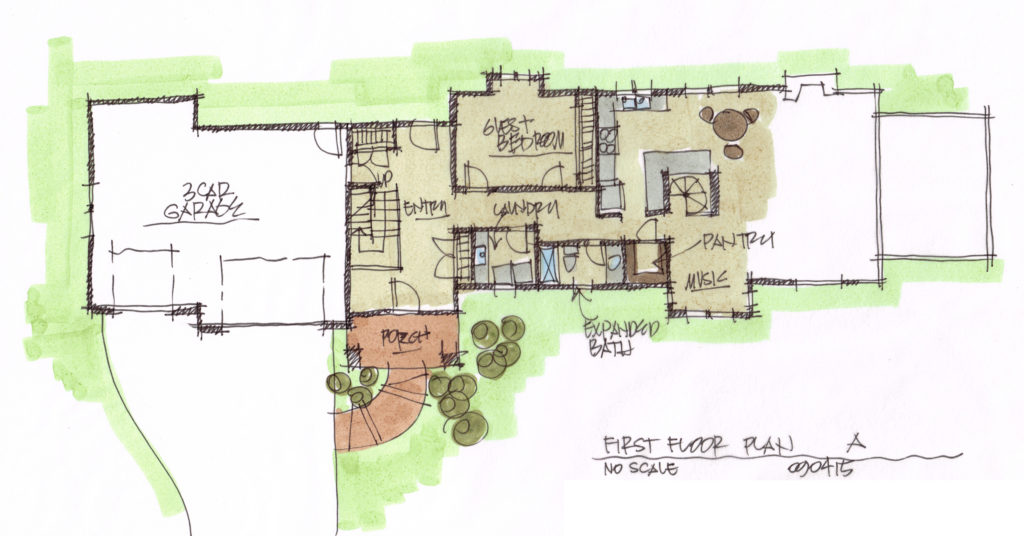 An Author would be writing different versions of the story at this stage; some ideas stick around, others end up in the trash. That works for home design, too – you might even end up working with several completely different designs at the same time.
Eventually, you'll have a rough design you like. The floor plans might not match the elevations perfectly, and the drawings might not be exactly to scale, but you've got a solid basic idea that works.
Now it's time to start working the bugs out of that design.
Before a book is published, the editor reviews a galley proof. It's the last chance to tweak the story, check references, and look for mistakes and misspellings.

Your "final" preliminary design is when you'll do a last thorough review of the design before the construction drawings are started.
Make sure everything's the way you want it now – making significant changes after this stage can be time-consuming and expensive.
When you're certain the design is exactly what you want (including the estimated construction cost), your Architect will start preparing the construction drawings. You'll probably make a few adjustments here, too, but they should be relatively minor.
Books are published in the United States at the rate of almost 800 per day. That's 300,000 writers furiously typing away every year, each hoping to write the next Harry Potter.
But new homes are built at almost twice that rate; some are good designs and some are not so good.

Better home designs –like successful books – come from designers who follow a clear home design process; who think the design through carefully; and who follow the same steps that good writers use to make compelling stories.
Your Architect knows this "design process" well; the better you understand it, the better you'll work together, and the better your home design will be – maybe even something worth writing about.

Contact me to learn more about the services I offer and how I can help make your new home or remodeling project exciting, valuable and unique.