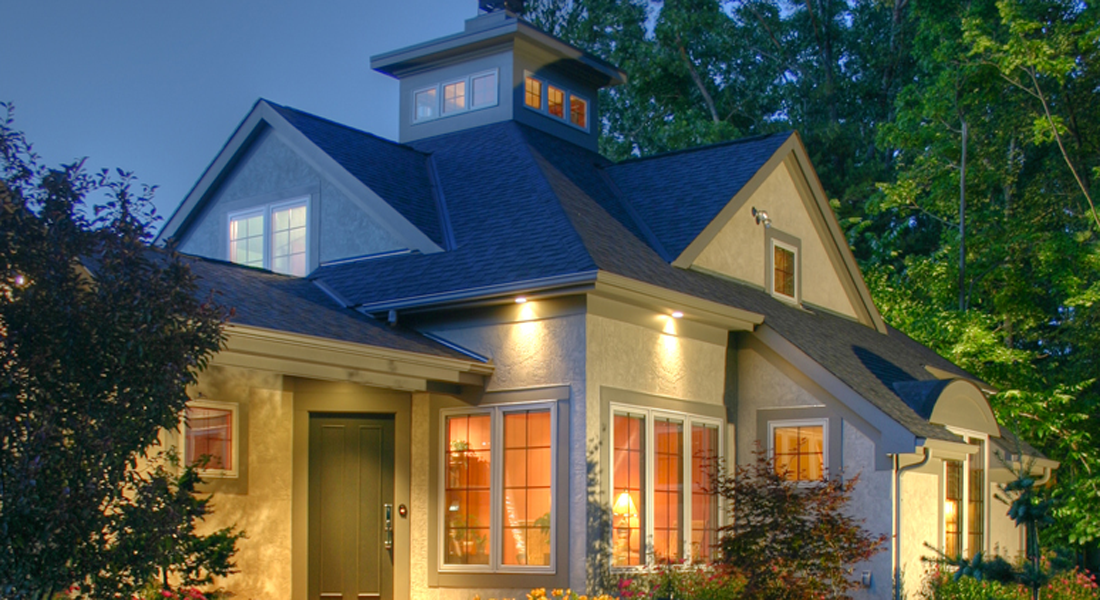 Unique Home Design Ideas Might Make Your House Easier to Sell Someday
If you're selling houses you want to appeal to the widest audience possible. Houses with tried and true size and style, and with similar floor plans, have a greater chance of a quick sale.
If you're buying or building a house, however, you want something much more personal – something with unique home design ideas, something that's interesting and different and that has all of the things you need to support your family's lifestyle.
How do you make a house that does both?
I'm routinely asked by my clients to include things that they haven't been able to find in "spec" homes or online house plans. Things like a decent-sized laundry room and mudroom. Things that families need, like a walk-in pantry.
They also ask me to leave out the stuff they see in spec homes but don't need – the formal living room, formal dining room, the powder room with the little balls of soap in the seashell bowl.
Apparently, that's what you have to put up with if you buy a spec home – all so that it will sell easily someday.

My experience however, is very different. I've learned that a unique and interesting home, designed to closely fit the needs of your particular family, will very likely appeal to other families someday.
And maybe in a very big way, too.
Some years ago, I was hired to create a custom home for a client on a difficult property (the last lot available, the one that no one wanted) in a very nice subdivision.
This client had some specific needs, including accommodating a handicapped family member. We designed an unusual home with a screened porch facing the street, no formal entry foyer, a first-floor home office that converted to a handicapped-accessible bedroom, and a garage you could park sideways in.

They also wanted the home to have a character on the outside that was unlike anything else in the neighborhood.
Unique home design ideas – not exactly mainstream.
The family lived in the house nine years, then sold it. Here's what they had to say:
"(we received) far better than average appreciation of the property when we downsized some nine years later. We sold the home by ourselves with no Realtor involved and we heard from many that the unique design and curb appeal attracted them to contact us. We had no problem selling our fine home…"

And since they're too modest to mention it, I'll add that they nearly doubled their money on the sale.
You can do the same thing. Instead of designing your home for "the market", figure out what you want, and put aside notions about what you think the next family living in your home might want.
Focus on what works for you, and tune out the people telling you what your house should have.
Make a quality home that works – whatever "works" means to your family and your life. Make it interesting and attractive, but above all make it fit your unique needs and wants.
Don't look for inspiration in house plan websites and home-improvement-store plan books. Most of those are recycling the same basic plans over and over again, so you're not going to find much that's unique.
Instead, just look for the parts and pieces you want – find a cool kitchen, a knockout exterior, a screen porch you simply must have. A mudroom with a built in cubby for each child.
Look for unique home design ideas and inspiration on websites like Houzz.com (almost all of my clients use Houzz) and better home design magazines like Traditional Home, Southern Living, Fine Homebuilding, and Dwell (if you like contemporary design).
If you prefer a "market" home design, this probably doesn't make much sense to you.
But if you get excited by living in a house that stands out from the crowd, a home that does things that most homes don't, a home that you can fall in love with – then someday, when the time comes to sell, you might find that "sold" sign out front a lot sooner than you'd thought.

Contact me to learn more about the services I offer and how I can help make your new home or remodeling project exciting, valuable and unique.