Beech Ridge Road
The "Lake House" as the owners call it, has a staircase wrapping around a central chimney – all the rooms are arranged around this lightwell core, giving every room in the house an outside wall with windows and views. The core is topped with a windowed "lantern" that draws daylight deep into the center of this custom contemporary home and acts as a lighthouse at night.



An open floor plan allows easy flow between the living areas and gives almost every room great views of the pond that the home sits on.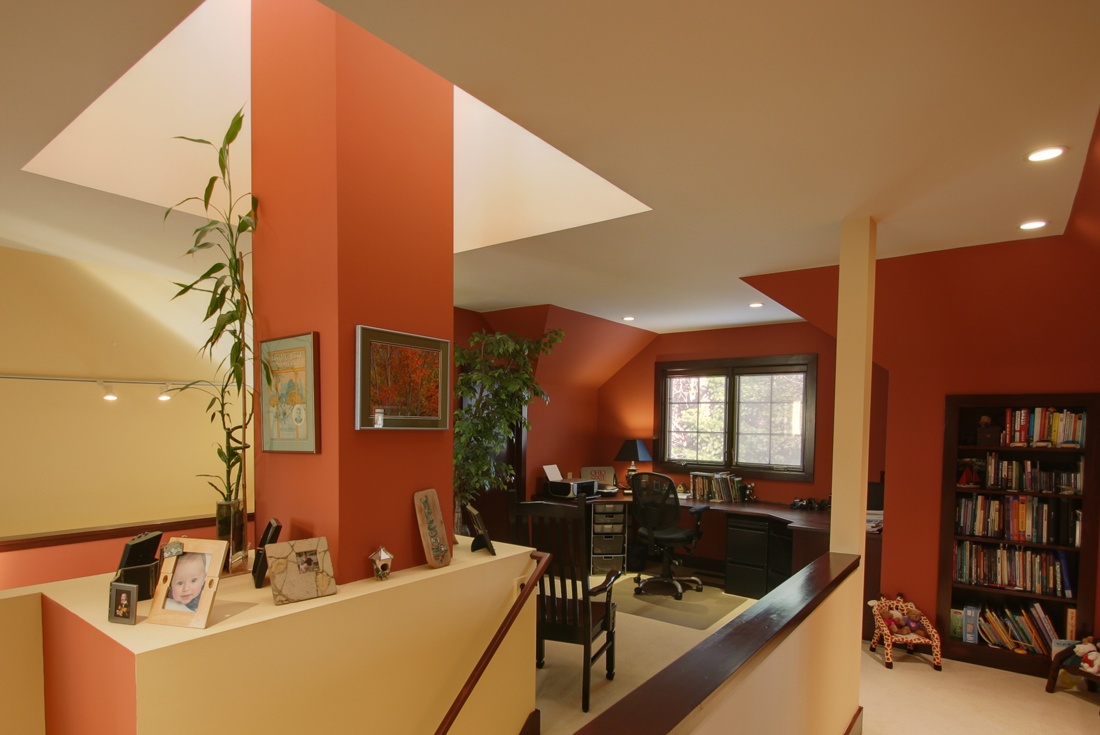 Two bedrooms on second floor are tucked up under the roof, and we designed one of them to work as both a home office and a bedroom – with a large interior window to "borrow" light from the light well.  The master suite is on the first floor, and a fourth bedroom suite and family room occupy the lower level.



The owners had this to say about the house, and about working with RTA Studio:
"Just thinking about our meeting yesterday. I very much appreciated your perceptiveness and creativity. You are a great listener. I look forward to our next rendition. Thanks for everything."
"As you know this is still your place and we love it dearly. What a wonderful set of spaces and the functionality of it is just awesome. It truly has worked out better than we would have imagined when we started this process."
"…like the house, lots of personal touch. We will think of you often and remember the creativity of the process. Thank you for your thoughtfulness."
Richard Taylor Architects is a Custom Residential Architectural firm that specializes in the design of unique custom homes, remodeling, and addition projects.
In addition to compelling design, I provide services all the way through construction, helping you maintain control and organization, and bringing greater value to your project.
Contact me to schedule an initial consultation on your custom contemporary home project.